New Hampshire's sheep comeback
Industry picks up steam as a niche business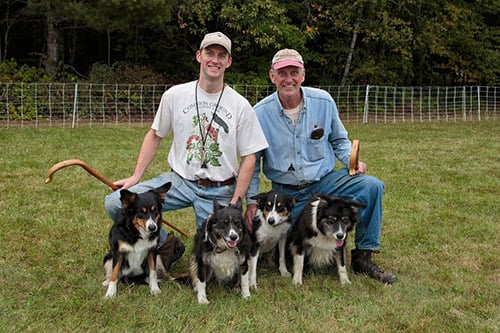 "Go back to the 1850s and '60s, the mainstay of agriculture in New England was sheep," said David Kennard, owner of Wellscroft Farm in Chesham and co-founder of the NH Sheep and Wool Growers Association.
Stonewalls seen lining properties and, now wooded, areas across New Hampshire are the lasting symbol of the sheep industry's heyday in the state.
"There were more sheep in Cheshire County alone then there are in New England today," said Kennard.
But the post-Civil War era opened up the Midwest, which offered richer soil and open plains, propelling the beef industry. And, over time, New Hampshire's thriving mills dried up as a result of cheap labor in the South, strikes and the Depression.
Today, there are about 42,000 lambs and sheep in New England – the U.S. Department of Agriculture only tracks the six New England states collectively. To provide some perspective, in 2015, there were 5.28 million sheep and lambs in the U.S., with 720,000 in Texas and 600,000 in California. For 2016, market lambs in New England are expected to fetch $4.86 million, while the U.S. market will hit $607 million, according to USDA estimates.
'Coming back'
You could say the sheep business has transitioned from a massive industry to more of a niche business, but Wellscroft Farm, also one of the largest agricultural fence companies in New England, sees the industry picking up steam.
"Lamb is definitely coming back. We have a lot of Bosnians and Greeks who like lamb," said Kennard, as his company hastily moved 150 lambs for Orthodox Easter, which fell this year on May 1.
"[Lamb is] more widely accepted," agreed Jeff Conrad, co-owner of Riverslea Farm in Epping. Conrad often sells fresh lamb meat to Mediterranean families for traditional meals. He typically sells 100 lambs each, per Roman and Orthodox Easter.
Hillary Chapin, co-owner of Smiling Sheep Farm in Milton, has noticed new demand for ram meat and matured mutton among African immigrants, but also increasingly positive public reception to lamb products.
Her lamb sausage is one of her most popular products she sells at the Wolfeboro farmer's market.
"I've talked just about everyone into trying it, and they've always come back to get more," said Chapin, who sells Italian, Chorizo, garlic, among other varieties of lamb sausage. "I think it's a great versatile product too, on the grill or in your spaghetti sauce," or even as taco meat, she said.
"What's encouraging to me, and the purpose of the [NH Sheep and Wool Festival], is to bring back the awareness of the benefits of sheep, not only wool, but the meat and how lean it is," said Kennard.
'Agriculture is booming'
The festival, now in its 40th year, operates essentially all day the weekend of May 14, at the Deerfield Fairgrounds. Over 90 vendors will be selling breakfast sandwiches with lamb sausage, yarns, crafts, sheepskins and other goods, as well as teaching workshops on spinning and felting.
Above: Spun yarn is loaded onto a bobbin, called a flyer. Below: Spun yarn ready for sale at the NH Sheep and Wool Festival. (Photos by Colin Kennard)
And, of course, there will be sheep, as well as alpacas, and other animals.
Kennard and his son, Colin, will be giving herding demonstrations with their border collies, which Kennard breeds and sells to farmers.
Some of the proceeds from the festival go to the NHSWGA Bruce Clement Secondary Education Scholarship, which provides funding for students who wish to explore future studies in ovine management.
"Agriculture is booming, and you can tell that yourself," said Kennard. "Look at all the farmers' markets. There's so many of them popping up everywhere, and there's a lot of businesses putting focus on locally grown products. So I'm thinking a young couple that wants to make an investment in agriculture has a chance because people will pay a little more for locally grown products."
"Farmers' markets are growing and succeeding in New England in general," said Chapin. "Talking to other sheep producers in Massachusetts and Connecticut, they are also having success locally selling their lamb, especially around the Boston market. It seems there is more of that going on. More people having backyard livestock and gardening, at least from what I see."
Jolee Chase, program associate at UNH Cooperative Extension and board member of the NH Sheep & Wool Growers Association, said there is an increased interest in small farms.
"It's growing, because we have so many homesteaders that are starting with a few sheep or a few goats and doing the farmer's markets," said Chase. "It's not necessarily big on a huge scale, but individual farms and people doing it on a smaller scale."
"We are seeing a trend of small-ruminant producers converting over from raising goats to raising hair sheep," said Levi Geyer, officer in charge of the Livestock, Poultry and Grain Market News Division of USDA's Agricultural Marketing Service. "The northeast is known for its moist climate and this creates an issue when it comes to internal parasites that will affect the performance and weight-gain of goats." While lambs will also pick up a parasite load, they are not as adversely affected by it if good management protocols are in place, he says.
Spinning wool
The Sheep & Wool Festival is a way to make consumers more aware of local products, said Kennard.
For instance, you may not have known that one of the largest manufacturers of looms is in New Hampshire – Harrisville Designs. For 200 years it has manufactured looms and sold yarn and fibers.
David
Kennard
with his border collies and sheep. (Photo by Colin
Kennard
)
Although there are certain types of sheep that are bred for their wool, anyone with sheep learns to utilize the wool they shear.
Riverslea Farm sells its wool at the Sheep and Wool Festival. "That's where people can buy every type of wool you can find," said Conrad.
Saying the process of making wool is long and tedious is an understatement. The first step, after ensuring you shear off the coat cleanly, in one go, is to skirt the wool fleece to remove any dirt, manure or shorter strands.
"If you started with 10 pounds of fleece that you took off a sheep, you might end up with eight pounds that has been skirted," explained Conrad. "Now you wash it, and you end up with four pounds because 50 percent of the weight of the sheep's fleece is dirt and grease they're laying around in. So from that four pounds, you might card and comb it, and [with] those processes you might lose another pound or more of short fiber and vegetative matter."
Finally, you end up with perhaps three pounds, with all the fibers lined up in the same direction, ready for spinning or further refining it into a roving that other people will buy and spin themselves.
"We still have a lot of people who spin," said Chase. "We have the [NH Spinners and Dyers Guild], where ordinarily people learn how to spin. They buy wool from the festival and other farmers' markets and specialty niches."