Destination: Littleton
New crop of entrepreneurs is creating a 'viable, vibrant downtown'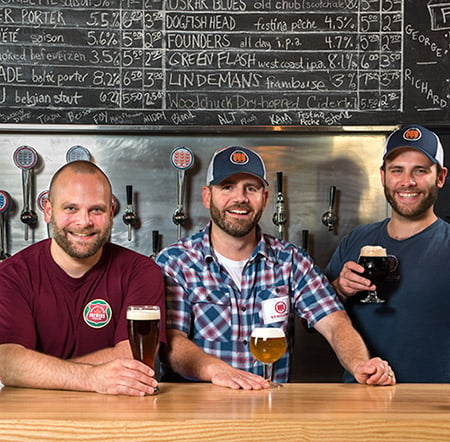 The appeal of a safe, small town north of the Notches has attracted several young entrepreneurs to the Littleton area.
Schilling Beer Company, now considered a staple of the town, was established in 2013 by a group of men who moved from Michigan to set up a brewery/restaurant.
Their close bond with Littleton is self-evident, considering Schilling's end game is not to become an enormous regional distributor but to closely align its product to the area it now calls home, says John Lenzini, co-founder and president.
"We want somebody to come up and have the beer where it was made, if possible," says Lenzini, who is also the head brewer.
Schilling recently completed a 7,500-square-foot brewing facility next door to its restaurant along the riverfront. The facility will also include a retail shop and tasting room, which Schilling plans to open this summer, focusing on the quality of the beer tasting experience.
"I think our expansion will allow us to reach more people to draw to the North Country of New Hampshire," says Lenzini.
Already, there's been "a boom of younger people coming to the area," says Nathan Karol, executive director of the Littleton Area Chamber of Commerce, which last year moved its headquarters to Main Street because of the downtown buzz.
Lenzini has noticed a demographic shift, with people in their late 20s to mid 40s opening businesses along Main Street.
"It's an up-and-coming area for young people to move to — a safe place to raise a family, quick access to the mountains" and a place to plant your business, says Lenzini. "I think the important piece here is that age group."
He notes Littleton has a different vibe than other towns north of the Notches or in Vermont that are struggling.
A 'discovered' town
Lance Williamson, owner of Just L, a shop with "modern antiques and intriguing items" has gained a unique perspective of the increase in residents.
Millennials are visiting his store to decorate their first apartments while other customers are decorating their second homes.
"We have a huge following — people have discovered us, and once they discover us, they come back. And on top of that, Littleton has been discovered and it's increased traffic and increased business," says Williamson.
He added that the town "used to be seasonable, but now it's year-round."
Entrepreneur Emshika Alberini has taken younger customers into account in her marketing and business strategies.
Emshika Alberini, owner of Chang Thai
Café and POP-M.
In March, Alberini opened POP-M, a pop art-themed café and gift shop that features products by local artists, coffee and tea, vegan food and frozen yogurt.
In less than two months, POP-M's Facebook page is already filled with compliments for its lively atmosphere and offerings, including avocado toast and Golden Latte, a drink that consists of ginger, cinnamon and turmeric.
"Millennials love something that's unique. Nowadays, when you think about your business, not only must your product be good, not only the pricing or location, but are you Instagramable, are you attractive to these young people to spread the word about your product? It's another way of business," says Alberini.
Alberini, who lived in New York City after emigrating from Bangkok, Thailand, has developed an eye for marketing as well as understanding 21st century consumer behavior.
"I use myself as an example. Why do I like to go to New York City? Why do I like to go to Boston? These certain restaurants — it's because they have something that no one offers," she explains.
Alberini opened her first business, Chang Thai Café, in 2008, after she moved with her husband to Littleton, where he grew up.
"I think Emshika came in at a period of time when Littleton was finding new blood in town," says Williamson. "Emshika was starting the restaurant and a couple of other things, and it brought new life to the downtown cause she went on to bring a new client to the area, and that just led to other businesses opening, which is why we have such a viable, vibrant downtown."
Crafting an experience
As Schilling is focused on the beer tasting experience, Alberini has sought out how to enhance the Thai dining experience in Littleton.
She's partnered with LaBelle Winery of Amherst and Tamworth Distilling to develop a wine and gin to complement her food.
"I want people to feel special. This is the best drink for Thai food that they can't get in the liquor store. We can make it more special for the customer, to have the best dining experience when they come to our restaurant," says Alberini.
Having opened the only Thai restaurant in Littleton, Alberini has learned how to adapt to consumers' needs.
"Thai food can be different. If you go to Bangkok, there's a lot of fusion. I don't know if people in our country can handle it. It's super spicy, and some of the ingredients may not be available in the United States," says Alberini. "You have to substitute what we have in the local area."
Introducing fresh, local ingredients like kale is just one example of how Alberini adjusted her recipes.
But Littleton restaurant-goers didn't flock to Chang Thai right away.
On May 19, Amy LaBelle (left), owner of LaBelle Winery in Amherst, and Emshika Alberini (right) will co-host an event in Amherst that demonstrates wine pairing with Thai food.
"It was a lot of feedback and adjustment," says Alberini, who first handled tasks, including cooking and waitressing, which allowed her to see customer reactions in person.
"Engagement with your customers is important to gain loyalty; they feel a connection to you," says Alberini. "I think food, it's like a family meal, it's important. I feel a sense of connection between the customer and the restaurant."
Developing downtown
An expansion of businesses has also changed walking routes in town, with Schilling Beer Company connecting Main Street to the River District, says Karol of the chamber.
"There are businesses that get more exposure because people are looking for Schilling," he says.
The town is currently undergoing some infrastructure improvements to revitalize the Ammonoosuc Riverfront, a combination of taxpayer dollars, grants and tax credits.
The developments include everything from sidewalk reconstruction to upgrading sewer, storm drains and roadways along Saranac, Ammonoosuc and Mill streets. The town is also in the process of connecting an abandoned portion of the railway that goes through downtown Littleton and the River District to expand a multi-use trail.
"The town has worked with the business community to make sure we have a master plan," says Karol. "There are people who have worked years and years to obtain grants and funding to help us get to that next step and that next level."
Alberini sees investment opportunity in Littleton. She's purchased two buildings, one where she houses POP-M and another she leases to tenants, including Little Village Toy & Book Shop and the League of New Hampshire Craftsmen. For some time, she operated a coffee shop inside the bookstore until she decided to change the concept to the standalone POP-M.
"Living in a small town, you have opportunity. This opportunity will build your confidence, will build your entrepreneurship skills, because you can try and if you fail there's not much to hurt," explains Alberini.
With POP-M, Alberini says she is continuing to execute her vision of downtown by diversifying its offerings.
"I want to create Main Street to be more of a destination," she says.