Littleton leather maker builds international reputation at home
Linny Kenney's custom leather works gather a following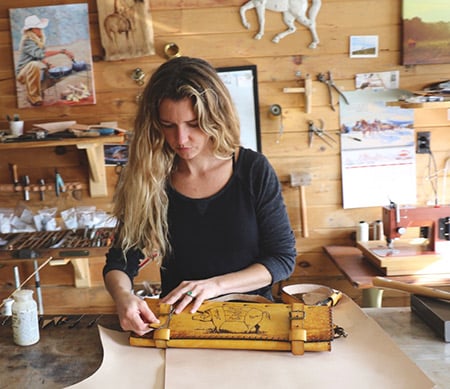 Linny Kenney's journey to becoming an internationally-renowned, sought-after leather maker and designer gives new definition to the term "unique path."
Consider these resume details: born in Texas, raised in New Hampshire, studied vocal performance with an emphasis in opera at Plymouth State University, went to New York City, and then became a horse wrangler in Northern California and a singer in a rock band. Kenney started doing leather work in her stepfather's garage in San Francisco before taking an almost nine-month cross-country journey on horseback from Los Angeles to her childhood home in Bath, N.H. All of this prelude to discovering her full-time calling in the leather trade.
"I went to New York City and tried to make a career of it. My voice was operatic, but my heart wasn't in it," said Kenney who creates guitar straps, belts, purses, bags, saddles, knife rolls and more through her business, Linny Kenney Leather. "I realized my main desire was to just be outside, and preferably on a horse."
Kenney combined her love of art, detailed craftsmanship and a strong imagination to create products that have led to a diverse international customer base: horse riders, belt wearers, purse carriers, musicians and world-renowned chefs, to name a few.
Linny
Kenney uses a handed-down staining technique that distinguishes her leather pieces from the market.
And her business, which she financed solely on her own, was not the product of a calculated business plan. In fact, there was no plan but a confluence of circumstance and opportunity after the 3,700-mile trip with her horse, Sojourner.
"I had always painted and did a lot of drawing and painting in high school because I loved art, and it was a calming thing to do," she said. Her stepfather had been a leather worker in the 1960s, and in his garage she discovered a world of tools and paints.
"In San Francisco, I began making leather work with painted eagles, messing around with guitar straps and learning. I put some of it on Myspace and Facebook and it caught the eye of some up-and-coming musicians," she said.
During the trip, her artistic leather works like her saddle bags drew attention. When she arrived in Bath in late 2010 and began living across the street from her childhood home, there were two things clear to her: She was concerned about becoming a hermit while withdrawing after the natural high of her cross-country trip and there was a budding market for her expressive, functional and eco-friendly leather products.
Swedish musician The Tallest Man on Earth wearing a Linny Kenney guitar strap.
"It was a weird, tough adjustment," Kenney explained. "I had just finished a spiritual journey and it was hard to come to a finish. I mostly thought of getting a horse trailer and heading back to California."
But during and after the journey she got inquiries for more and more custom work.
Her career began modestly enough with one of her first leather creations in 2010, just before her cross-country trip. The cowboy-themed guitar strap was for one of her favorite musicians, The Tallest Man on Earth (aka Saras Pers Kristian Matsson of Sweden), who has four of her custom guitar straps. "He's an incredible musician, really big on the indie scene and a driving force behind my guitar strap sales," she said.
Around the same time, at a concert in San Francisco, she sent one of her guitar straps backstage to singer-songwriter Dave Rawlings. He was impressed, and it also drew the attention of his musical partner, Gillian Welch, an American folk-roots icon.
"He told me she [Welch] might be calling you soon and she did. She is the sweetest woman and one of the things we talked about was cherry blossoms," she said. Cherry blossoms adorn the one-piece guitar strap Kenney made for Welch.
Kenney overcame her concerns about becoming a hermit by focusing on growing the business and renting a studio in, appropriately, an old tannery building overlooking the Ammonoosuc River in Littleton in 2013. It was there that she later met her fiancée, rally racer Wyatt Knox, and they were the subject of a profile story last year in Popular Mechanics. Selling solely by word of mouth, social media and her website, Kenney believes her customers across the globe are attracted to her art and the care she puts into every creation.
It was through Facebook that Kenney connected with celebrity chef Gianfranco Chiarini. It led to a game-changing journey of international connections.
"I became friends with Gianfranco and his wife Anna during the time of the design process," Kenney said. "After they got their roll, they were excited about it and invited me to Europe to tour with them. We met in Milan and the three of us became fast friends and hit six countries in 10 days. During this tour, I set up a fantastic partnership with Rochini Finest Tabletop in Austria. They have also become great friends, visited me in New Hampshire and have helped tremendously in getting the rolls to chefs worldwide."
Chef Tom Heinzle of Austria, considered one of the top barbecue innovators in the world, is also a fan and client. In addition to Europe and the United States, her creations are popular in Japan, South America, Australia and Mexico.
Currently, about 70 percent of her work involves custom orders, though she would like to change that balance and focus on her own line.
Kenney, who said she has reinvested all of her profits back into the business, said the material and creative process matters in every one of her creations.
"It's hard to get the leather I need in the United States," said Kenney, who imports most of her full-grain, vegetable-tanned premium leather from free-range cattle hides in Argentina. Each piece is hand-cut, hand-stitched and designed. They are also individually hand-stained with eco-friendly dyes, she explained, along with a secret, handed-down staining technique that makes her leather pieces as distinguishable as any on the market.
"I love that custom designs can be works of art," Kenney said.
She has one assistant and admits to being ambivalent about where she and Knox might be in the future as she misses life on the West Coast. "I don't know the answer about where I want to be or how the business will be in five years," she said. "I want this to be primarily what I do, but I never had a business plan and this snowballed into something great."
InDepthNH.org is a New Hampshire-based nonprofit investigative online news outlet.