Entrepreneurial spirit drives Topstone Barber Company
Barbershop attracts customer base yearning for a bygone era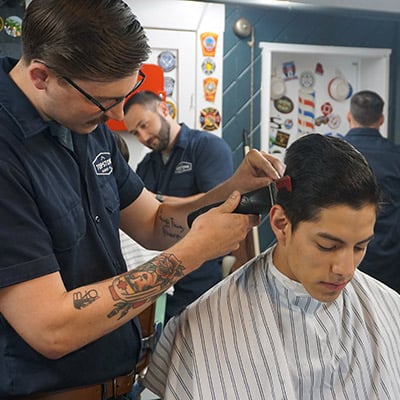 When New London — a small town in the Lake Sunapee region — held its first community cleanup on Saturday, May 12, Andrew Maki closed his Topstone Barber Company for the day. Saturdays are Topstone's busiest day, but Maki and his fellow barbers decided to join the locals in their cleanup efforts instead.
For 27-year-old Maki and his crew of 20-something barbers, contributing to the community is their civic duty as well as a great way to socialize and grow their business.
"We like going out into the community," he says, "and we think it causes people to want to support us in return."
By any measure, Topstone's approach has worked spectacularly well. In under three years, Maki has taken a sole proprietorship with a single 1940s-era barber chair in a tiny storefront in a strip mall to six barbers and an apprentice in a space triple that storefront's size in the heart of downtown.
Tucked beneath the New London Inn, a local landmark since 1792, Topstone sports a funky, old-school vibe built on the barbers' millennial-generation devotion to authentic experiences and community-building. The shop is both a model man cave and an appealing twist on the classic neighborhood barbershop that taps into the current zeitgeist.
While many businesses use media marketing to attract customers, Topstone prospers without spending much on conventional advertising or marketing, other than the nominal costs of its company website. Of course, the business uses free social media to connect to customers, hosting the requisite Facebook page and a livelier presence on Instagram featuring its trademark tight, clean cuts and snapshots of daily life at a busy barbershop.
"Quality comes first for us, and we're growing a lot with that quality. I think it brings people back."
Surprisingly, Topstone's rapid growth is fueled mostly by good old-fashioned word of mouth. Its loyal customer base hails from across the Upper Valley and beyond, ranging from shy toddlers to hair-challenged seniors, mostly male, with a sweet spot in the mid-20s to mid-40s range. Once customers come, they keep coming back. As the barbershop gets busier, many customers now book their next haircut while still in the shop, sometimes for months in advance.
In another sign of early success, Topstone was chosen in the 2018 Best of New Hampshire Readers' Poll as the best barbershop in the state. Topstone and the other best-in-state winners were highlighted in the July issue of New Hampshire Magazine, a sister publication of NH Business Review.
Maki sees the award as a testament to his customers' appreciation of Topstone's high-quality service and attention to detail.
"There's been a lot of winners focused around Concord and Manchester for a long time, so we told our customers we were looking to put our name on the map," Maki says.
The real deal
As a young barber, business owner and budding entrepreneur, Maki is not shy about soliciting ideas and advice from his barbers, customers and local business owners on how to build a strong team, business and brand. He reads more than ever, and his current favorite is a book called "Tribes" by Seth Godin.
"Godin says that rather than managing people — telling them what to do and how to do it — try activating a group of people with a common interest and allow them to figure out how to get to that next step," Maki says.
What Maki looks for in a Topstone barber is someone who is confident, hard-working and dedicated, with a passion for barbering and a genuine interest in the person sitting in their chair.
"When you get to know and like your customers, the job is that much more fun and rewarding," he says. "It's a lot easier to act like you care if you actually do care."
Topstone used reclaimed wood from bowling alleys to create an environment reminiscent of an old-fashioned barbershop.
With its antique barber pole and barber stations made of reclaimed wood from bowling alleys, Topstone may look like an old-fashioned barbershop, but its customers won't find a $10, 10-minute haircut here. Appointments last about 45 minutes and include a chat about what the customer wants, followed by an expert cut with shears or clippers, a shave, and a straight razor around the ears and back of the neck. The experience culminates in a soothing steamed towel around the neck, and if desired, a full blow dry and styling.
While other barbers strive for as many as 30 haircuts a day, Topstone barbers top out at 14 at most in their eight-to-12-hour work days. They track the latest trends and best practices in barbering, and know the best cuts and service require barbers to spend about 45 minutes to an hour with each customer.
"It comes down to this: Would you rather do 14 haircuts that you're really proud of, or crank out 30 haircuts and make more money?" Maki asks. "Quality comes first for us, and we're growing a lot with that quality. I think it brings people back."
To elevate the craft of barbering and maintain what Maki calls their "perishable skills" as barbers, he and his barbers engage in ongoing education and training. They attend barber conventions in New York City and elsewhere and bring in accomplished barbers and cosmetologists from high-profile shops around the region to teach classes at the New London shop.
"We invite barbers from around the state to attend. My Topstone colleagues and I believe promoting overall excellence — even beyond their shop — is good for barbering and good for customers everywhere," Maki says. "For Topstone barbers, having opportunities to develop their skills keeps them interested in their work and in staying in the community."
Community cornerstone
Paradoxically, Topstone's success is not about the haircut. It's about cultivating a friendly, upbeat environment where authentic and memorable experiences happen and customers become friends.
Maki and his team have created a happy gathering place, buzzing with eclectic music, constant chatter and eruptions of laughter. It's the vaunted "third space" after home and work, where people of all ages want to be and always return to.
"Barbershops can be cornerstones of their communities," Maki says, pointing out that their customers enjoy the camaraderie and an element of surprise that comes from never knowing what they might find in the shop. In addition to its cobbler service, the shop sells T-shirts, journals, a few flea market finds and a wide selection of vintage albums.
The shop's authentic feel extends beyond the antique tools and faded concert posters on display. There are carefully selected razors, shaving lotions, beard oils, pomades and a range of aftershaves. The barbers road test all of the grooming products before making space on the shelf. Maki makes sure to meet and gently interrogate the makers of the products, many of which are produced by small companies in the U.S.
Topstone employs six barbers and an apprentice in downtown New London and will soon open a location in Littleton.
Maki says: "We only carry things we obsess over and believe in."
A sixth-generation native of Claremont, Maki named his business in honor of his late grandfather, Avri Maki, who operated Topstone Furniture Company in one of the city's mills. His grandfather inspired his desire for a business of his own and taught him the value of excellent service and close attention to even the tiniest details.
Growing up, Maki had little interest in school and tried on many different hats before finding his dream vocation. At age 15, he began working in retail sales before moving on to making cabinets, doing building maintenance, selling appliances and cars, and attending college classes in music education.
After marrying one of his best friends from childhood, Maki joined the National Guard's 39th Army Band. During his required weekly haircuts in Claremont, Maki learned that his barber was one of six barbers in his family, going back four generations. It dawned on Maki that barbering was a traditional craft that he could excel in, love and enjoy. The role of barber seemed to fit his social and peripatetic nature; he could be a barber anywhere, and for as long as he wants.
"It's a trend in our generation to lean toward tangible jobs," Maki says. "There's a resurgence of craft brewing and opening butcher shops and coffee shops — a trade or a craft that you can bring with you and put your hands on and show what you do."
Maki went to the New England School of Barbering in Penacook for training. He briefly worked for American Barber Studios in Concord before he began to itch for his own shop. Fortuitously, he learned that New London's longtime barber, Lenny Feenstra, had just retired after more than 45 years. His 240-square-foot shop in New London Plaza was available to rent.
Naturally, Maki inherited Feenstra's customers, many of whom were older men — a population that continues to be a big part of his customer base. He describes these customers, many of whom are former business owners or summer residents, as highly intelligent and worldly. They come with high expectations and insist on excellence in their every experience, including their visits to the barber.
An old man at heart, Maki finds it easy and enjoyable to build a good rapport with his elder customers. As a bonus, he finds they have much to teach him about business and life.
"My barbers call me the oldest young guy they know," Maki says. "Each of us tends to draw in customers we like and can have good conversations with."
Topstone North
As his interview draws to a close, Maki drops a bomb of breaking news. He plans to open a second barbershop, Topstone Boomtown, in the fast-growing and newly thriving North Country town of Littleton. If all goes as planned, the new shop will open downtown in September to coincide with the three-year anniversary of Topstone Barber Company in New London.
In recent years, artists, craftspeople, restaurateurs and all manner of entrepreneurs have flocked to Littleton to set up breweries, music venues, specialty craft stores, cafes and restaurants. Maki says the new shop's name, Topstone Boomtown, celebrates the creativity and vibrancy that has caused this no-longer-small town to bust at the seams.
"The thing about Littleton is that people are reinvesting in their community and putting energy and effort into rebuilding," Maki says. "Every nook and cranny of its downtown is filling up with business ventures of all kinds, with young entrepreneurs at the helm."
Maki says he has "no doubt the new shop will fit right in. We've established a culture of educating the barbers and taking care of our customers and our community and that should be maintained."
His new venture is driven both by his growing confidence in his skills as a business owner and his rising sense of responsibility for ensuring that he and his team of barbers can earn a good wage, with benefits, while doing what they love. The Topstone team of barbers is growing, and they are supportive of and helping to launch this new venture in Littleton.
But, as a parting shot, Maki confesses that the advice he's received from so many local business owners and mentors to 'love your business, but treat it like a business,' is the hardest thing for him to accept.
"That's something that's pushing me, but I know I'll never be done," he says.