Wash Street on Elm shows the value of making laundry 'easy'
Manchester laundromat addresses universal domestic challenge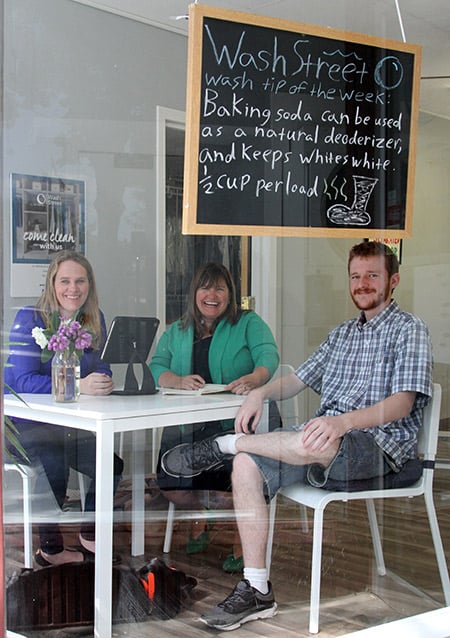 Laundry is something most people have to do. For Laura Simoes and Kristyn Van Ostern, owners of Wash Street on Elm, it's about making it easier — not just for themselves, but for other people, too.
"Laundry is the ultimate leveler," Simoes said. "Everyone has to do it."
Wash Street on Elm, a laundromat located on Elm Street near the corner of Bridge Street in downtown Manchester, opened in April 2017. It offers three services: coin-operated laundry, wash and fold, and dry cleaning. But it's the on-demand and free pickup and delivery services, offered seven days a week, which set it apart from other businesses.
Another thing that sets Wash Street apart is that the laundromat business didn't grow from a love of doing laundry; in fact, it was rather the opposite.
Simoes and Van Ostern, who each have two children, come from households where both parents work full time. Simoes is a strategic communications and management consultant, and Van Ostern is a chief financial officer consultant. They met in 2002 while working for U.S. Sen. Jeanne Shaheen's campaign, but it wasn't until a lunch date at the Gas Lighter Restaurant in Concord in 2016 where the idea of a laundromat began to take shape.
Van Ostern said she was at a challenging point in her life, when she and her husband were working full-time, and had two young children. She had calculated that she was doing eight to 10 hours of laundry each week.
At that time, Simoes was doing a service project for her master's in business administration that focused on providing laundry and shower services for homeless people at the Concord Homeless Resource Center.
They quickly realized that clean clothes had a value.
"And I thought I would rather spend eight to 10 hours a week working on a new business than spend eight to 10 hours a week doing my laundry," said Van Ostern, who also has an MBA.
Wash and fold
So they decided to help solve a problem most families face. However, they wanted to take the laundromat model a step further. Most wash-and-fold services, they said, aren't offered seven days a week, and many don't have pickup and delivery. For the companies that do have delivery services, it's often a set schedule that works for the convenience of the business, not the convenience of the customer.
"Laundry isn't getting dirty on somebody else's schedule, it's getting dirty on your schedule, so that was really important for us," said Van Ostern.
Simoes and Van Ostern consider their wash-and-fold service the thing that differentiates their business, and they consider it their "bread and butter." They said they are doing nearly 100 pounds of laundry each day.
Leah Plunkett, a Concord resident, has been using Wash Street on Elm's wash-and-fold service since its inception in September 2017. Plunkett and her husband both work full time and have two children.
"Having a laundry service that makes laundry easy is just such a godsend," Plunkett said. "Their approach is so different."
Although Plunkett had never used an external laundry service before, she had used a cleaning service that would occasionally do her family's laundry. But now, Plunkett puts her dirty laundry in bags, places them on her front steps, and the next day the laundry is returned to her home clean and folded.
"Literally, tied up with bows," Plunkett said.
Their mission at Wash Street on Elm is to make laundry easier for people, and the technology they use reflects that — with their user-friendly website and their machines.
Owners Kristyn Van Ostern and Laura Simoes
There are a total of 26 washers and dryers, and although they have coin-operated laundry, they also offer washers and dryers that allow customers to pay with PayRange, a smartphone app that links to a credit card or allows the customer to add funds through mobile payments like Apple Pay.
Community center
As a child, Simoes said, she spent a lot of time at laundromats, which she described as "unbelievably boring." So when she and Van Ostern were at a Coin Laundry Association conference in Las Vegas and found out about Too Small To Fail — an initiative that promotes early brain and language development through talking, reading and singing — they knew they wanted to incorporate a space for children and community engagement into their business model.
Simoes' son Marcus, a sophomore at Bishop Brady High School in Concord, created the children's space at Wash Street on Elm. Set in the back corner of the laundromat is a play area — a small table and tiny chairs, shelves filled with books and a basket of toys.
Bishop Brady requires students to do 25 hours of community service, and given the fact that laundromats are places where many families spend a good deal of time, Marcus, along with Simoes and Van Ostern, thought it would be a good fit to help create a space where children could work on language development.
"If you can figure it out," Simoes told Marcus, "it's all yours as a project."
Marcus built a children's library to promote literacy and was able to get all the books donated. There are materials in Spanish as well as games and toys for children who aren't at a reading level yet.
Wash Street on Elm hosted a story time event, where they invited the community to come and read stories with their children, and Simoes and Van Ostern provided lemonade and snacks. Simoes said they hope to do more story time events this summer.
"We've become a little bit of a free community library," she said.
It's this kind of awareness of their community that sets Wash Street on Elm apart from other laundromats. Simoes and Van Ostern both describe their business as a "melting pot," where people from different backgrounds come with the same goal: clean laundry.
This amalgamation of different people and backgrounds is a direct reflection of the City of Manchester itself. In Wash Street on Elm's neighborhood alone, one can find high-end condos, offices, affordable housing units, the Millyard's residential apartments and corporate offices, as well as colleges and student housing.
"That's how I think of Elm Street right now," Van Ostern said. "It's such a melting pot, and we love being a part of it."
Wash Street on Elm is also part of a larger revitalization of Manchester, where new businesses, restaurants and housing can be found all over the city, especially downtown.
"This was a perfect fit for us because there are so many amazing things going on in Manchester right now," Simoes said. "It's definitely going through a revitalization."
Both women agree, however, that the goal is to grow geographically, and they see Nashua and the Seacoast as their next service areas. They are still working out what that growth may entail and plan to pilot some services on the Seacoast this summer.
They said that although they first thought they would buy laundromats in each surrounding city, they now see Wash Street on Elm as their central location, using delivery to serve the other areas.
Simoes and Van Ostern are reshaping the way people in Manchester and the surrounding areas are doing laundry. As Leah Plunkett, one of their loyal customers, said, both women have the insight and the execution skills to solve a problem that plagues many — dirty laundry.
"It's a great take on any challenge," Plunkett said. "And an especially great take on a domestic challenge."