The return of layaway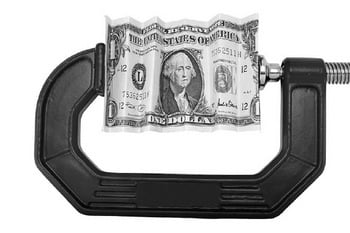 Rhonda Libby's family will be able to unwrap more of the "big things" this Christmas, thanks to Kmart's layaway program.
Without the store's program — which is seeing an increase in interest as consumers look for an edge amid the economic squeeze — Libby wouldn't have left the Lilac Mall Kmart with quite the same stock of gifts.
She said she simply couldn't afford to pay for everything up front with a credit card.
"Not many people that I know can," she said.
And retailers have apparently taken notice.
Kmart has been heavily advertising its layaway program, which allows customers to pay for an item in small installments over an eight-week period ahead of Christmas. Then Sears hopped aboard, announcing that layaway will be available in all store departments except home appliances and home electronics.
For Vincent Pare, store manager at the Rochester Kmart, the layaway program has been a windfall.
"All year it's been growing," he said. "In the month of October it has really exploded."
Though he could not provide exact numbers of recent layaway sales, he said there is an "obvious" increase over previous years. Recent popular layaway items include toys, clothing and electronics, Pare said.
Though layaway goes against the bedrock retail principle of moving merchandise off the shelf as quickly as possible, it helps sell some of the higher-priced items that typically sell at a slower rate, said Ludwig Bstieler, associate professor of marketing at the University of New Hampshire.
Coupled with what is expected to be a slower holiday shopping season due to the economy, layaway creates added incentive for consumers — especially those with limited incomes — to purchase more expensive gifts.
Regained popularity
The increased layaway offerings come amid an economic crisis that's widely seen as the worst since the Great Depression.
That's sort of fitting considering layaway gained popularity in the 1920s, Bstieler said.
Sears began offering monthly payment programs in 1911, and Ford started offering a similar one in 1923, according to Bstieler. Department stores like Marshall Fields, JC Penney and Montgomery Ward soon followed suit.
In the 1980s, layaway was rendered almost obsolete by credit cards, allowing consumers to instantly receive items and pay for them later.
But even as layaway enjoys a resurgence, not every retailer is taking layaway off the shelf.
Two of the nation's largest retailers, Wal-Mart and Target, do not have plans to begin offering large-scale layaway programs. Wal-Mart ended its storewide program in 2006, but it still offers layaway for jewelry.
There are different reasons behind retailers' decisions to scrap layaway, including a "significant administrative effort" in tracking purchases and merchandise, Bstieler said.
Perhaps no retailer has embraced layaway as much as Kmart, evidenced by its television advertising campaign and willingness to allow media inside its stores to report on the trend.
At the Rochester store, employee Stacy Brown was scanning merchandise at the layaway counter.
"We've been busy," she said, adding that recliners, televisions and PlayStation 3 consoles have been some of the most popular items.
Brown said many of her Christmas gifts are on layaway at the store.
Shopper Rhonda Libby said layaway is a good option in tough economic times. Besides, she won't have to deal with interest surcharges from credit cards, she said.
Pare, the store manager, agreed.
"Credit cards aren't necessarily a good thing," he said. With layaway, the "bottom line is there's no bill in January to deal with."
– JASON CLAFFEY/FOSTER'S DAILY DEMOCRAT