Taking the pulse of the Lakes Region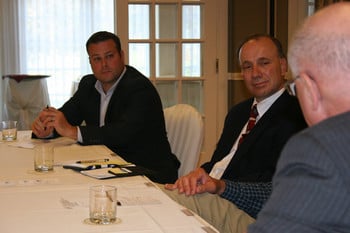 NHBR's editors sat down last month with businesspeople from the Lakes Region at the Chase House at Mill Falls in Meredith to discuss how the region's economy is faring and their expectations for the future.
The participants were:
Joel Arsenault, financial planner at LPL Financial, and founder, Lakes Region Young Professionals Network
Scott Kalicki, president, Lakes Region Community College
Frank Roche, president, Roche Realty Group
Tom Garfield, executive vice president, Bank of New Hampshire
Rusty McLear, owner, The Inns & Spa at Mill Falls
Amy Landers, executive director, Lakes Region Tourism Association
Carmen Lorentz, executive director, Belknap County Economic Development Council
In general, how are things going this year as opposed to last year or a couple of years ago?
Kalicki: In the Lakes Region, our enrollment was down from what was originally forecasted for the fall, but ironically the spring was up. What we've noticed because of the economic crunch that everyone is feeling is students are taking less credits. They've got to scale it back because they've got to make some monetary decisions, so we've increased our enrollment in the second half of the year but the number of credits taken are down.
We're currently seeing an increase in students who want certificates over associate degrees and if you think about it, it makes sense — getting a skill or knowledge level that may make you a little bit more employable quickly. As for subjects, a lot are in the nursing area and health field area, where there are greater prospects.
Our average age in the community college is 26, so if you look at our largest major it is in fact nursing and health care because people see that there is a direct line there to get a job.
McLear: This region is tourism-dependent to some degree, but one of the broader scenes of the tourists here are second-home owners and how that drives the tourism and restaurant business to some degree. Those second-home owners don't consider themselves tourists, but they are hugely important to all of our business. Over 60 percent of our spa business is not hotel related — it's local related. They also drive the construction trade — they drive an awful lot in this particular region.
As far as the relativism of the world before and after 2007, we have actually been fairly fortunate. We had a significant decline in 2008 and 2009. We went down 9 percent in 2008 and 4 percent in 2009, for a total of 13 percent down. We came back up 1 percent in 2010, in 2011 we were up 4 percent or so, and the first six months of 2012 we were up 4 1/2 percent, and July we were up 8 percent. That's not quite apples to apples, because we added a new facility with 16 more rooms. This year we'll end up with our best year ever, so we're back to where we were in 2007.
I do think in general things are better. In 2008, when you went out to a cocktail party or dinner, all you talked about was how bad the economy was and that's not driving the conversation now. The fear is gone. In 2008, I thought the fear was palpable — banks and people like myself, you didn't know where it was going to stop and I think that sense has gone away. I see the real estate market is better, restaurant business is up, we have a little gas station and gasoline sales are up a little bit every year, so that tells me not only that the local people are feeling better, but there are a few more tourists driving around too.
Counterintuitively, the additions we made in the last couple of years have been on the very high-end. We just opened up 16 rooms that are for July/August have an 86 percent-plus occupancy at a $413.94 average rate and a 2.77 day stay. The average stay for the rest of the property is 1.9 days. That's adding almost a whole day. So, that top-end market is back and they're looking for things to do.
Are they coming from certain parts of the country?
McLear: They're coming from all over the country; they're coming from very traditional markets — southern New Hampshire, Boston, Connecticut. Our traditional market is better than maybe the rest of the country. Frankly, we're in a sweet spot.
Landers: Overall, I felt a difference in the tourism business, especially late last summer you were starting to really see the positive in people. We're seeing some different trends; we've all been depending upon those last-minute visitors. This past year we're seeing those pre-registrations coming in stronger than they had over the past five or eight years. Whether we'll get back to seeing people planning a year or nine months in advance — we're not seeing that yet, but we're definitely seeing people making their plans further in advance, which is great. Restaurants have been up. On the average, we're seeing about a 5 percent increase in the restaurants across the board.
As Rusty said, the high-end has come back. Our target market in the region has changed dramatically. Twenty years ago, we were targeting young families with household incomes of $50,000 or greater. That market has completely changed. Now we're targeting household incomes of $100,000 or greater. Really the key market for our region right now are the baby boomers who are coming with their children and their grandchildren, or those older parents who are coming with their children. Not the young families.
Also, if you look around the region, the attractions have really changed over the past 20 years as well. Those businesses that are really gearing towards today's visitors are doing strong. If you're a motel and you're functioning the way you did in the 80s, you're not having an 86 percent occupancy right now.
We are still growing the international market; they are the fastest-growing market for tourism. Right now the UK, Germany, France, Italy, Ireland and Canada is where we're marketing the region with print ads and all trade shows. The Japanese market is our newest market with the direct flights coming in from Japan. The international market is strong for us and they're coming for longer periods of time, they're spending more money as well as they make their plans well in advance, and they're not going to cancel because of weather.
McLear: People like us really depend on Amy and the chambers of commerce. They're making people aware of what we have here. She mentioned the international tourism group — I did a study two years ago and we had 64 countries and every state in the union represented in one year. The international people are coming. This is not only in the center of the state, but it's in the center of New England so it's really a good spot for them to start from.
What's going on with real estate?
Roche: Likewise, we're seeing an increase this year; both offices are up about 29 percent in actual unit sales over 2011 year to date. The actual gross revenue, however, is only up about 1.1 percent, and that reflects the prices on average on all residential properties have continued in a bit of a decline. That's natural because of what we're going through.
We've had certain pockets of markets stabilize. For example, the waterfront sales, Winnipesaukee is up 54 percent in unit sales, however the average selling price this year so far year to date is only $909,000. Last year it was $1.17 million. Typical years it's been averaging about $1.1, $1.2 million, but it gets skewed by some high-end sales in certain towns. The encouraging thing is that unit sales are up, so what that's telling me is that more people are taking advantage of the opportunity with rates the lowest in 45 years.
What's happened is that we have a lot of inventory in this area — that is our challenge. If you look at the overall market, all categories combined not including commercial, it represents a 17-month supply of inventory. Six to nine months would be more healthy.
We have an awful lot of second homes up here. In our office alone, 70 to 75 percent are second homes. All second homes are semi-retirement. The Lakes Region is only a seven-hour drive in excess of 50 million people. We're kind of like birds and we migrate to places with familiar origin where we had happy memories as children. If you vacationed in the Lakes Region, the memories come back as your affordability gets up there in your later years. That's truthfully what's going on here in a huge way.
Landers: Real estate is a better investment than the retirement funds right now.
Roche: Another good thing happening to our region is we're getting the Romney effect already. We've had four calls, when Romney was up for the July break; we had calls from Wyoming, one from Florida, one from Michigan. That's a positive thing.
It used to be, on rainy days, what do you do? There wasn't much — you would have to go to Manchester or Boston. People were bored. We all know what we have in Tilton — we know what it's expanded to. People can go out on rainy days to all the outlet stores, not only that but we also have one of the best venue facilities anybody in the northeast to go to, which is Meadowbrook U.S. Cellular Pavilion. Gunstock has done a great job, they've brought the ski route up to a tremendous level and now with the zip line, that's a big thing. There are just more services being offered that people can take advantage of.
Garfield: I can echo some of the comments that Frank, Rusty and Amy have made. Right now we're experiencing unprecedented demand for residential home mortgages, either first homes or second homes, refinancing. The rates are just unprecedented. The other piece is, if we have more foreclosures, more people can afford to buy homes. Prices have dropped 25 percent in six years, I believe.
I'm still concerned with the number of foreclosures that could be happening from some of the larger companies like the Bank of Americas, Citigroups, and places like that, that could put more property on the market and affect the prices.
McLear: We also in the Lakes Region have an advantage that our two largest banks, Bank of New Hampshire and Meredith Village Savings Bank, are both mutual savings banks that are chartered. Yes they have to make money and they're businesses, but they are chartered to help the community and they give money back. They also really do mentor businesses to get them through tough times. I know clients that go through those banks and had trouble two years ago but are still in business and still employing people who may not be had they been with some other larger bank. That's not an insignificant thing for a small region to have two banks that are important to business.
Garfield: The last thing we want to do is own real estate and own a business. It's to our benefit and the customer's benefit to try and work with them.
Can you talk a little bit about the commercial real estate market?
Garfield: I would say that it is relatively flat in demand in the Lakes Region. Larger operators are having pretty good years this year, smaller operators are continuing to struggle. We're seeing that there's not a lot of borrowing on the low end – small-business loans and things like that. People over the past three years have been reluctant, smaller companies, to take on additional debt because of the view of the economy.
McLear: That has been relatively easy to come by, correct?
Garfield: The credit, absolutely.
McLear: You read in the paper that it's hard to get a loan, but in the Lakes Region that is just not true.
Garfield: The money is available. A lot of people have been reluctant to borrow on the smaller side. They've been using their savings and some have been using credit cards, which are very expensive. The money is available — it's just in the Lakes Region, there has not been a lot of demand on that side.
Roche: The other thing too is, on the commercial side, we've seen prices are pretty flat. There is quite a bit of surplus inventory in smaller buildings. It's a very lengthy process for certain properties to sell.
McLear: That's also a factor of the markets that you were just talking about are difficult year-round retail spaces.
Roche: There have been other places too that have been moving well. Look what's going on in Gilford, the block stores. Lowe's is doing very well, Shaw's is booming, Hannaford's is booming, Wal-Mart has the green light to do their expansion into a Super Wal-Mart. Look what's happened on Union Avenue: Irwin Motors put on a huge addition, and of course the new building for Hyundai which acquired the franchise and built the new building there on Union Ave. Then you've got Canton Chevrolet, who did a completely new reface. There's a lot that's happening in the bigger stores.
Garfield: Bigger businesses I think are doing very well and taking advantage of the financing.
Roche: Another thing that's happening is brokers are bringing their clients up to the Lakes Region from Manchester and Nashua because there aren't many good investment deals down there — not many single-family residences that are cheap, not many commercial properties. They're going to make some serious money down the road.
Landers: For the first time in many years, we have seen the building of attractions. We have Monkey Trunks that built another location next to Funspot. Gunstock did their expansion. The Winnipesaukee Playhouse is expanding. We have not had a growth in attractions in years for entertainment. We have more theater and entertainment than we have ever had and on a year-round basis.
What other industries are important to the region?
Lorentz: Some of our largest employers aren't here today. Health care is the biggest one in the Lakes Region. LRGHealthcare has 1,200 employees and some of the best-paying jobs we've got in the area and a lot of people have been focused on all the changes going on in that industry.
Also, advanced manufacturing is about 10 percent of employment in Belknap County, but a lot of people don't know that. During the recession, some of the job losses initially might have been due to contracts going down, but right now they are all growing — they are all really strong.
Pretty much all or most in this area are in the defense and aerospace business. New Hampshire Ball Bearings, Titeflex Aerospace is another, and we have a lot of smaller machine shops with 60 to 100 employees, who work with NHBB and others too, and they have clients all over the country. EPTAM Plastics has just over 100 people right now and they also do a lot of aerospace and defense and medical devices. Freudenberg is also huge.
McLear: Even in the hospitality business, these businesses are tremendously important to us. EFI Inc. is another big employer in high-tech, and they generate hundreds of thousands of dollars. The health care people come and use the restaurants, spa, where they get married or their kids get married, we provide a lot of services for that. When they're doing well, we're going to be better.
Most of the larger companies are doing well, but I think they're having some trouble getting employees.
Lorentz: That's the number-one challenge that we hear from all of the manufacturers and you'll hear it all over the state — difficulty finding skilled manufacturing workers and I know Scott can speak to some of the programs that are being developed at Lakes Region Community College. We have a great technical center here at Laconia High School that serves all of the high schools in the area — the Huot Technical Center. They have a great pre-engineering and modern manufacturing program.
We're just starting an initiative now with all the manufacturers in the area to try and rebrand the industry and get more people excited about it.
We have two different types of manufacturers — we have large ones like New Hampshire Ball Bearings, that are part of multi-national global corporations that are constantly looking at, well, if this facility is not working out, we can always move it somewhere else. Same with Titeflex. Then we have a lot of the smaller ones that were founded here, have grown here and are just holding back.
Everyone is getting used to this doing-more-with-less business, so groups are working together that never did before. We're seeing a lot of collaborative projects. One is the 200 x 2020 Initiative. We are trying to engage 200 businesses in the Lakes Region and provide the full range of experiential learning opportunities for kids at all levels. Right now we're focused on high school internship programs and we've got some funding for that moving forward and I think it will be a very interesting project statewide. I've never heard of anything like that at a regional level. We have all six high schools in the area that will participate in that, as well as the technical center.
Roche: When we started, one of the biggest cons would be people would call and they wanted to move up here so badly, but they wondered, are there jobs up here? What types of industries do you have? That was always the stumbling block to get them up here to the Lakes Region. The want and need to be here was 100 percent, so what happened was people started little businesses.
Lorentz: I read a lot about the workerless business trend. I certainly see a lot of younger people who either lost their job or can't find a job who are going out freelancing and doing their own thing. We are actually very well positioned to capture some of those people who are looking for the quality of life that we offer here. We have great broadband infrastructure, I live out in the middle of nowhere in Gilmanton and I have way faster Internet speed than when I lived in New York.
Roche: That is the beauty of technology today, with cellphones and iPhones.
Lorentz: Data on self-employment is spotty at best and the state doesn't seem to have good numbers that you can use, so we really don't have a good handle on how that population is growing and changing, but I would expect to see a lot more people like that moving to the area.
Roche: We want to be able to see our children stay here. They go away to school, many experience that lifestyle and they want to come back, but they've got to transition where there is a job. Many of them do come back and telecommute to Concord or Manchester.
We've become a bit of a graying state, sadly. In a way, it's not a horrible thing, because if you're thinking about quality of life, you want to maintain your young families and have that grow, but at the same time there is nothing wrong about having an aging population that is attracted to this state. Why? Because they have a lot of resources and a tremendous amount of equity, they have the largest amount of equity out of any age group and what they do is deploy that equity in many ways.
Lorentz: I did a focus group a couple months ago, and it was interesting to hear from people who had come here as children. I remember a dentist talking about how she stayed here as a child, but she never thought it was anything but a place that you went on vacation — she didn't realize there was a whole other world of people who live and work here year round. She never would have thought that this place is somewhere she could start her business, but she did and you're right — it's because she was familiar with it.
One of things that going forward is a challenge for our community and will be a struggle to deal with is, yes, we do attract a lot of wealth and a lot of money from outside of the state and the country that comes here to vacation, but we also have one of the higher poverty rates in the state. Our poverty rate in Belknap County is 9.3 percent versus 8.2 percent statewide. I think there is a correlation between the fact that 30 percent of our employment is concentrated in retail, food service and accommodations.
Can you talk about the Lakes Region Young Professionals Network and what are some of the concerns of the members?
Arsenault: We started it because there's not really much around the region for 28- to 40-year olds in terms of professional connections. There are chambers, business after-hours, things like that. I came up from the Seacoast about four years ago, where there are maybe too many groups and networks that you can join and become a part of.
One of the reasons I started the YP was because I was an ambassador on the chamber (now I'm on the board of the chamber), I said our business after-hours are supposed to be networking events, but it was hard to get into a group or a clique to try and introduce yourself to people.
Do your members work in the Lakes Region, and in what kind of jobs?
Arsenault: Primarily. It's everything — business owners to someone who might be a teller at Bank of New Hampshire. What we saw was for people at larger institutions like a Titeflex or a bank, maybe a business after-hours or a networking group or a professional connection sort of group, maybe they didn't feel like that was the place they were supposed to go. But then how do they grow their leadership development, how do they get the opportunity that may be the next person to lead them into a promotion or job change or opportunity? The YP group fits in nicely.
We're trying to work on this welcome wagon sort of concept to tie into a place like Titeflex Aerospace. There's a lot of people from France and Germany who work there. What happens when they come here and they get a new job and they don't know who to connect with? Somebody says go to the rotary and they go and say, wow this doesn't look like me, it looks like a bunch of old guys. A YP group like this might have more sticking power, and it's about giving referrals so they start talking up the region to their friends.
McLear: I'd just like to ask a question, Joel. How do guys your age that are professionals, what do you think of the bureaucracy, both the state and local bureaucracy? Is it helpful when you're starting a business?
Arsenault: Dealing with the state side, there wasn't a person who said yes, this is black and white, so it probably took us an extra two or three months just to do a simple business creation. Locally, I really haven't had much experience with any red tape or bureaucracy. In terms of helping, I think the business community overall is very supportive and they want to see other businesses do well. They might be a little close-minded about it sometimes in terms of sharing success, we all want it to come our way, but I haven't really experienced too much locally that has been painstaking I would say.
Landers: We are one of the strongest regions for businesses helping each other. I think businesses really help each other, worry about each other and reach out to each other.
McLear: I think businesses now feel it's not a zero-sum game. If I succeed, you don't necessarily fail. We can do better by making the whole region better. Carmen, do you look at the bureaucracy as a positive?
Lorentz: It depends on what you're looking to do. I certainly have had people who have complained about trying to build a new building or something like that, having to go through planning board reviews, the guidelines not being very clear depending on the town. There is always going to be room for improving those processes. When you think about the future and I know that we're not there yet, but to some degree, someday soon you'll be able to fill out a couple things and a couple weeks later you'll hear back. A lot of people are feeling tension because you have some people who are more used to that speed and then they kind of hit the brakes when they get to the planning board and it's a completely different generation of folks who are used to doing business very differently.
McLear: I think some of the rules that we're having to work with are not thought-out rules — they're bureaucratic rules. I just built a little swimming pool with two Jacuzzis and it has 17 signs that say 'No diving.' The pool is three-to-four feet deep and I deal with that almost daily. I can't tell the amount of time, energy and money it takes. I just think that the roadblocks are more difficult now when they were when I was your age.
Roche: My daughter is in Portland, Oregon and they have a tremendous amount of restaurants and eateries for young people. All outdoors, same in Burlington, Vermont. But as soon as a restaurant wants to put three tables outside here, they have to put up a fence that looks like a chain-link fence; you might as well put barbed wire. These are the kind of things that should not be in these zoning regulations. I always fear when we sell a development the city would require them to put in a sidewalk, which is a nice thing, but these sidewalks were literally going to nowhere. What was the purpose?
Kalicki: When Amy and also Carmen were talking about the difficulty to bring youth here, the college itself doesn't have the capacity to build a dormitory residence in our field, but we would love to see the state property and the opportunity to take over some of those buildings. Then there would be some possibilities to bring in international students. I have my first international student coming from France for higher science.
McLear: There's a private enterprise that has tried before you got here.
Kalicki: We explored that at Southern New Hampshire University and decided to walk away from it; it wasn't a good deal in the long run for us. But looking back at the state properties there are some buildings there that could easily be rehabbed.
McLear: The state was putting a property out and they were debating where they were going to put the prison. What got me going on was an old coach of mine from high school, he had a great idea at the time that it would be a great spot for a state school. Think of Saint Anselm College in Manchester on the hill outside the city. It would have been a great spot to have developed a community college or technical school. So we pitched and pitched it and we came close, I remember all the pictures we did, aerials, and then months later the barbed-wire fence went up because the state had made up their mind. They just wouldn't listen — it was money. They didn't have the money and that would have been just a fantastic opportunity for the city. Can you imagine a small college town, what it would have done to downtown Laconia? Laconia would have just bustled.
What relations does the college have with different businesses in the region?
Kalicki: As an example that Carmen was talking about, the 200 x 2020, we see ourselves as having a significant role from the very beginning in taking those youth in seventh and eighth grade and exposing them to great career opportunities that in essence parents didn't want them to look at, like advanced-manufacturing jobs.
I anticipate this next summer we'll be running weeklong day camps. Two days you'll be doing culinary stuff and seeing what that industry is like, then doing marine, then doing automotive. We've always had a partnership with Lakes Region General Hospital doing the scrubs program. We're really trying to work with a number of businesses.
Can you talk about the chancellor's proposal to have different community colleges in the state focus on different industries, strengths in their areas?
Kalicki: Certainly the chancellor is very attentive to each one of the community colleges saying, what are your exemplary programs that you do now that you do well instead of replicating them all across the state and instead taking advantage of technology. For us, we've identified energy services as one in essence we should own in the community college system. I've got to bring my faculty to do podcasts, online classes, so if you're getting construction management in Nashua, you can add on another six credits in solar energy and make yourself all that more attractive to a contractor. Really pushing that particular initiative makes great sense and is more efficient.
With all things being equal, what does the next year or so hold in terms of your business, industry and the Lakes Region in general?
Roche: We'll all finally know come November.
McLear: I think the market will slowly get better, but I do think we need to look at our vertical will for leading the communities in the right direction and our political will to do some of the things that truly need to be done. I think that Laconia has just done something really good by saying that they would spend a lot of extra money on the football field and the high school, they didn't take the cheapest way out, and that's a great thing to see them do.
There's always ups and downs, everything is cyclical. I think we're going to have a good run if those people who are responsible for governing us, both countrywide, statewide and locally will do what they're supposed to do and lead.
Garfield: I would agree. I think we're going to see a slowly improving economy. I think we as businesses will all have to take advantages of the opportunities that are out there but we also have to recognize those opportunities and seize them. There's more and more competition out there than there has ever been, whether it is financial institutions or retailers or tourism. I'm positive that we will continue to improve.
Roche: Consumers have multiple choices all over the world where they can travel. We just have to sharpen our skills and make our environment as conducive as possible to attract these people. Be as friendly as we can possibly be, give the best service, provide the best atmosphere and not get away from our roots.
Kalicki: We have an exciting year and are just breaking ground on a brand-new health and science building that will help modernize our nursing and natural and physical sciences. We're going to be stepping up our campaign to market who we are. We have a number of exemplary programs and programs that people don't know about — the Mercury Marine, the Ace General Motors program, energy technologies, and we have that responsibility to not only recruit, but let people who are looking into the region to know that there is a good strong community college that has a good relationship with the community.
Arsenault: I think what this recession has done to local banks and businesses have made relationships huge. Knowing the person that you're doing business with, trusting them, knowing there's a good product — I think relationships are newfound old-fashioned, if that makes sense. The other area is cultural. I'm on the Winnipesaukee Playhouse board and the people who we reach out to for the most part for the bigger donations aren't all permanent residents. They are people who come here for three to five months a year, but want something like that to be around.
Lorentz: We have a new strategic plan so my work has been pretty clearly laid out for me from my board of directors. We're focused on attracting young talent to the area, more of that 30-to-45 age range, either people who grew up here or vacationed here as a kid. The second area that I'm focused on is trying to help develop an appropriate support system for entrepreneurs, developing more of a startup culture especially in some of the higher-tech areas and also arts and culture. The third area is just enhancing our workforce development for all of our employers, the schools and all the programs going on and try to improve them, find money for them, make them better so that they will better serve us.
Landers: I feel we will continue on an upswing. I think we're recovering a lot faster than many parts of the country. We have to continue to enhance both our domestic and international marketing. No matter how tough the economy is, we need to keep marketing and keeping our name out there and bring the visitors here. I think one of our biggest competitors right now is getting families convinced that you have to leave a week and take some time aside to go away and make memories.