Specialized golf cart finds no takers, so far, in N.H.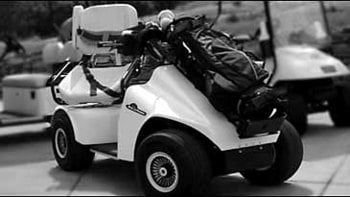 The SoloRider, a specialized golf cart developed by a Denver, Colo.-based company of the same name, allows those in wheelchairs or with significant mobility issues to play golf while seated. Looking somewhat like a single-passenger golf cart, the SoloRider has hand controls and a swivel seat that allows disabled golfers to drive straight from the tee and sink putts on the green without ever leaving the cart.
And that is what is causing some concern among New Hampshire golf course owners and managers.
It has long been a golf course edict the world over — golf carts are not allowed on greens due to wear and tear on the highly specialized – and expensive to maintain – turf.
But John Hikel, who distributes the SoloRider through his company, Total Access Golf in Manchester, says the cart has a minimal impact on the grass.
"The tires put about 7 pounds-per-square-inch on the turf, that's less than the heel strike of a golfer. It won't even leave tracks," he says.
Ronald Ludwig, the director of Manchester's parks, recreation and cemeteries department, and which owns the municipal Derryfield Golf Course, says he's skeptical of SoloRider's claims at negligible turf damage. "What's the damage over time?" he questions. "The greens are cut every day, and walking compresses the greens. Now, add the pressure of the carts to that."
He also says he has concerns about safety and liability. "Derryfield has very uneven terrain," he says.
Marketing technique?
Hikel, however, says he thinks course owners and managers are reticent to provide SoloRiders, not so much for turf or safety issues, but because of the cost. At about $8,800, the SoloRider is over twice as expensive as regular golf carts.
"I was disappointed with some municipal courses in New Hampshire,' says Hikel. "One course manager said it was not his job to buy it — the city should buy it. The city said they don't buy golf carts. They get 70,000 plays a year, why would they be looking for more course use?"
According to Hikel, SoloRider company officials are battling the Golf Course Owners Association in court to mandate that one or two SoloRider carts be provided at public courses under the Americans with Disabilities Act.
Such an attempt, says Ludwig, is a "high-pressure marketing technique."
Manchester, he said, "has been accommodating to disabled golfers. We allow standard carts greater access closer to tees and greens. We allow them to park carts in special areas designated by flags."
Besides, Ludwig says, the city is trying to keep the cost of play at Derryfield affordable and, if mandated to have single-rider carts, costs would rise.
But just how far do golf courses have to comply with the ADA rulings? Are handicapped-accessible parking lots and bathrooms enough?
The ADA was enacted in July 1990 and "prohibits discrimination on the basis of disability in employment, state and local government, public accommodations, commercial facilities, transportation and telecommunications."
Public accommodations "must comply with specific requirements…where it is easy to do so without much difficulty or expense, given the public accommodation's resources," the ADA says.
"The ADA does not say you have to level the earth and make a ski area flat or pave a golf course that has hills and valleys," says Clyde Terry, chief executive officer of Granite State Independent Living, a statewide non-profit organization that promotes and supports programs for those with physical or mental challenges. "It basically says you cannot discriminate because of a disability. The business must be willing to make some accommodation."
Currently, the U.S. Department of Justice is reviewing proposals to revise the act to include the design, construction and access to golf courses. Stated in its proposal:
"The Department is considering … requiring each golf course that provides golf cars to make at least one, and possibly two, specialized golf cars available for the use of persons with disabilities, with no greater advance notice to be required from the disabled golfer than from other golfers. The Department believes that relevant considerations in determining whether and under what circumstances this requirement should be imposed include (i) whether the golf course makes golf cars available to golfers who are not disabled, (ii) the burden that such a requirement would impose on golf course facilities, and (iii) whether the course requires the use of golf cars during play."
Although the ADA proposal does not specifically name SoloRider, it does make note of a "special golf car currently available" — described as "a one-seater with hand controls and a swivel seat" and that "golf course operators have expressed concern in the past that the available one-person cars (i) tip over easily on steep terrain and (ii) are too heavy for green use. Producers of newer designs for one-person cars claim to have overcome these problems."
The Department of Justice is accepting public comment on this proposed ruling until May 31.
According to Terry, the ADA's suggested proposal for public courses to have specialized carts for disabled golfers "seems to be a fairly reasonable accommodation. Having a cart on the course does not fundamentally alter the game."
Martin precedent
Paul Arruda, president of the New Hampshire Golf Association, says his organization promotes the use of a "handicapped" flag and easing cart parking restrictions, which allows those with mobility problems to get closer to, but not on, the green. But, he admits, such accommodations wouldn't help a wheelchair-bound golfer.
"However, I haven't seen much activity in the area of using adaptive carts," says Arruda. "I don't think the clubs have moved beyond the flag."
Arruda says ADA mandates are not something the association would get directly involved in. "Our position is we would endorse any of these options for disabled golfers, but the implementation would be on the club owners," he said.
Scott Devito, head professional at the Pease Golf Course, a public course owned by the Pease Development Authority, says his course occasionally allows carts on the tee and greens for those with mobility issues — "within limits"
Hikel had demonstrated the SoloRider to Devito and course superintendent Tom Platt last year, and Devito says he was impressed. "It looked great. The technology was at a point where the tire pressure causes minute damage," he says.
Although the Pease course does not currently have a SoloRider, Devito says he is taking a look at leasing programs.
Hikel says the case of disabled professional golfer Casey Martin against PGA Tour Inc. brought golf course-accessibility issues to the forefront.
GSIL's Terry says Martin's case was indeed a milestone, and that "there is a precedent now to move forward with."
Martin's case against the PGA Tour, however, only entitled him to ride his cart from tee to tee instead of traditionally walking the entire course as mandated in tournament play. The ruling did not necessarily allow or prohibit riding, parking or playing from a golf cart directly on the green near the hole.
As much an activist as a salesman, Hikel has been approaching newly disabled Iraq War veterans who would like to continuing playing the game they left behind when they were called to duty. In a recent taping of the television program, "Queer Eye for the Straight Guy," Hikel worked with the stars of the show to provide a cart for a Marine who had his pelvis crushed during fighting in Iraq and was subsequently left without the use of his legs. (The show will air in June on the Bravo Channel.)
Hikel also says he is working with "rehabilitation folks at Walter Reed Hospital" to help injured and disabled soldiers recover through golf.
Terry says that stocking an adaptive cart just makes good business sense. "Given the changing demographics in the state and given the nature of the population that plays golf, I think the carts would be a great marketing angle," he said.
Hikel says he has not yet sold a SoloRider in New Hampshire, either to a course or to a private customer.