Skybus enjoying its warm welcome at Portsmouth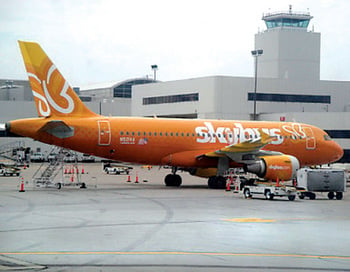 When Bill Diffenderfer began passenger service from Portsmouth almost a year ago, 10 people boarded the first Skybus flight. Now, his 156-seat aircraft are often at capacity, especially in the summer months.
One of those passengers is Phil Decker, a patent attorney based in Portsmouth. He flew Skybus with his wife Velana on Christmas Day from the airport at Pease to St. Augustine, Fla., one of several smaller airports used by the low-cost airline.
"We had a vacation planned in Daytona Beach," he said. "We were able to rent a car very easily. Even though it was a very full flight, it was a very smooth experience for us. We enjoyed it."
The couple praised the airline's new aircraft, which cost $40 million each. They said that they would definitely fly Skybus again
Columbus, Ohio-based Skybus, which flies to and from smaller, underutilized airports, began its Seacoast operation last May with just two daily flights from Portsmouth to Columbus. The airline currently makes six daily trips from Pease to Greensboro, N.C., and two Florida locations, St. Augustine and Punta Gorda.
Diffenderfer, chief executive officer of the airline, was back in Portsmouth last month to speak at a Greater Portsmouth Chamber of Commerce breakfast forum. He used the occasion to outline events that led to the start-up of Skybus and the progress that the airline has made so far.
"The goal of the airline was to do something that nobody was doing in the United States. The goal was to be able to fly an airline profitably at half the price of everybody else. That means that your costs have to be less than half of everyone else," he told the chamber audience.
While Diffenderfer didn't discuss revenue or profits of his airline with the audience, he did share with them the main reason for success or failure.
"An airline only makes money when its airplanes are up in the air flying somebody from where they were to where they want to go to. As a young lawyer for Eastern Airlines, I'd fly into Atlanta and see all those airplanes on the ground."
In contrast, Skybus strives for a quick turnaround at the airports its serves, including Pease, which he praised as a "terrific" airport.
At Pease, he said, "our airplane is on the ground very little, 25 minutes, and that's it. I know this airport does it every day now."
He also pointed out that the entire fleet of Skybus planes is new. "It's the only way to fly those airplanes 15 hours a day. We did the biggest first order of new airplanes in the history of the United States — 65 airplanes." The airline flies Airbus model A319 aircraft.
Skybus advertises that it offers $10 one-way fares to the first 10 passengers, while charging extra for baggage handling, food and other amenities on its flights. It also doesn't offer first-class or business-class seating. The airline's goal is to keep ticket prices under $100. It does business entirely through the Internet, with no customer service department. That, said Diffenderfer, is another way the airline cuts costs. "Skybus is going to be the first e-commerce airline," he said.
Diffenderfer also shared his reasoning behind making Portsmouth one of the destinations for travelers.
"If you're coming from Vermont, western Massachusetts or other New England locations, Logan Airport is not a deal. It's better here and easier to get to."
He also reiterated his commitment to keep flying to the Seacoast.
"As we go forward, as we build this airline, we're doing it together with you all. We want this area to boom as part of what we do, because we will grow with that," he said.
The Pease Development Authority, which manages the airport, is hoping for that growth.
Previous ventures to offer service to and from Portsmouth have all failed, starting with Delta in the 1990s. Pan Am, and most recently Allegiant Airlines, also stopped offering service to the Seacoast due to low passenger loads.
But Dick Green, executive director of the PDA, pointed out that the terminal should be prepared for increased passenger service related to Skybus and has just called for bids to expand baggage handling and waiting areas.
Green said that the project could cost between $3 million and $5 million.
"It's necessary for us to accommodate the current flight schedule, and we're looking at further activity either from Skybus, if we become a hub city, or other airlines look at us for both domestic and international service."
The full PDA board was expected to consider construction bids on March 13. If the board decides to award the bid, Green said, construction at the terminal could begin by June or early July.
Skybus CEO Diffenderfer, meanwhile, responded firmly to this reporter's question of the carrier possibly expanding to international flights in the near future.
"That is not on our horizon anytime soon," he said. As to the possibility of Portsmouth becoming a "focus airport," where airplanes and flight crews are based, he said that the projected growth of the airline will eventually require more such facilities.
"We expect to expand that number annually as we go forward, but as of now we have made no decisions at all. There are a lot of factors that go into it, and we're a while away from our next selection."