Salem board OKs first phase of Tuscan Village plan
Mixed-use project situated on 50 acres of former Rockingham Park land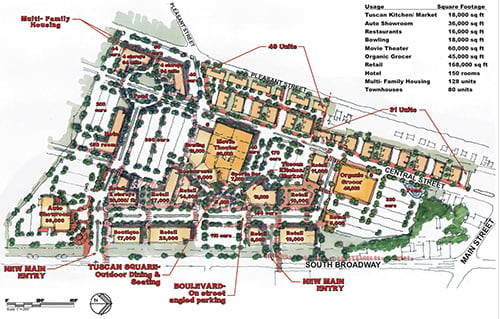 The first phase of planned 368,000-square-foot Tuscan Village mixed-use development on former Rockingham Park racetrack property has won approval from the Salem Planning Board with its approval of the town's large-scale redevelopment ordinance
Restaurateur Joseph Faro, who purchased the 50 acres last year, has plans for more than 200 housing units, a hotel and retail space.
The first phase of the project, approved by the planning board, calls for a 150-room hotel, 128 units of multifamily housing, 80 townhouse units and at least 168,000 square feet of retail space.
The proposal also includes a 60,000-square-foot movie theater, a 45,000-square-foot bowling complex and 16,000 square feet of restaurant space. Faro has said
that his popular Tuscan Kitchen and Tuscan Market restaurants would be relocated to the site.