Rents outpace home values in April
Zillow: 4% increase is fastest rate of growth in two years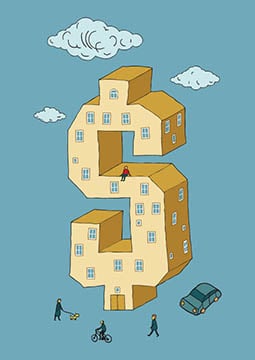 Rents for residential housing in the U.S. grew at their fastest pace in two years in April, topping home values, according to Zillow's latest real estate market report.
The online real estate database said that rents outpaced home values in 20 of the 35 largest U.S. housing markets.
And the gap could grow even wider, since home value growth is expected to slow further in the second half of the year as the for-sale housing market stabilizes.
According to Zillow, home values in April rose 3 percent over April 2014 to $178,400. Meanwhile, Zillow said rents rose 4 percent during the same time frame, to $1,364.
Stan Humphries, Zillow's chief economist, said that "there are tremendous incentives to get into homeownership these days. Mortgage access is improving, interest rates are low and home values remain below prior peaks." But, he warned, "it will be increasingly difficult for many renters to realize these benefits as this country's growing rental affordability crisis continues to worsen."
"More income going to rent means less going to savings for a down payment and other costs, keeping renters renting longer and feeding into the high demand that is contributing to rising rents in the first place," said Humphries. "This cycle will be difficult to break, and is a symptom of the imbalances that still exist in the housing market as we struggle to get back to normal. New construction and rising wages will help, but neither is coming very quickly," he said.
On average, U.S. homebuyers can expect to spend about 15.3% of their income each month on a typical house payment. Renters can expect to spend about 30% on a monthly rent payment.
Home values have both risen and fallen over the past decade, but rents have been steadily rising. They are now higher than ever before.
Rental growth has been outpacing home value growth for several months in some of the nation's hottest markets. In Boston, for instance, annual rental growth has outpaced home value appreciation since August 2014.