Questions raised over Coos TIF financing plan for Balsams
Otten warns project is in 'grave time jeopardy'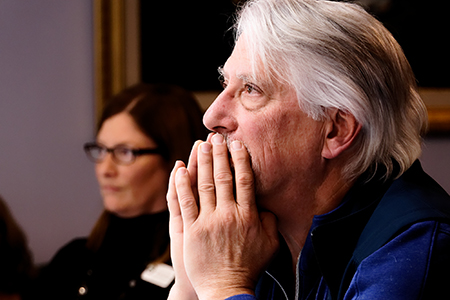 Several experts in tax increment financing say a bill before the NH Legislature that Balsams developer Les Otten calls crucial for saving the shuttered resort has some odd twists that could undermine its success.
The bill would allow Coos County to use tax increment financing to sell a bond and raise $28 million for Otten, who has been trying to revive the Balsams since 2014, but the $175 million he needs for the first stage has eluded him.
He's now engaged in what could be seen as Hail Mary financing to save a project he and supporters predict would provide an enormous and desperately needed economic boost to the North Country.
"I think the project is in grave time jeopardy now," he told Coos officials in December. "We can only take so many no's before any project will get to the point where one has to admit it is not going to be in this lifetime, but we are not there yet."
For Otten, the key is House Bill 540-Local, which basically authorizes Coos to create a TIF on behalf of Dixville Notch, the location of the Balsams. The bill is currently before the House Municipal and County Government Committee.
Untypical TIF
TIFs are commonly used by municipalities – including several in New Hampshire – to fund projects such as improving infrastructure to ease the way for a developer and promote economic development.
The hope is that Coos would sell a $28 million bond and then the lender would be paid off using additional taxes generated by the new condominiums and development at The Balsams.
When the bond is paid off – which could take 20 years – those new taxes would go into the county's coffers.
Otten says there would be no risk to the county and it would reap the benefits, including meals and rooms taxes.
That is a typical TIF.
But there are some things in HB 540 that are much different.
The first is that Otten would be given the $28 million.
Sometimes a developer will be given a portion of TIF funds, but it is unusual for him to be given all the money, said David F. Merriman, a former professor and now senior scholar at the Institute of Government and Public Affairs at the University of Illinois at Chicago.
The second major variation is that Coos County does not promise to pay off the debt should the project fail.
Coos not backing the bond is unusual and could discourage lenders, said Michael Hicks, a professor of economics and the director of the Center for Business and Economic Research at Ball State University who has researched TIFs.
"The municipal market seems to demand that local governments back the debt. In fact, I don't know how you structure the debt otherwise and access capital," Hicks told NH Business Review.
Coos County may not be legally responsible for paying off the debt, but credit rating agencies may see the county as having "a moral obligation to repay," said Josh Pacewicz, an assistant professor of sociology and urban studies at Brown University who has researched TIFs.
If the debt isn't paid off, there is the potential for the county to have its credit rating hurt, Pacewicz said.
"Clearly, it looks bad if you have municipal bonds that are not being serviced," said Merriman.
Fiscal concerns
So what's the point of a municipal bond that is not backed by the municipality?
Otten may be hoping that the "format of an apparent municipal bond" will "look sweeter to lenders," said John Macomber, a senior lecturer in the finance unit at Harvard Business School.
The bill doesn't hold Coos County responsible for any debt because that legislation wouldn't have had a chance, said the bill's prime sponsor, Rep. Edith Tucker, a Democrat from Randolph.
"It was a non-starter," she said.
Tucker said that lack of a guarantee may mean no lender will buy the bond.
Even if the bill makes it into law, the Coos County commissioners and Coos delegates have to approve going ahead and that "is not by any means a sure thing," said Tucker.
County Commissioner Rick Samson said he is deeply worried about the fiscal soundness of the plan and it's wrong to use a TIF to hand over money to a private developer. But the two other commissioners, Paul Grenier and Thomas Brady, support it and say it's a good plan and the county needs a revived Balsams.
Otten said he remains optimistic because people interested in buying condos have put down refundable deposits valued at $23 million. But he admitted it has been "a difficult and bumpy road."
In 2016, Otten said Northern Bank & Trust in Woburn, Mass., was looking favorably on a $100 million loan. That would include a $28 million guarantee by New Hampshire's Business Finance Authority. But in 2017, the bank suddenly backed away from the deal without commenting.
Then last year, Otten went before the BFA, hoping it would guarantee a $28 million loan from Service Credit Union of Portsmouth. But in August he gave up.
The chair of the BFA, Dick Anagnost, said there was concern on the part of board members that public money would be at risk.
"There was a misunderstanding of the shape and form of that guarantee. It was a disconnect," Otten said in December. "I don't want to blame anybody but what we all thought we were getting was not there."
In a 2016 interview, Otten said a major reason he agreed to take on the project was that state development officials encouraged him and he thought a $28 million state loan guarantee was a done deal.
At one point, Otten also pursued EB-5 loans.
While there are questions about the viability of HB 540, prime sponsor Tucker said it is worth trying because it could help some other developer.
"If it can't happen for the Balsams and it can't happen in Dixville, maybe it could be something useful for some other project," she said. "It could open some doors."