Q&A with: New Hampshire Made Executive Director Laurie Ferguson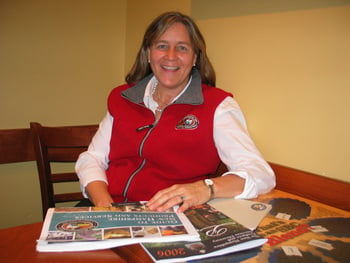 Laurie Ferguson, 51, grew up in Pittsburgh, Pa., but spent much of her childhood and young adulthood in New Hampshire, going to summer camp, college and competitively skiing in the mountains.
After graduating and working as a history teacher, she embarked on a life some people dream about — a career as a marketing executive working for firms in New York and Boston, a husband whose successful photography career took them all over the world, a perfect house. She even worked for several ski manufacturers drawing on her experience as a ski racer.
Two sons were born and suddenly the go-go lifestyle had to come to a halt, but not her drive. The call of New Hampshire's mountains and quieter lifestyle brought her back to the Granite State. She opened her own marketing agency, Ferguson Communications, in 1995, representing such clients as the League of New Hampshire Craftsmen.
A divorce several years later forced her to rethink her future. And, fortunately for some of New Hampshire's smallest businesses, Ferguson in 2004 took the helm of New Hampshire Made, a nonprofit organization whose mission is to provide marketing assistance to the Granite State's cottage industries.
---
Q. How did you become involved with New Hampshire Made?
A. In the early 1990s, there was just a task force, and they got people together from the state Department of Tourism, Agriculture and others, as well as people like Steve Barba, who was still at The Balsams at the time.
I got involved because I was in marketing and PR. It was just kind of word-of-mouth. I asked if I could be on the task force, and they said, "Sure! Come on in!"
I hadn't worked in the nonprofit world before. I kept thinking this would be cool run, but I was doing OK with my marketing business. One day, Molly Smith, the first director of New Hampshire Made, called me. She was leaving and asked if I would consider the position.
It was a scary decision, but I kept thinking the next director would probably stick around a long time, and I might not get another chance. If ever there was a time to jump, that was it.
Q. How has the organization progressed to the point where it is today?
A. There's been a history of other attempts of something like this, but it was always just one group, like the Department of Ag, doing it entirely alone.
I think that's where we made this work. It brought in statewide resources. It's not just the Department of Ag, it's tourism, it's lodging, it's products, it's League.
There was a perception years ago that people had a wait-and-see attitude about us. "Do I want to use the logo if they're not going to be around?"
I think people now say, "This has been around. This is the standard." Now, people are committed, they're printing the logo on their packaging. Trust is now established.
This is a statewide program and the state recognizes us as the official organization that's promoting the products and services with our logo.
We're also realizing a goal we hoped would happen when we started that we'd become an umbrella organization that could house many purposes for many people as long as the theme was always supporting the local economy.
Q. Who are your members?
A. We have more than 650 members today. The core of our membership is the one- or two-person start-up, maybe those that are big enough to have one or two more employees. That membership level is $75. But the whole point is that hopefully they're growing and getting into one of the higher levels of memberships.
The nonprofits that belong are the historical societies or associations that represent certain groups, like the League of New Hampshire Craftsmen, the New Hampshire Plant Growers, the New Hampshire Llamas Association, those types of groups.
We also have three standing committees within New Hampshire Made — the New Hampshire Farmers Market Association, the New Hampshire Farm to Restaurant Connection and the New Hampshire Winery Association. This enables them to apply for and receive grants. As a 501(c)(3), we act as their fiscal agent. They have their own boards and their own checking accounts. Their board members are on our board, but we do not have oversight over them.
Q. How are you funded?
A. The good news is that we are almost entirely self-sustaining, which I would hope would be a goal for any nonprofit.
Funds come from membership dues. We now have enough members where they're telling other business owners about us, and they're signing up for memberships on their own. That's really great that they heard about you and want to become a part of the organization.
Sponsors also contribute, but on more of a project basis. For example, PSNH has just been wonderful to us from the very beginning. And not just in monetary sponsorships, but it could be booth space at trade shows or printing services.
We also have two retail stores located on I-95, one both northbound and southbound, through a relationship with the New Hampshire Liquor Commission. We have our own entrance, but we are literally attached to the liquor store buildings.
Like any store, they were sinkholes at first, but now they not only pay for themselves, but are contributing to the organization.
We also sell ads in our publications. We may get $10,000, and that's after we produce it and print it. That helps.
We are also a line item on the budget of the Department of Resources and Economic Development. Their focus is getting businesses to move here and to stay here, but they know there's this whole other world of the entrepreneurial micro-businesses that is not really getting that trickle down from DRED.
Q. How does New Hampshire Made differ from some of the state's other cottage industry resource groups like Hannah Grimes and WREN?
A. We're statewide. Hannah Grimes, while accepting members from all over, concentrates on the greater Monadnock area. WREN focuses up north. They have that same concept as us — to be that nurturing place that some start-ups need, and both do a great job at workshops, seminars, training and education.
Our focus is marketing; we market products. We do it through the branding, through the Web site, through the directory, through the guide, the signs, stickers, hang tags.
Q. What does the future have in store for New Hampshire Made?
A. We just re-launched our Web site, nhmade.com. It will bring us to a whole new level of sophistication. Now, you can search on the type of product you want, search on what vendors are in your town, or even by name.
You can also purchase directly from our stores on the Web site. The goal is to become another way for our members to sell through us. We're not there yet, but our goal is to make that online store represent not just our stores. We're trying to figure out just how to do this. Who does the collecting? Who's responsible when an item's returned?
The state is also considering building a new rest stop and Liquor Commission outlet and store for us in Chesterfield on Route 9 south of Keene. We'd really like to be in Hooksett, but that's several years away. Hooksett will get a renovation in six years, but Chesterfield will get one in two.
We don't want to move into downtown areas of Concord, for instance, and compete with the other stores that sell New Hampshire-made products. Our job is to promote those stores.