Q&A with: International educator Chris Spirou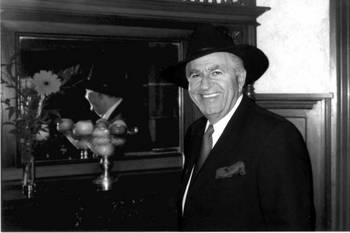 Arriving in Manchester as an immigrant from Greece at 13, Chris Spirou went from shining shoes and washing dishes to become one of the state's leading political figures in the 1970s and '80s.
He was House minority leader for a decade (1975-1984) and won the Democratic nomination for governor in 1984, before losing to incumbent John Sununu in a Republican landslide. He remained on the political scene, serving for several years as the state party chairman before announcing his return to "Mt. Olympus." Back in his native land since 1994, Spirou has become involved in a number of international political, academic and business ventures. He is president of both the Hellenic American Union and Hellenic American University.
---
Q. How did you become involved in starting Hellenic American University?
A. I thought after 2001 that what was lacking (overseas) was access to quality and affordable American higher education.
In order for them to compete in the world market today, the managers of the future need to have technology, American English knowledge and American higher education exposure. Many of them after 9/11 have not been able to enter American schools and American universities. It's been very difficult. We were able to get through the Legislature a bill that created the first global American university with degree-granting authority in the state of New Hampshire. The campus is located in Athens,and it is our intent to provide the kind of education that New Hampshire is proud of.
We are governed by the Post-Secondary Education Commission of the state of New Hampshire. The things that you see in our brochures are all approved by the commission, as it is for Southern New Hampshire University the University of New Hampshire and Plymouth State University. The only difference is the number of students that we have.
And you know when we stated a year ago, I did an interview with The Economist, and they said, "You only have 15 students," and we had just started our MBA program. And I said, "Well, you know Jesus started with 12 and he did pretty well for himself." So now we have 40 MBA students a year later, and we just got our approval for a bachelor's degree.
Q. Looking back on your political career here in New Hampshire, do you have any regrets about running for governor in 1984?
A. First of all, as a shepherd boy from the mountains of Thessaly, being nominated for governor and being the first Greek-born American to get to that high office and to be in the box next to the president of the United States, I can't say that one can have any regrets about that.
The American political system and the New Hampshire voters honored me by placing me there. The end result was greatly influenced by the presence of a very popular Republican president at the time … I did a good campaign, I talked about the issues and the issues that I spoke about then proved absolutely correct years later. I talked about the economic imposition of the Seabrook nuclear power plant and the environmental consequences for the future. And I think I was correct.
Q. People often asked when you were in office, "What does he do for a living? Where does he get his money?" What was your answer?
A. Once that question was asked me by (the late state Senator) Jack Chandler.
I told him when I was young I had property in the mountains of Greece where the generals from the American military and the British military came and rented for a hundred years from my family. And they put in missiles and they moved us out of there and every year we get a check from the American CIA and the British Secret Service. It was a lie, of course. I made it up at that moment because he was so inquisitive. And so about a half-hour later, a representative came to my office and said, "There's a Union Leader reporter calling the CIA and asking whether or not you're on the payroll."
Look, I worked as a consultant in many areas over my time. I did political consulting, I did development, real estate development, after I left the Legislature. I owned properties and lost it in the disaster of 1989-91. I had a good family. We all worked together and produced together. My father had a business, a coffeehouse here. I worked in the shoe factories.
But I made quite a lot of speeches around the country on the political process. I was a poster child for the dental political action group for many years. They're a political action group and wanted to know how to participate in the political process.
Q. What two or three things are you most proud of as legislative achievements during your years in the House?
A. We did the environmental laws, the collective bargaining for public employees … I delivered, I think, 147 votes for collective bargaining. The Republicans delivered about 45, 50 and they held a press conference to announce they had passed collective bargaining for state employees. I think being the floor leader and preventing the destruction of our Seacoast with the refinery that my countryman Aristotle Onassis wanted to build with Mel Thomson here was a major accomplishment. I think the Seacoast will be safe for many generations for our children and our children's children in the state.
Q. You seemed to enjoy during those years being a prime target for Union Leader editorials.
A. I took it in stride. I remember one day there was an editorial half a page long and the title of it was, 'Stupid.' It was about me. So a few days later I saw (editorial writer) Jim Finnegan on the street, and he said, "You must be mad at me." I said 'Yeah, I'm mad at you." I said, "Why did I have to wait 17 lines down to figure out who you were calling stupid. Why didn't you just put my name at the top so I could get some advertisement? Some people might have given up trying to figure out who you were calling stupid. Why didn't you call it 'Chris Spirou's Stupid' so I could get top billing?"
Q. When you went back to Greece, you started doing what?
A. I got elected president of the Hellenic American Union at the same time I became international consultant with a major Greek construction company that was doing major construction projects in the Middle East.
Q. Were you employed by former Serbian strongman Slobodan Milosovic in Serbia at one point?
A. No, I was not employed by Milosovic at all. I was a friend-of-the-court sort of individual who worked with the Clinton administration and with the Milosovic regime to stop the war in Bosnia.
As a result, by agreement of all parties, including that of the United States and five allies who were working on it, I was allowed to be a member of the Serbian delegation in Dayton. I was a member of the Dayton Peace Agreement.
Q. If there is an epitaph on your tombstone what would you want it to say?
A. "He was all right." I said once that you can be a constructionist and a non-conformist at the same time. And I lived it. And so, "He was all right" — that's good enough. You don't have to be great.