Q&A with: Former Gov. John H. Sununu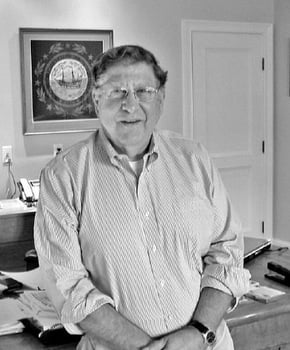 The 93rd governor of New Hampshire (1983-89), John H. Sununu served three terms as the state's chief executive before becoming President George H.W. Bush's chief of staff in 1989. He served in that capacity until March 1, 1992. Sununu co-hosted CNN's "Crossfire" from 1992-98.
Having recently moved from Salem to Hampton Falls, the former governor remains president of JHS Associates Ltd. and is a partner in Trinity International Partners, a private financial firm.
---
Q. I was surprised to find your office is in your home. And this is a very large and spacious home.
A. We have eight children and 14 grandchildren. We have to have a large and spacious home.
Q. Do you miss Salem at all?
A. We'd been there since 1969, and it was a lucky house for us having the kids there and the schools in Salem. I mean, everything worked out well. I miss the friends, I miss the neighborhood and I miss the old times.
Q. Do you feel you were lucky in politics?
A. I've said all the good things that have happened to me have been unplanned and I've been very lucky that way. The good Lord has taken very good care of me. It doesn't happen by accident.
Q. But I'm sure you would say, understandably, that your success, particularly in the gubernatorial elections, was based on merit.
A. (Laughs) I would like to think so. We worked hard. And I give my family credit. They worked hard. We probably as a family have stuffed more envelopes than any other family in America. We do it now on a volunteer basis for some charitable organizations.
Q. How did you get into consulting on marketing and acquisitions? Your background is in engineering.
A. I'm an engineer. My Ph.D. is in mechanical engineering. I taught at Tufts University. So even before I got into politics I had a small consulting business, working with engineering firms. What I do now are two things. One, I help some of those old clients of mine get projects around the world. They build power plants, they can sell equipment for water systems, they're involved in telecommunications. And we help them work around the world and deal with the complexities of foreign governments and try to make sure that the American companies are treated fairly.
So I get to use my technical background, I get to use a little bit of the relationships I've developed in my political life and the visibility of a name is always helpful to a client. As we evolved, I brought my three sons into the business. We had four, but the other one ended up in Congress and the Senate.
What we've done is expand that basic business to help (clients) with acquisitions, to help them get partners internationally and to help them, if you will, expand their technical base by finding small companies that have the technology that will fit into their objective.
Q. How much international travel did you do and how many international contacts did you make when you were chief of staff?
A. Well, I went with the president on virtually every trip. So you develop relationships, but more than that you develop an understanding of how each individual country functions. But historically, I've had an involvement in international trade, because my father was in the import-export business and represented American companies in dealing with international trade before it was fashionable. So I guess the international gene was always there.
A lot of the energy and technology business I'm involved in the government of the U.S. is involved in and I wanted to avoid conflict-of-interest perceptions. You know, it's not always the reality that's the problem, it's the perception.
So I gave a little bit of focus to the international side, so I wouldn't be dealing with U.S. government agencies right after I left the White House. And it just grew into a very nice niche in our business.
Q. At age 68, have you mellowed in temperament since your political days?
A. No, I really haven't. A lot of what happened — if you're committed to getting things done — there has to be a toughness to pursue that agenda and not permit meandering. And I think a lot of the difficulty the state is in now is that people have tried to not be as disciplined and have not focused on things.
As governor, remember, I came in with a huge deficit and I made a commitment to fix things right away. And I had a pretty good idea of what had to be done. So I didn't allow meandering and deviations. And so you get a reputation for being very demanding. And then when I became chief of staff, I saw my job was to catch the spears to save the president. So I was the bad guy, while he was the good guy.
Q. Before you officially arrived at the White House, Sam Donaldson of ABC News told the nation that John Sununu would likely have a rough time in his dealings with Congress because he is known to be a man who "does not suffer fools gladly." Did that accurately reflect your view of the Congress of the United States?
A. No, I don't think so. You need a tagline to a story and that was his. Look, the nature of the job is to deflect criticism and take arrows for the president. I was there three years. I would not have been surprised if it had been three months and I would not have been surprised if it were eight years.
Q. Did you make the decision to step down or were you told it was time to go?
A. It was basically a decision that I was drawing too much lightning. I sat down with the president and with George W. Bush and Andy Card and the thinking was that if I left, maybe the lightning would leave with me.
But my presence there was actually keeping the lightning away from the president. And all of a sudden the lightning kept hitting the president and he ended up losing the election.
Q. Were those private trips you took on government aircraft a problem for the president?
A. There was a presidential directive that prohibited the chief of staff and the national security adviser from flying on commercial airlines.
Q. Was that explained in any of the news stories about your travels?
A. Yeah — in about the 19th paragraph of the first two stories.
Q. Sherman Adams, the former New Hampshire governor who was President Eisenhower's chief of staff, said that among the things he learned in his previous career as a lumberjack was how to keep his temper and "when to lose it." Did you ever lose your temper on purpose for the effect it would have?
A. Oh, absolutely! Toughness is a tool.