Q&A with: Antioch University New England President David Caruso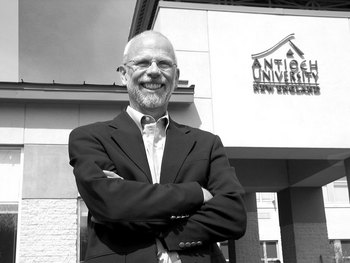 The career of David Caruso, the newly inaugurated president of Antioch University New England in Keene, shows that what we start out wanting to be is often very different from where we end up.
Caruso, 62, was a musician, a jazz trumpeter. He studied at Boston's Berklee School of Music and played in a U.S. Army band during the Vietnam War.
Once out of the service, he moved from his home near Pittsburgh, Pa., to California, where he taught children trumpet and piano at local music studio.
Education soon became his professional focus, earning a master's degree in early childhood education and a doctorate in child development. Eventually he became involved in college administration, including serving as vice president of Worcester State College prior to joining Antioch.
Q: Antioch is a little different than most universities because it only offers graduate degrees.
A: Antioch New England was the first campus to branch out of the main campus at Yellow Springs, Ohio, in 1964. From the beginning, it was only a graduate program. At first, it was graduate teachers at the master's level. Then it grew to offer programs in psychology, and in 1972, we had the first graduate environmental studies program in the country.
We've always been only graduate programs; we've never had an undergraduate program. However, I think we may think about it now. We recently changed our name from Antioch New England Graduate School to Antioch University New England, so if we chose to have some undergraduate programs, it would fit.
Q: What are some of the key items you're looking to focus on as president?
A: A key priority for the next 10-year period is to transition into a more mature institution of higher learning. We really look at development and fund-raising as an important goal of that, and to build an endowment that the institution can sit on.
Another priority for us going forward is extending the reach of the campus. By that, we mean reaching out to new audiences that we might not have addressed before — those interested in other types of professional learning through certificates, workshops, the continuing education audience.
The other way is extending our reach geographically. We've gone from being kind of a local institution serving teachers' education needs to being more of a regional institution where students come from throughout New England, New York, Pennsylvania, to extending our reach nationally and internationally.
We are marshalling the power of the Internet to provide what we think is a wonderful and unique Antioch experience at the graduate level to students around the world who could never come to Keene.
Q: What is your current endowment?
A: We have several small endowments that support student scholarships. It's in the low six-figures. The short-term goal would be to get up into the seven-figure range.
Q: You've been quoted as saying, "Antioch has been nimble on its feet and very quick to move when it saw the need to create programs that address pressing social concerns." Give me an example.
A: Our mission from the very beginning has been to develop graduate programs that enable people to address pressing societal needs.
In the '60s and '70s, it was childhood poverty. Our environmental studies programs are so relevant today because of the increasing awareness of the impact of climate change and the effect of social practices on negative environmental impact.
Another example is our new autism spectrum disorders certificate program for professionals from a wide variety of professions — classroom teachers, school administrators, school psychologists, occupational therapists — many different specializations that work with children with disabilities. There has been an amazing demand for that program. We thought we'd have 20 to 25 students coming into the program; in September of '06, we brought in a cohort of over 40 people.
Q: Antioch is starting another new program this summer — a "green" MBA, an MBA in organizational and environmental sustainability.
A: Yes. This is really burgeoning and very new. There are less than two dozen programs in the whole country where you can study business practices related to industries that focus on sustainability.
A lot of companies now have not only new positions, but new departments called "sustainability offices" within the company.
This green MBA starts this fall. There's been a lot of applicants, and we'll have a very full cohort for this first cohort.
Q: What are you doing as a facility to be environmentally conscious? Do you practice what you preach?
A: Oh we do, and that's been the case for quite awhile. We recently became a partner with Clean Air-Cool Planet and have developed a sustainability audit of our whole campus. We're setting 10-year goals to reduce our greenhouse impact.
We recycle all of our paper products. We use 100 percent recycled paper and "green" dyes and inks, soy-based dyes.
We try to "walk the talk" as much as we can.
Q: The cost of higher education in New Hampshire is the highest in the country. What are some of your ideas for keeping costs down here at Antioch?
A: We really work hard at having a tuition structure that's competitive and affordable. Our graduate students end up having to borrow significantly to go to school. But we're very cost-conscious about keeping our costs affordable, and always looking at ways to maximize efficiencies.
One of the directions we're going in is creating more intensive residency programs that blend online learning with coming to campus. We have some new programs in education starting this fall that come together for two or three weeks in the summer. They then do a significant amount of learning online and only come back to campus the next summer. We can serve more students that way without having to build more bricks and mortar.
Q: I know you just started your position here in last July, but how do you want your tenure here at Antioch to be remembered?
A: I would hope, 10 years from now, someone would say, "When Caruso came we had a very tiny endowment. Now it's significantly more substantial. And we have a lot more people interested in supporting this institution."
Some of the work I'll do in fund-raising and development is "friend-raising," cultivating people who have an interest in us and what we give to society and may want to support us at some point in the future. It may be 20 years before a major gift comes to us, but that gift will come to us because of the work I did.
Q: How do you kick back?
A: I have five children and four grandchildren, and they keep me kind of busy. I really enjoy the outdoors, hiking. We spend a lot of time in the summers up at Lake Winnipesaukee. Photography is a real hobby of mine — I really enjoy nature photography. And music, of course.
Q: Start a faculty band? The Caruso Project?
A: We have a lot of good musicians.