Pamela Morrison, 2015 Outstanding Woman in Business
Co-Founder, Director, Senior VP, Optima Bank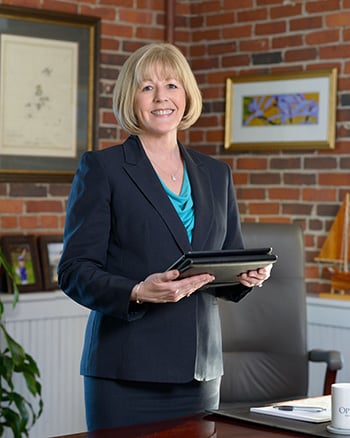 'You might not be in your ideal job right now, but if you do it to the best of your ability, someone will notice and it will pay off.'
To be a success in the banking industry during the recession is quite a feat, but Pam Morrison and her husband, Dan, made it look easy.
The idea for Optima Bank was formed a decade ago at their dining room table. Together, they assembled a board of directors, navigated the elaborate regulatory approval process and raised millions of dollars in capital. In January 2008, the Morrisons opened Optima for business, just as the rest of the financial world was collapsing.
Every year since, Optima Bank has been one of the fastest growing banks in the nation. It has expanded to six locations around New Hampshire, grown to over $300 million in assets and hired more than 60 employees. Optima invests hundreds of millions of dollars in loans to small businesses and loans to individuals and families to buy and build their homes in New Hampshire.
Pam Morrison, who serves as director of the bank as well as the senior vice president and chief administration officer, is responsible for overseeing all of the bank's operations, including information technology, branch design and construction, marketing and public relations, business development, retail management, mortgage and consumer lending, human resources and regulatory compliance.
Q. What were some of the biggest challenges to getting where you are today?
A. I've really struggled with that question because there are so many. One of the biggest challenges of starting a new company is you have to come up with a solid business plan that really outlines your strategies but has room for flexibility.
When we created our plan for Optima, we had no idea soon thereafter we'd be in the midst of the biggest financial crisis since the Depression. Luckily our plan had enough flexibility that we were able to accommodate that sudden turn of events.
Q. What special circumstances did you face opening a new bank in the recession?
A. We were just finishing up our capital raise in the third quarter of 2007 when the economy all started to fall apart, so certainly a big challenge at that point was convincing our investors it was a solid plan, that we could still go forward with it and it could be executed. So I think that showed they had a lot of confidence in us as leaders to make that happen.
Q. Did you have a professional mentor?
A. I think we all end up drawing on everybody in our lives. The people that we admire, we tend to take the best things we see in them and focus on them. I would say my sister has always been a great professional role model for me. We're in different career paths and industries, but I've always looked to her for advice and admire her for what she's accomplished.
Q. How do you balance your personal and professional lives?
A. That's the age-old question, isn't it? I think we really all need to plan balance in our lives because it doesn't just happen. I think we have to make time for the things that are important. We have to carve out time from our business life, not to say it can't be flexible.
Q. What advice would you give to young women just starting their careers?
A. The message that I would send to them would be to take pride in everything that they do, because others will notice that when they see that you're taking pride, and it will have a very positive impact on opportunities that will come to you in the future. You might not be in your ideal job right now, but if you do it to the best of your ability, someone will notice and it will pay off, something bigger and better will happen for you.