Pam Tarbell, 2015 Outstanding Woman in Business
Founder, Mill Brook Gallery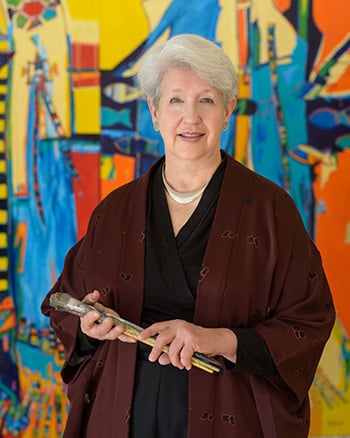 'Do what you like to do … there are no guarantees for any of us.'
Though an artist herself, Pam Tarbell never imagined opening her own gallery. After graduating from Rhode Island School of Design, she pursued a career as an art teacher. Noticing little art history was taught in grades 1 through 8, Pam incorporated it into her lesson plans. Here and there, she volunteered promoting events for organizations like the Kimball Jenkins Community Art School in Concord. But when she realized the most art many of her students had seen were statues at the State House, she set forth to open a gallery at her Concord home.
In 1994, Mill Brook Gallery & Sculpture Garden opened its doors. The gallery now holds three indoor spaces for paintings, pottery, glasswork, photographs, prints, jewelry and other forms of art. And the outdoor sculpture garden allows a peaceful space for parents to relax and a 3-D adventure for children to explore.
Through Mill Brook Gallery, Tarbell has inspired children, casual visitors, enthusiasts and patrons of the arts to take the New Hampshire art community seriously. She holds exhibits of work from local, national and international artists, who come to her gallery for its unique feel.
Q. Where did your interest in art begin?
A. I started off very young, as a kid. Always making messes, always painting. Back in the '50s and '60s, the only example I had was my art teacher from kindergarten to high school, so I didn't have a lot of exposure to outside artists at the time, and so I continued on to get my degree in art education.
I didn't start out wanting to be a gallery director, that was a metamorphosis that came; that was not one of my goals.
Q. What have been some of the biggest challenges to getting where you are today?
A. I certainly learn from the seat of my pants about press releases and advertising, especially from the past few years.
The challenge is the economy and getting people to spend money and understand the artists and I have expenses – things don't fall out of the sky here. People are surprised by how much things cost, but they don't consider the cost of materials, transportation. I'm here because I want to represent the artists and have them appreciated, and help them pay their bills like everyone else. The same goes for me.
Q. How do you balance your personal and professional lives?
A. There is no separation because the art gallery is part of my house. I'm an artist, so I study, eat, breathe art. Even though I'm not taking my own paintings out – sometimes I don't have time to promote my own work because I'm promoting others work – but when I sit back and think about it, my whole life is creative, either in the gallery or my studio or different opportunities where I'm promoting art. It's all related.
Q. How has the recession affected the artistic community?
A. Several artists have had problems paying their bills and have had to take full-time jobs to continue doing what they're doing. They have to divide up their energy and their interests. Considering materials, less are casting in bronze because that's very expensive. Sometimes they cast in faux material with resin, which sort of looks like bronze, but is less expensive, or in pewter. That's been a challenge in the art community across the country, not just in New Hampshire.
Q. What advice would you give to young artists just starting out?
A. Visit galleries, get to know people, show them your website, get involved, be on social media. It's just a lot of hard work and persistence. Some get financial rewards sooner than others. But to do what you like to do, to have the quality of life you have, there are no guarantees for any of us.