Oldest patent attorney has seen, and can talk about, it all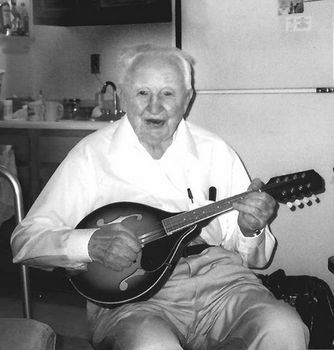 As America's oldest living patent attorney, C. Yardley Chittick has helped countless clients gain patents on their prized inventions. But only God holds the patent on Yardley Chittick.
"I was born in Newark, N.J., in 1900," says the most senior resident at Pleasant View Retirement in Concord. "My age goes right with the years."
Well, not quite. Or at least not all year-round. Mr. Chittick will not turn 105 until later this year. For now, he's still going strong at 104.
Chittick is up and about most of the day. He reads and he watches TV "to pass the time." He goes to daily exercise class. He plays the mandolin. He gives an interview to a reporter, though with one eye on the clock. When it gets to be 4:30, he will get up, take his cane, leave his third floor apartment, walk down the corridor and take the elevator to the ground floor. There he will participate in the social hour, where light refreshments and both male and female companionship may be found.
And if you even suspect our man isn't as sharp as he might have been when he was a young geezer of 70-something, you haven't talked to Yardley Chittick. Ask him a question or two, and before you know it, you've got a pretty good biography about a boy from humble circumstances, who was educated in the most elite schools (Phillips Andover and MIT), matriculated for a short time with Humphrey Bogart (at Andover; Bogie exited academia before the MIT scene) and caught his second luckiest break when Thomas Edison offered him a job working in his New Jersey laboratories.
His luckiest break came when he turned Edison down because a man died in Boston, Mass. What was not so lucky for the man who died was very lucky for Yardley Chittick, because it was by that man's death, and not by association with the famous inventor, that Chittick got involved in the patent business and wound up writing patents for everything from golf clubs to fuel oil distribution systems.
If that sounds like a long story, bear in mind that people in short stories seldom live to 104.
Neither did Yardley's father, who left this world as a callow youth of 75 or so. He had married late in life and was general manager of a silk factory by the time Yardley came along. And then came trouble.
"The mill was sold and the new owners put in entirely new management. So Father, in his early 40s, was completely out of a job. There was no worker's compensation or any insurance or whatever you call those various things. Suddenly Father, instead of being a comfortable man in a good neighborhood, was without any income at all. He had a really tough time of it from 1900 to about 1910.
"So he set himself up as a textile consultant in New York City. Well, the first thing he did was write technical articles for the trade papers, but they didn't pay enough for him to support the family, so finally he took all the articles he had written and turned them into a book. And to get the money to publish that book, he went to all of his clients, who gave him $100 a piece, and all their advertisements were bound together at the back of the book. So there you can see, at the back of the book, who the big companies were in the textile industry in 1910."
From there, his father went on to become a top New York consultant for the textile industry. "And the lawyers trying textile cases always hired him as an expert witness. So from then on, my father was back on his feet."
Turning down Edison
Before long, Yardley was finding his own niche in life.
"I was the real lucky guy," he says. "Nobody has been more lucky than I am, because when Father went broke, this was the time when expenses from schools were coming in — Phillips Andover Academy and MIT — for me and my mother. But my mother's brother married into money, and he was able to pay all of my school expenses. "
Rooming across the hall from Humphrey Bogart, on the other hand, was no big deal. "At Andover, he never went to any classes I went to. We didn't eat in the same dining hall, so I hardly became acquainted with him. We were just living in the same building. He didn't last the year out. He was very ill-behaved, academically and socially. He had to leave school in May of (that) year, so Andover had nothing further to do with him."
Chittick went on to MIT, and then spent three years in his father's business learning about the textile industry. Then he applied for work with someone who had made something of a name for himself as an inventor — a man named Thomas Alva something.
"When I took Thomas Edison's examination and passed it, (he) offered me a job to work in his laboratories." But a still better fate would befall him.
"Here's where the luck comes in. Just at the very time that Edison offered me a job, a man in Boston, Mass., died, and he owned a company in Boston in what they called the rendering business," says Chittick, explaining how animal fat and bones and "God knows what else" were "rendered" into soap.
So Mr. Chittick made his fortune in the rendering business? No, he most certainly did not. But because the man died in Boston, it opened up another position in New Jersey, which you'll read about in just a moment.
"…his son, an MIT graduate and a close friend of mine, was working for a company making tools down in Newark." The company also made golf clubs.
After the man died, his son Donald Morris moved to Boston to take over his father's rendering business. "And so the job Donald Morris had with the golf club company became suddenly open," Chittick explains. "So I turned Mr. Edison's job down and took the job with the company that made the golf clubs, and that's what led me into the patent business. I never would have gotten into the patent business had I not begun to work for the golf club company."
And the rest is, as they say, history — and biography and scores of patents. There were a number for the golf clubs, as methods of treating the metal were improved. There was one for the means of delivering heating oil into a home, about which Mr. Chittick can tell you when you have time to hear about the way they used to deliver fuel oil and the way it was vastly improved by one of his many clients.
Over the years, he has met and associated with the common and the great. He knows life, and he enjoys the telling of it. He will tell you, sadly, that nobody will hire a 104-year-old resident of a retirement home, but that he could still be a valuable consultant or productive employee. And you believe him.
He can tell you the story of where he learned law, how he got his degree and when and where he first passed the bar and how he got his license from the U.S. Patent Office in the 1930s. He has honorary degrees from colleges that were not in existence when he began practicing law.
On Saturday, May 21, he will receive an honorary degree from Franklin Pierce Law Center in Concord, a school that came into existence around the time that Yardley Chittick retired in 1973.
His hobbies used to include golf and sailing, but he has made some concessions to Father Time. He believes golf especially contributed to his good health and longevity. He notes that 18 holes of golf is a five-mile walk, and he looks with scorn upon those who ride around in a golf cart.
"Anyone who rides in a cart isn't really golfing," he insists. And they probably won't live as long, or as well.