Off the Clock: Reconnecting with the land at Keene's Stonewall Farm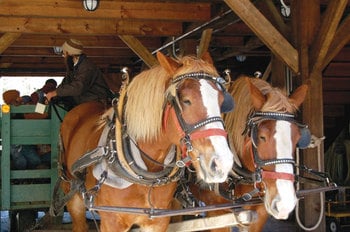 An old stagecoach route, Chesterfield Road in Keene is still a long narrow drive full of twists and bumps this time of the year. But a short mile from the turnoff of Route 9 travelers are delivered to a taste of yesteryear, a time when working farms peppered the New Hampshire landscape.
Stonewall Farm straddles the country road, home to Keene's only working dairy farm and complete with laying hens and organic gardens. The dairy barn, herd of Holsteins, horses and farm stand sit on the left side of Chesterfield Road while the Learning Center, sugarhouse, rabbit hutch, chicken coop, greenhouses and nature trails sit back on the right.
A 135-acre educational farm that hosts daily school trips, special events and summer and vacation camps, Stonewall Farm also gives adults and families the opportunity to reconnect with nature and a source of sustenance in a relaxing down-on-the-farm kind of way.
"Our mission here is to connect people to the land and the role agriculture plays in our life," said Laurie Donohue, marketing and development coordinator for Stonewall Farm. "We promote environmental education and land stewardship and celebrate New England's heritage."
Visitors to Stonewall Farm can look forward to a four-footed greeting by the farm's welcoming ambassador, Otis, the champagne-colored Golden Retriever pup that epitomizes the laid-back feel of the farm.
The three-story post-and-beam Learning Center, with its exposed beams and towering windows, provides the perfect backdrop for exhibits and hands-on activities for children and adults. A small gift shop gives visitors a chance to shop for farm souvenirs, including New Hampshire maple syrup made from sap gathered from Stonewall trees and boiled at Stonewall's own sugarhouse (during lean years syrup may be brought in from other sugarhouses).
The large third-floor community room can be rented for events and is often the site of wedding receptions.
Year-round events
While the Learning Center is beautiful, the real farm fun happens outside, where Prince and Magic, the farm's two towering Belgian draft horses, offer visitors the chance to explore the farm from the comfort of a hay wagon or sleigh ride.
This time of year the farm's sugarhouse is in full operation. Children and adults can stand by and watch farm manager Glenn Yardley stoke the fire and test the syrup. They may even get a chance to taste the final results.
Ducks and chickens live in the adjacent coops right next door to the farm's three angora rabbits. A few goats, sheep and horses round out the farm's collection of livestock and farm pets.
Visitors lucky enough to be at the farm between 3:30 and 4:30 in the afternoon may be invited to feed the animals, collect eggs or watch the milking operation.
Working greenhouses, a beekeeping program, butterfly garden, self-guided walks along the farm's nature trails and wetland boardwalk — even an introduction to ice harvesting — all among the activities visitors can expect to see, participate in or take advantage of at Stonewall Farm at different times during the year.
Feel free to pack a picnic as there are picnic tables and a small playground for children to explore.
In addition to the daily farm operation, Stonewall Farm offers an ongoing calendar of special events and classes for children and adults. Like the daily activities, these too change along with the seasons. During March, for example Stonewall Farm hosted its annual sap-gathering contest, and offered classes in worm composting and Ukrainian egg painting.
Throughout the winter curious visitors were treated to instruction in such things as bread baking and creating felted mittens.
If you visit Stonewall Farm at the end of May be sure to pick up some hothouse tomatoes before you leave. By the end of June the farm stand will be fully stocked with Stonewall's own organic produce, grass-fed hamburger, eggs, milk and flowers. Ice cream, jams, cheeses and sodas and other locally produced items round out the farm stand offerings.
This year Stonewall Farm will introduce a mobile farm stand, taking produce directly to area businesses, giving local workers the opportunity to shop for organic produce right from their office parking lots.
"More and more people are becoming concerned about where the food they eat comes from," Donohue said. "Because of this, interest in Stonewall Farm is increasing, and we believe our mobile farm stand will be well received."
Folks also can take part in Stonewall's Community Supported Agriculture by purchasing a share of the farm's harvest. Each spring buyers choose the size share, payment plan and day of the week they plan to visit the farm to gather their own veggies, herbs and flowers. CSA participants can expect to gather their harvest for a minimum of 18 weeks.
Stonewall Farm is open year-round from dawn to dusk. Learning Center and gift shop hours are Monday through Friday from 8:30 a.m. to 4:30 p.m. The farm stand opens May 27; hours will be Monday through Friday from 3 to 7 p.m. and Saturday and Sunday from 10 a.m. to 2 p.m. While donations are accepted, admission is free.
For more information call the farm at 357-7278 or visit stonewallfarm.org.