NH's wood heat efforts slow
After big growth, commercial use stalls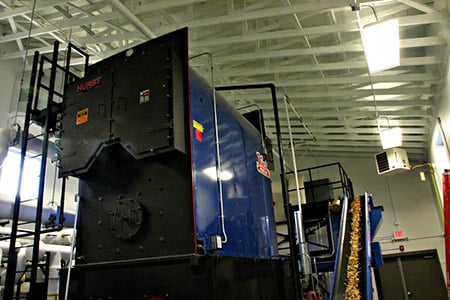 The use of wood chips and pellets for heating businesses, schools and government buildings has grown dramatically in the last five years and is reportedly saving three hospitals in the North Country alone about $750,000 a year.
But the switchover has been stalled by lower prices for fossil fuel, according to a new study done by Innovative Natural Resource Solutions.
Nevertheless, the study concluded that in 2015 those using wood in New Hampshire:
• Saved about $11.8 million compared to purchasing fossil fuel
• Pumped about $5.8 million into the state's economy for pellets or chips
• Saved the equivalent of 7.7 million gallons of heating oil.
"I think what is significant is how rapidly this technology has grown in its application in New Hampshire," said researcher Charlie Niebling, a partner at Innovative Natural Resource Solutions.
The research was sponsored by the NH Wood Energy Council, which promotes the use of wood and "provides professional guidance to support growth in commercial and institutional heating with wood."
The study looked at 116 facilities, including 15 in the North Country that have benefited from the switch.
They include Littleton Regional Healthcare, Androscoggin Valley Hospital in Berlin and the Weeks Medical Center in Lancaster. Littleton is saving about $400,000 a year, Androscoggin Valley about $300,000 a year and Weeks about $50,000 a year, hospital officials said.
He said the switch to wood was "poised to take off" in the winter of 2013-14 as the economy was emerging from the recession, consumers were feeling more confident about the direction of the economy and energy prices were high.The facilities that are burning wood are typically located in rural areas or locations without access to natural gas for heating, said Niebling.
"The interest was coming from folks who were anxiously seeking alternatives to – at the time – expensive heating oil and propane," he said. "And then that summer the barrel price just plummeted. Things have really slowed down."
Nevertheless, Niebling said what's significant is that most of those 116 facilities began using wood chips or pellets within the last five years.
And each year they are buying about 7,500 tons of pellets and 94,000 tons of wood chips "mostly from New Hampshire forests and wood manufacturing residues."
Niebling said it would be ideal if people who increasingly see the importance of buying their food locally to support the local economy would become interested in spending their energy dollars locally.
The study did not look at the residential use of automated pellet systems. But Niebling estimated there are about 400 homes using them in New Hampshire.
"The automated residential pellet boilers have seen quite a boost in the last four years largely because of the PUC rebate," he said.
Niebling was referring to a program from the state's Public Utilities Commission designed to encourage the use of renewable energy.
The PUC program provides a rebate payment of 40 percent of the system and installation cost, up to a maximum of $10,000, for high-efficiency (80% or greater), bulk-fuel fed, wood-pellet central heating boilers and furnaces.
"It's clear that advanced wood heating technology is generating significant benefits for New Hampshire," said Rick DeMark, coordinator of the Wood Energy Council.