New Hampshire hit with 10 percent increase in robocalls
State ranked fifth in largest increase in robocalls received from June to July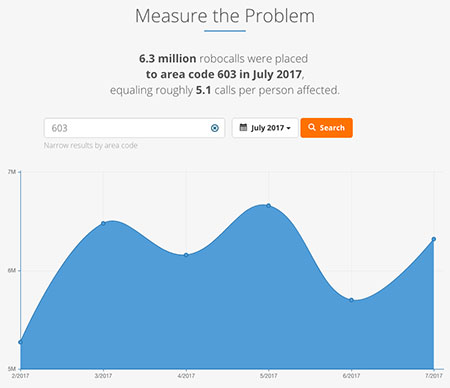 If you've been plagued with phone calls from unfamiliar, out-of-state numbers, you're not alone. New Hampshire is among the top five states that have seen a double-digit increase in robocalls over the past year, according to YouMail, a provider of cloud-based telecommunication services that offers a free service to stop robocalls. Though the numbers are estimates, the Federal Communications Commission has cited YouMail's Robocall Index as a source for national data trends.
In July alone, consumers received 2.59 billion robocalls, a 2.7 percent increase from the month prior and 7.5 percent increase from the same time last year. From January to July 2017, 17.2 billion robocalls have been received nationwide.
To consider the numbers in other terms, 2.59 billion calls in July equals 83.8 million robocalls per day or 3.5 million robocalls per hour, or some 58,000 calls during every minute of the month.
Notably, Texas received a record-breaking 307.9 million robocalls in July, or 11 robocalls per person, marking the most robocalls received by any state in a single month since recordkeeping began in June 2015, according to YouMail. In addition, 40 of the 50 most robocalled cities in America posted month-on-month increases in robocalling volumes in July.
New Hampshire ranked fifth in the list of states with the largest increase in robocalls from June to July, with a 10.8 percent increase. Though that's not nearly as bad as its neighbor, Vermont, that saw an 18 percent increase in robocalls received from June to July. Other states notching big gains in July included Utah (up 16.4 percent), Oregon (14.9 percent) and Idaho (11.6 percent).
From July 2016 to July 2017, New Hampshire experienced a 7.46 percent increase in robocalls.
"Despite increased efforts by the FCC and wireless carriers to fight back, our national robocalling plague continues to afflict too many American consumers," said Alex Quilici, CEO of YouMail. "We would advise frustrated people to take direct action by downloading a call-blocking solution onto their phones and then avoid answering any calls made from unfamiliar numbers."
A majority of robocalls in July were made by debt collectors, including two banks and one retailer. One national credit card company clung to the nation's most active robocalling phone number for the 23rd straight month, placing 612.8 million robocalls over that time period.
To see how many robocalls were made to each area code, visit robocallindex.com.