Nashua's new economic development director is on the job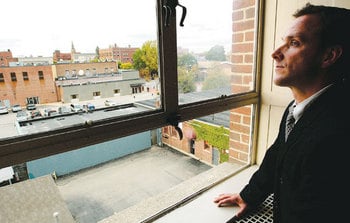 NASHUA – A consultant who has also worked for Lowell and Lawrence, Mass., is the city's new economic development director.
The hiring of Tom Galligani was publicly announced Monday by Mayor Donnalee Lozeau on Galligani's first day on the job. He formally accepted the position two weeks ago.
"I was particularly impressed with his experience in both Lowell and Lawrence," Lozeau said.
He brings the perspective of having worked for city government and private business, Lozeau said.
"That gives him the right set of skills to bring to the table for this job," Lozeau said.
Galligani, 35, said Nashua provides an attractive challenge because it has a well-defined downtown, a great residential base, office and retail areas and a technology park.
"Nashua has all the elements that somebody in this profession would like to work with," Galligani said.
He starts just as the board of aldermen has approved a bond to build the Broad Street Parkway, a project that had been discussed for decades. Galligani described the parkway approval as a positive step for the development of the Millyard technology area and for the city's future.
Galligani's salary will be $84,000, Lozeau said.
She described Galligani as "a successful community and economic development consultant, who has considerable experience working with cities and towns in New England, nonprofit community based organizations as well as business and industrial clients."
Galligani fills a position that had been vacant since Jay Minkarah defected to Manchester for the same position in spring 2007.
Last April, the city offered the job to a candidate identified through a regional search, but he turned the offer down. The following month, the city began contracting for economic development services with Don Zizzi, a local resident and consultant with ties to Northeastern University, Boston University and the University of Massachusetts Lowell.
Galligani was one of nine candidates and two finalists found through a regional search, Lozeau said.
As in the previous searches, the city advertised in newspapers, trade publications and even on Craig's List, Lozeau said.
Two interview teams assisted in winnowing the field, and as a finalist, Galligani was introduced to the business community, the mayor said.
Galligani served as the director of the Office of Planning and Development for Lawrence. In that job, he coordinated the city's economic development, community development, housing and planning efforts.
He had previously served as interim commissioner of inspectional services in Lawrence and as the economic development director in Lowell.
In Lowell, Galligani managed the city's Brownfields Showcase Community Program, authored the 2001 Downtown Lowell Master Plan and directed Lowell's successful business retention and recruitment efforts, Lozeau said.
Most recently, Galligani has been working as an independent consultant. Among his clients was the Common Ground Development Corp. of Lowell, a nonprofit affordable housing developer.
He also recently oversaw the creation of a comprehensive economic development strategy for the town of Chelmsford, Mass.
Galligani also is an expert on best practices for the management of municipal parking systems and facilities, Lozeau said.
Galligani has a BA from the University of Massachusetts, and he is completing his master's thesis on Brownfields redevelopment for the Massachusetts Institute of Technology's regional planning and development program.
He lives in Andover, Mass., with his wife and two young sons.