N.H. product heats up portable cookery market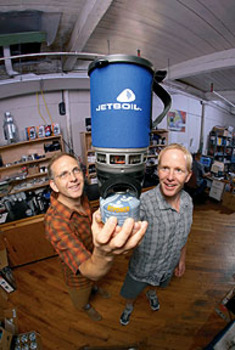 It's about a foot long. It weighs less than a pound. It looks like a slightly futuristic travel mug inside a neoprene sleeve. The inventors of Jetboil say it's a dramatic advance in portable cookery.
The unassuming little device has made a lot of waves in a short time. It has won a slew of awards for new-product design. Tens of thousands have been sold in its first 18 months on the market. Every one of those was made in the Guild section of Newport, inside the former Dorr Woolen Mill, now the Dorr Business Center.
Jetboil's compact size makes it attractive to outdoor types. But its big edge is efficiency: it can boil two cups of water in two minutes. The main reason is an aluminum coil between the cup and the burner: the FluxRing heat exchanger looks like a piece of ribbon candy made from metal and bent into a circle. It doubles fuel efficiency by concentrating the heat from the flame, while keeping out the wind.
Jetboil's inventors are two cousins, Perry Dowst and Dwight Aspinwall. They've been friends since childhood, when their families often went camping together. As adults, they continued to enjoy the outdoors, but both were frustrated with slow and unwieldy cooking equipment.
A few years ago, they found themselves contemplating career changes. Aspinwall had been a software developer and entrepreneur; Dowst had done research into combustion technology and spent 10 years at Gillette working on consumer products — a combination tailor-made for developing Jetboil.
But it's a long way from idea to finished product. There were a lot of experiments, which can still be seen in the "Jetboil museum," a couple of shelves in one corner of their office.
Once they settled on a workable design, they faced an even bigger challenge: how to make lots of them on an assembly line.
During this time, Jetboil was a company of two, and Aspinwall and Dowst were logging a lot of hours. In fact, Aspinwall often slept right there in the office.
"The floor of the old mill is full of lanolin, and it's kind of greasy," he says. "So I took a piece of cardboard and pitched my tent on top of it."
One major obstacle was funding. "It was just after the tech bubble had burst," says Dowst. "We thought, 'Oh great, there'd be people who had taken their money out of the market and would be ready to hop on this great new idea.' But the opposite was true — everybody was being cautious. So it took longer than we thought to get the company off the ground."
One of the biggest technical problems arose at a critical time. They had the FluxRing; they had the Jetboil cup. But the two had to be joined together permanently. Hot welding was not the answer, because heat causes permanent changes in aluminum —it becomes soft and pliable.
Aspinwall and Dowst came up with a room-temperature solution just before their launch date of January 2004. They won't describe the process, which Dowst calls a trade secret — although he says the auto industry is developing similar processes to allow the use of aluminum in lightweight, recyclable body panels.
Once they finished their product, success came quickly. They took Jetboil to ISPO, an international trade show for outdoor equipment in Munich, Germany, where it earned an award for best new product. Its reception at ISPO gave Jetboil instant credibility and access to the European market, and that helped Aspinwall and Dowst beat their first-year sales target by 50 percent.
There followed a raft of other awards, including recognition from Backpacker Magazine, Outside Magazine, Men's Journal and Popular Science. And then the big one: Time Magazine named Jetboil one of its "Most Amazing Inventions of 2004." That took Jetboil out of a specialty market and into the mainstream.
But some of their favorite honors come from individuals. Dowst mentions a grateful note from an Alaskan bush pilot. "They were forced to land by high winds, and they had to hunker down for two days before the winds died down. And they sent a letter describing how Jetboil saw them through those two days, and made it quite enjoyable."
Aspinwall talks about someone closer to home: "We got a letter from an 80-year-old man on Cape Cod. They lost their power last winter, and used Jetboil until the power came back on. Those kind of stories make it all worthwhile."
They also lead to new marketing opportunities. Both Dowst and Aspinwall use Jetboil at home as well as on the trail. They say Jetboil makes a great addition to the emergency kit — next to the candles and the flashlights. And Jetboil has become Dowst's coffeemaker of choice — it can brew a cup of gourmet-quality coffee in a couple of minutes, thanks to a new French press accessory.
The Jetboil Web site refers to the product as "the first in a revolutionary new line of Personal Cooking Systems." Dowst and Aspinwall are keeping their plans close to the vest, but they see broad opportunities beyond the outdoor market. They cite convenience and portability as a trend in entertainment and media – and, Dowst says, "If you look at food preparation, similar trends are taking place. Home cooking is in decline; prepared foods are on the rise. It's geared toward highly mobile consumers." He sees the Jetboil system fitting right in.
In the meantime, there's the management challenge of running a growing business.
According to Aspinwall, "We've gone through several phases: First, producing a manufacturable product. Then, gaining awareness in the marketplace. Now, the challenge is creating an organization that can endure, that can attract good people and foster innovation."
Being in New Hampshire is a big part of their plans. They have resisted offers to move production overseas because part of their dream is to help revive manufacturing in the Granite State by emphasizing innovation. Right now they have a little over a dozen employees in one small corner of a former woolen mill, but they are full of ideas and confidence for the future.