Muriel Schadee, 2015 Outstanding Woman in Business
Co-Director of the Tax Service Division, Nathan Wechsler & Company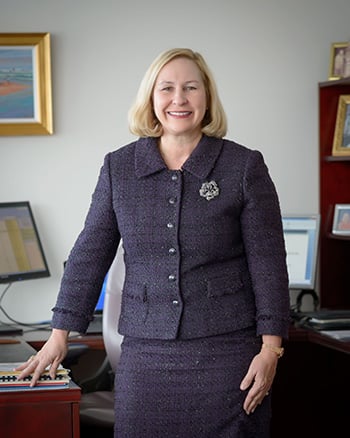 'Whatever you choose to do, do it to your best ability.'
While women remain a minority in the accounting industry, they've made significant inroads since 1980, when Muriel Schadee started her career.
That's when she joined Nathan Wechsler & Company as an associate accountant, and since day one, she has demonstrated quiet leadership that, eight years into her career, led Schadee to become a shareholder at the firm.
With her interest in tax, Schadee later pursued a Master of Science in Taxation from Bentley College, while working the long hours required in a CPA practice and serving on nonprofit boards. Schadee also led an initiative to design a program to request alternative work schedules, realizing that women were leaving the accounting industry when they started families. Today, 50 percent of the firm's management positions are held by women, well above industry norms.
Through her leadership and focus on mentoring other professionals in the firm, she has become a respected and admired role model. Employees look to her for solutions to complex tax issues, and she is up to the challenge.
Q. What are some of the biggest challenges you faced?
A. I would say my biggest challenges were early on. When you looked at the percentages of people graduating from accounting schools, a large percentage of women were entering the accounting industry, but there weren't a lot in management positions. I worked hard to prove to them I was capable and qualified to do the work. It was challenging the first three years, and afterwards I felt like people recognized that I was talented and had the abilities.
Q. How do you balance your personal and professional lives?
A. Actually, sometimes I look back and I think, "how did I do that?" I guess I didn't get a lot of down time. I personally drive a lot of satisfaction from my professional work and learning new things, so they all blend together.
I would say from the personal side, it probably made a difference that I didn't have children, even with women and men with young children, it's difficult to find that balance. Ultimately it comes down to your spouse. My husband is supportive of anything I do. I know that's an important part of it too. Your personal relationship helps with the work-life balance.
Q. How important do you think work flexibility is?
A. I would say there are a lot of talented women, and if you can't provide that alternative work schedule, you're going to lose them. In the public accounting field, January to February is very busy, so if you can't make accommodations for that, you won't have the talent.
I was overseeing a committee that was working on a plan to make people feel comfortable to say what it is they want to do for an alternative and not feel like they're not going to progress in the firm if they choose an alternative. It helps to give people ideas of what's possible.
Q. Did you have a professional mentor?
A. I didn't. My brother and sister were 20 years older and they had successful careers. They encouraged me to get a more technical degree in accounting versus a general business degree. It also was a way to get into the business world.
Q. What advice would you give to young women just starting their careers?
A. I would start by having a positive attitude and being confident in your own abilities. Whatever you choose to do, do it to your best ability. It will make you proud of what you accomplish, and people will notice that.
I would tell them not to be afraid to take risks outside their comfort zone. I think that's how you find out what makes you happy. Take advantage of every opportunity to meet new people and build new relationships, because that's what will serve them throughout their careers, whether it's their next job or to bring in clients.