Light, sound, smoke and mirrors boost a small town's economy
Coaticook, Quebec, rolled the dice on a unique attraction and hit the jackpot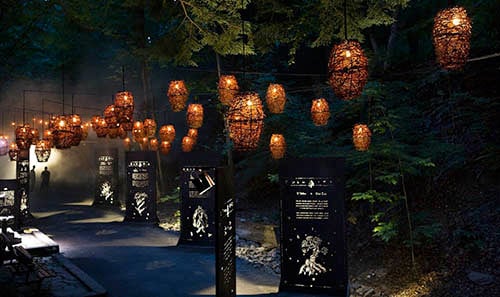 While many small towns dream about the financial security of becoming a tourist attraction, Coaticook, Quebec – a city of 9,200 residents just across the border – pulled it off. It took an unusual idea, made a $1 million gamble and hit a tourism geyser.
In the last three years, about 356,000 people have been drawn to Coaticook to pay for a 1.6-mile nighttime stroll through the Foresta Lumina. They follow a path wired for light and sound and are told a tale that is "inspired by the area's myths and legends, who draw them into an immersive adventure," according to Moment Factory, the Montreal firm that created it.
There's darkness, light and sound – and money.
"It has been very, very, very good," said Mayor Bertrand Lamoureux. The city's two motels as well as bed and breakfasts are full, the restaurants busy and shops are doing well, he said.
Before Foresta Lumina, Coaticook – about 180 miles from Concord – existed on forestry, agriculture and a little manufacturing.
There wasn't much tourism. Some people camped and hiked trails in the Parc de la Gorge or nervously crossed its 554-foot-long footbridge over the gorge 160 feet below. Another draw has been the La Laiterie de Coaticook, known for excellent ice cream.
But around 2013, Caroline Sage, the executive director of the nonprofit Parc de la Gorge, began to worry.
"We came to the conclusion that the hiking is in decline," she said.
She churned through a lot of ideas and finally settled on one: Could something be done to create an enchanted forest in the Parc de la Gorge?
Sage contacted Moment Factory, which specializes in sophisticated outdoor lighting and sound exhibits. It describes itself as providing "innovative storytelling, creating uniquely compelling multimedia worlds that turn passing moments into once-in-a-lifetime experiences." Its less pretentious motto is: "We Do It In Public."
The people in Coaticook "were really open to do something different," said Jonathan St-Onge, producer of the Moment Factory's Lumina projects. "And they had the guts to take the risk and push it further and to raise a larger financing, I guess, than they would have imagined."
That financing worked out to about $1 million.
Conservative projections
But there were bigger concerns than the cost, remembered Vincent Tanguay, who was city manager at the time. Coaticook didn't want to be saddled with the ongoing long-term expense of a white elephant if it didn't draw enough tourists.
So officials were conservative in projecting income, Tanguay said. And, to keep costs down, Moment Factory was urged to come up with a computerized project that didn't need people operating every display along the path.
Caroline Sage, executive director of the Parc de la Gorge, wondered if the forest trails could be turned into a nighttime attraction. (Photo by Chris Jensen)
Mayor Lamoureux said some people weren't embarrassed to tell him that the whole thing was crazy. But others thought it could be a good thing for the town and figured it was worth a shot.
Bit by bit, Sage's enthusiasm and persistence caught on and local and regional organizations, including New Hampshire's Neil and Louise Tillotson Fund and a donor who wished to remain anonymous, came up with the money.
On July 12, 2014, Foresta Lumina was ready to open. Sage, who played a key role in convincing people to take a big chance, was nervous. She was hoping at least 80 people would buy tickets. That would be face-saving respectable for a first night, she figured.
First, 80 people did show up. Then the total was 200. A little later, 500 had gone through. When the gates closed, 800 tickets had been sold.
Through the summer, word spread and the number grew. About 72,000 people bought tickets.
But the unexpected success brought problems.
Restaurants ran out of food, said Caroline Thibeault, president of the regional chamber of commerce. They never expected such a crowd.
Those with homes around the Parc de la Gorge didn't like people parking everywhere. "It was terrible for those people," said Lamoureux.
And many of those tourists who crowded the nearby residential streets went through Foresta Lumina and then drove off, wallets untouched. They never went into Coaticook's business district.
The solution was to designate a parking area in the business district and provide free shuttles. That encouraged people to have something to eat or shop before or after Foresta Lumina.
Unexpected accolade
Another problem was that the Foresta Lumina didn't have the organization to handle all those people wanting tickets and information. Some became cranky.
In an August 2014 posting on TripAdvisor a visitor from Montreal complained about the frustrating lack of information and organizational goofs.
But then he added: "It was absolutely stunning and magical … a totally unique experience. If you love fantasy/fantasy worlds (like Lord of the Rings or Pan's Labyrinth) you'll be very happy."
Foresta Lumina added administrative resources and the number of organizational complaints withered. It now has a "Certificate of Excellence" from TripAdvisor based on so many happy comments.
And it got an unexpected accolade.
In 2016, it was given an award from The Themed Entertainment Association for "Outstanding Achievement" for an "Interactive Attraction." It was one of 12 such awards worldwide, including a Disney exhibit in Hong Kong. The $1 million Foresta Lumina project was honored in the "Limited Budget" category, which sets the maximum cost at $10 million.
Attendance grew from 72,000 in 2014 to 145,000 in 2015 and 156,000 last year. About 150,000 are expected this year.
And unsurprisingly, that's played an important role in the economic growth of the region, according to a 2016 study. It concluded tourists spent about $48 million (Canadian) in the area in 2015, compared to $11 million in 2001.
New businesses
Local officials say they don't have an exact economic impact figure, but Coaticook businesses have gotten a boost and a robust summer makes it easier to survive the leaner winter months, said the chamber of commerce's Thibeault. She says it's also encouraged some new businesses.
One of those is La Diperie, an ice cream shop on Child Street. Owner Maude Brodeur opened it after seeing all those tourists wandering around and noticing a storefront next to a Foresta Lumina shuttle bus stop.
Coaticook has only two motels, so to provide more lodging the town allows anyone with a spare room to rent it, regardless of zoning, said Lamoureux.
It's not unusual for small towns to have sometimes vague dreams about becoming a tourist destination, said Mark Okrant, a former tourism professor at Plymouth State University, who now has a consulting business.
But Coaticook made its dream come true.
"It's a very interesting story. These people obviously have their act together. They have obviously thought things through quite well," he said.
InDepthNH.org is a nonprofit news website published online by the NH Center for Public Interest Journalism.