Kathleen Nelson, 2015 Outstanding Woman in Business
Founder, Executive Director & Head of School, World Academy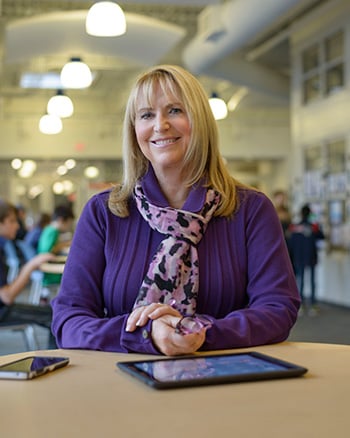 'Be flexible and resilient, and always stand up for what really matters to you.'
Growing up in the Washington, D.C., area in the '60s, Kathleen Nelson developed a keen sense of justice and injustice. She recalls segregation at its worst, the assassination of John F. Kennedy and Martin Luther King, and even getting tear-gassed on the University of Maryland quad during the height of the Vietnam War.
Living through those times caused Nelson to embrace fairness, tolerance and justice in any way she could. These experiences and her strong pursuit for quality and excellence served as the backdrop for forming World Academy.
After teaching at a D.C. area high school, she married her husband Gary and relocated to New Hampshire. In 1980, she started her own early childhood program, with the goal of high quality, organized curricula, excellent teachers and support for working mothers. Small World cared for and educated 38 children from ages 3 to 5.
After many expansions and a relocation, World Academy in Nashua now nurtures and educates over 500 students, from infancy through 8th grade. It has a dedicated team of high-quality teachers and administrators who make sure parents feel their children are getting exemplary experiences.
Q. What were some of the biggest challenges to getting where you are today?
A. Some of the many challenges to our growth and success may be the exact things that kept us tenacious and working hard. A low perception of women in the workplace at that time was very prevalent. That mindset is still pervasive today for the early childhood field, regarding the lack of value for the high-quality work done by degreed and experienced teachers for our youngest, when almost 80 percent of lifetime knowledge and skills are learned by children.
Q. How is World Academy encouraging diversity in New Hampshire?
A. World Academy is 40 percent diverse, which isn't even the diversity level in the state, and we've worked very hard to make this a global program. What we're doing is growing people that are tolerant, resilient and will be able to deal with the global future much better than their peers.
Q. Did you have a professional mentor?
A. My dad was an educator all his life and was the principal of the Capitol Page School in D.C. I remember being proud of who his was and what he accomplished in an era of tumult. He modeled tolerance and pride. My director, Lynn Ouellette, has been at the heart of our "World" for over thirty years, and when times were tough she was always there to give encouragement and support. She's a real believer!
Q. How do you balance your personal and professional lives?
A. It was harder when our son, Garrett, was young; but he was able to attend our school, and I had a great network of support with our teachers. Gary had his own career and company, so I was not so worried about the finances of the school as if my life depended on it. That was a huge gift.
I am very grateful for that support during the many phases of the school's growth. Today, the school has melded into both my personal and professional family.
Q. What advice would you give to young women just starting their careers?
A. I think trying to control things through to a set end result is doing yourself a disservice. The process is the journey. Each phase has its growing pains and comfort levels, and the joyful part of the path is living it along the way. Be flexible and resilient, and always stand up for what really matters to you. Passion trumps money any day in the fulfillment category.
I would also say to keep trusting in yourself. Many have not experienced the glass ceiling, but it still exists in many professions. It is important to be courageous and think "Why not you?" Oh, and a good sense of humor will take you a long way!