In Loudon, a farming legacy is preserved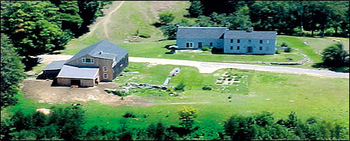 When Carol Soule and her partner Bruce Dawson introduced two pregnant Scottish Highland cows to their 32-acre homestead atop Whitehouse Road in Loudon six years ago, they did so hoping for a respite from the ongoing battle with fast-growing brush. Today, more than three dozen Scottish Highland graze the pastures of the couple's Miles Smith Farm, continuing a farming tradition that began on the property more than 150 years ago while at the same time feeding the public's growing appetite for organically raised local meats.
A breed originating in northern Scotland, Scottish Highland cattle boast a dreadlock-like hairdo and giant 18-inch horns. Often referred to as "hippie cattle" because of their long, dense coat, Scottish Highlands are well suited to New England winters, and their extra insulation eliminates the need for excess body fat, making for a leaner and healthier meat.
Smaller and slower-growing than better known breeds like Angus, a Scottish Highland steer can take up to 30 months to reach a mature weight of 700 pounds. The Angus will reach its mature weight of more than 1,000 pounds within 14 months.
Today, Soule and Dawson raise both, grazing their Scottish Highland on the rolling pastures of their own property and their Angus on the grasses of other New Hampshire pastures.
The hilltop farm was built in 1850 by Miles Smith. The fields that now feed Soule's Highland cattle once fed Smith's own herds and supported his family's vegetable garden. Smith also produced maple syrup on the site.
Miles Smith's family cemetery still remains on the property, its weathered headstones serving as testimony to the agricultural heritage of the Granite State and reminding Soule and Dawson of their role in New Hampshire's farming community.
"There is a real community of farmers in New Hampshire," Soule said during a tour of her hilltop pastures. "We all help each other out. We all work together."
Growing market
For Soule and Dawson, veterans of the high-tech industry, the timing of their foray into raising livestock couldn't have come at a better time.
"Today there seems to be a growing awareness," said Soule. "More people are concerned about eating healthy, others also want to eat locally and are concerned about how humanely the animals are raised and slaughtered."
All Miles Smith livestock enjoy a life of free-range rotational grazing on vegetation. They are free from pesticides, antibiotics and growth hormones. Once the animals begin to reach their mature size, both Highland and Angus are finished on brewers' yeast, a byproduct from local breweries and a "tasty treat for the animals," said Soule.
Unlike cattle raised on today's feedlots, each of the animals at Miles Smith Farm has a name and is easily recognized by Soule.
"This is Tundra, and that's Derby and Ike," Soule said, introducing a few of her Highlands. "We begin handling them as soon as they're born. They tend to be very mild-mannered. That's one of the reasons we chose this breed, but early handling makes them more manageable as they grow."
While Soule and Dawson genuinely care for their animals and do their best to give them a happy, healthy and stress-free life, the couple recognizes that the end of life, or time for slaughter, is part of the circle of life on any farm.
The couple sends a dozen Highlands a year and between two and four Angus each month to PT Farm in St. Johnsbury, Vt., for slaughter. That's enough to supply City Fresh in Boston with 800 pounds of beef a month and stock the shelves of A Market Natural Foods on South Willow Street in Manchester, the Concord Cooperative Market on Main Street in Concord and Longhaul Farm in Holderness with Miles Smith Farm Angus beef.
The farm's Highland beef can be purchased at the small store operated at Miles Smith Farm.
"We use PT Farm because he slaughters our animals in the most humane way possible," Soule said. "The animals are slaughtered as soon as they arrive so they don't have time to become stressed. And the process is done very quickly."
While the attention given to raising and slaughtering their livestock is done in part for humane reasons, its impact on taste and quality is just as important.
"The way it's butchered is critical," Soule said. "You can absolutely taste the difference in the flavor of free-range meat that has been raised without stress. There is no comparison."
Current research indicates grass-fed, free-range meat is leaner and healthier and contains more vitamins, folic acid and the good fatty acids needed to fight a variety of illnesses, including cancer.
While these health benefits originally lured Michelle Gagnon, a young mother of three from Candia, into buying local free-range meat, the taste has a lot to do with why she will go out of her way to buy Miles Smith Farm beef.
"I began buying Miles Smith meat after hearing about the conditions regular supermarket beef is raised in. We have no way of knowing what kind of chemicals and medicines are going into our food," said Gagnon, who purchased some Miles Smith hamburger at A Market Natural Foods in Manchester after visiting the farm's Web site (milessmithfarm.com). "The burger was so good. The steaks are great too. It's usually what I buy now. I know it's going to be good, and I know it's healthy, humanely raised and I get to support a New Hampshire farmer."
Soule counts the growing number of people committed to purchasing locally grown food as members of the team that enables Miles Smith Farm to continue the legacy that began on her property more than a century ago.
"We could never do this ourselves. Our customers are part of this," Soule said. "We're all in this together."