How's business in the Salem region?
NHBR asked several Salem area businesspeople to give their take on some of the key issues facing the region as well as to offer their views on how the area's economy is faring.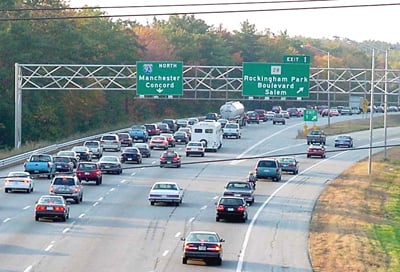 Q. What are the strengths of the greater Salem economy?
Donna Morris, executive director, Greater Salem Chamber of Commerce: Greater Salem is a great place to do business for a variety of reasons. As a border community, retail businesses are able to attract customers to cross the state line and enjoy tax-free shopping. For businesses in the manufacturing and high-tech industries, the location offers great highway accessibility, an educated workforce, and is conveniently located near two major airports.
Cindy Hall, mall manager of The Mall at Rockingham Park: The Salem economy and area businesses, including The Mall at Rockingham Park, thrive primarily due to a positive business climate, created both at the local and state level. Further, we benefit from not only New Hampshire consumers, but also Massachusetts residents taking advantage of tax-free shopping right over the border here in Salem.
Peter Rayno, senior vice president/regional manager, Enterprise Bank: There are many strengths that the greater Salem economy possesses. Our proximity to Massachusetts' consumers and the tax-free shopping advantage that the Granite State provides benefits our community greatly. Convenient highway access to Routes 93 and 495 also is a major advantage to doing business within Greater Salem. We are also very fortunate to have a vibrant and engaged business community spearheaded by our local chamber of commerce.
Larry Belair, owner, Victorian Park Family Entertainment Center, former selectman and state representative: Retail sales have been the steadiest component of Salem's economy for several decades. The large number of merchants and restaurants, nestled right on the Massachusetts border, prosper greatly from the absence of a general sales tax. The diversity of businesses tend to feed off each other. People come to Salem to shop, shop, shop, making several stops on their trip.
Other businesses have contributed significantly over the years, some in five-to-six-year cycles, like home-building, while others are seasonal but here every year, such as Canobie Lake Park. Years ago, Rockingham Park was a major force in the local economy, but time and a diminished interest in horse racing have taken their toll.
Industrial enterprises continue to grow and will probably become, if they're not already, the leading economic base for Salem in the very near future.
Q. If a casino is approved for Salem, what effect would that have on your business?
Donna Morris, Greater Salem Chamber: The board of directors of our organization is comprised of industry leaders and business professionals from the greater Salem area. They have discussed the economic impact of potential legislation regarding expanded gaming in the state of New Hampshire, and specifically at Rockingham Park. The Greater Salem Chamber of Commerce views the potential increase in economic development, the creation of permanent jobs and contract jobs, as well as the projected increase in revenue stream to our state, as a result of expanded gaming, highly beneficial.
Peter Rayno, Enterprise Bank: The business leaders I speak with are enthusiastic about the potential for a high-end casino to be located at Rockingham Park.
Employment growth, from the initial construction jobs to the large number of full-time, quality jobs that will be created, will be a major benefit to our local economy. As a result of these new jobs to be created along with the large amount of guests and tourists that will be visiting our area, we would expect a significant boost for our local established businesses.
Cindy Hall, Mall at Rockingham Park: New businesses coming to the market would help boost the economy and further benefit The Mall at Rockingham Park. The casino will draw additional footsteps to the area and create new job opportunities for the Salem community, surrounding communities and even Northern Massachusetts.
Larry Belair, Victorian Park Family Entertainment Center: Realistically, I don't expect any direct impact on my business. The clientele is very different. I rely on local families to support my business, whereas a casino will draw from a very large area.
I do, however, expect that a casino will have a very definite and positive impact on the town's economy, most specifically on property taxes. If properly allocated, with a bias towards property tax relief, every homeowner and business will benefit significantly from the added revenues. Millions will be derived from a host community fee and an increase in assessable casino-related properties. Once the permanent jobs are created, millions more will find their way into the general economy.
Q. Besides a casino, what would boost the Greater Salem economy?
Donna Morris, Greater Salem Chamber: The Greater Salem Chamber of Commerce represents hundreds of businesses along the I-93 corridor and supports the continued development of the highway, between Salem and Manchester.
The substantial upgrades of I-93 that are now in process, are essential to improving public safety, and boosting the economic growth between Salem and Manchester. The Greater Salem Chamber of Commerce understands that responsible growth is critical to maintaining the character of the Granite state. Salem is a gateway community to New Hampshire, and our chamber has strongly encouraged the state to secure the best option to expedite the widening of the I-93 corridor in order to bring opportunity to our citizens, and keep the New Hampshire advantage strong.
Peter Rayno, Enterprise Bank: Clearly, the completion of the widening of Route 93 will be a significant enhancement for the Greater Salem economy. Not only will this ease access to our local businesses but will benefit the entire state through improved access north as well.
Cindy Hall, Mall at Rockingham Park: New business is good business. The town of Salem is actively engaged in supporting businesses that want to grow or relocate to southern New Hampshire.
Salem is a great place to live and work. The more job opportunities available, the more beneficial it is to the Greater Salem economy.
Larry Belair, Victorian Park Entertainment Center: I think growth will continue to come to Salem. Thanks not only to our unique geographical location, but when the widening of I-93 is finished, Salem becomes even more attractive to visitors.
When thinking of the Salem of the future, I strongly believe that one important thing the town must do is to improve its appearance. Our ordinances should be designed to encourage quality growth, not serve as deterrents. Relying on excessive impact fees, utility hookups and burdensome layers of engineering oversight make it very difficult to attract a lot of quality growth.
One obvious exception is Joe Faro's Tuscan Village development. He is an exceptionally gifted entrepreneur whose patience in dealing with the town has left us with an example of what "doing it right" can mean to a town. That, coupled with a strong commitment to improving landscaping on public and private properties, will raise the value of every parcel in town.
An attractive town is a place where people want to be. Think about places like Keene, Peterborough and Portsmouth, each of which has invested in itself.
Q. What impacts, if any, have you seen from the widening of Interstate 93 so far?
Donna Morris, Greater Salem Chamber: Already, we have seen better traffic flow and less congestion on completed areas.
Peter Rayno, Enterprise Bank: The widening of Route 93 is an ongoing project. Some improvements are noticeable, particularly at Windham's Exit 3. However we recognize that the completion of the project will take some time but when completed will be a critical advantage for our local businesses.
Cindy Hall, Mall at Rockingham Park: Still in its early stages, it is hard to identify any specific impacts as of yet but traffic has already started to flow much better to our north. The Mall at Rockingham Park and our community will continue to benefit as this work progresses. The widening of I-93 will ultimately make New Hampshire transportation and commuting more convenient.
Larry Belair, Victorian Park Entertainment Center: Nothing yet, but the future should be excellent. Sure, we have the expected delays, detours and traffic jams, but they'll go away. The construction certainly has put people to work. That, in itself, helps to boost the area's economy.
Q. How do you see both the Greater Salem economy in general and your business in particular faring over the next 12 to 24 months?
Donna Morris, Greater Salem Chamber: Well, no one has a crystal ball, but the greater Salem economy appears to be doing well. The area has seen properties that were vacant for many years being occupied, new businesses starting up, and major renovations being conducted. Some of these businesses include: high-end restaurants, major medical facilities, high-tech companies, and major retail stores.
The chamber is at 10-year high for membership. We plan on continuing to grow, in both scale and scope, by delivering value to our members and the business community.
Peter Rayno, Enterprise Bank: I think we all recognize that the recession that we faced starting in the latter part of 2008 was extremely deep and prolonged. However, virtually every sign I see indicates that the worst is over, the economy has stabilized and many sectors are showing some improvement.
Hopefully this is a trend we see continue in the months and years to come.
Cindy Hall, Mall at Rockingham Park: The Mall at Rockingham Park has recently welcomed many new fashion and electronic-oriented retailers, as well as first-to-market operators such as Lord & Taylor and Microsoft. The mall continues to be a major player in the Salem community and business climate.
Salem and The Mall at Rockingham Park are constantly looking to improve and provide new retailer and dining options that will add to our already fresh and contemporary assortment. I think the business landscape throughout Salem will continue to grow and flourish in the next one to two years.
Larry Belair, Victorian Park Entertainment Center: My business is an exception. I hope to be out of business in the near future. We're in our 70s now, and full retirement sounds good.
If Washington can get its act together and start working for the common good, I think greater Salem will really take off. We need the casino, the completion of I-93 and a strong national economy to make it happen.
I'm optimistic – I believe it will happen. If the local officials and the folks in Concord focus on a strong future, it can happen.