How's business in the North Country?
Area businesspeople offer their perspectives on the region's economy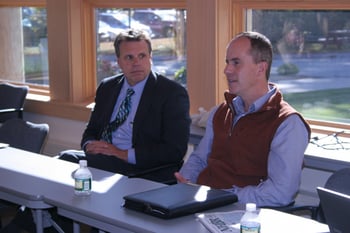 NHBR's editors recently met with businesspeople at the Tech Village technology park and business incubator in North Conway. The topic under discussion: How is the area's economy faring and what are the expectations for the future?
The participants were:
Daniel Lee, assistant professor of economics at Plymouth State University and author of the quarterly North Country Economic Index
Scott McKinnon, president, Memorial Hospital
Melody Nester, membership manager, Mount Washington Valley Chamber of Commerce
Jay Poulin, co-leader, Civil/Survey Group at HEB Engineers, North Conway
Marc Poyant, vice president and market manager, Northway Bank
Mary Seavey, business development manager, Mount Washington Valley Chamber of Commerce, and the town of Conway's representative to the Mount Washington Valley Economic Council.
Ben Wilcox, president and general manager, Cranmore Mountain Resort
Daniel, could you tell us some of the most recent findings of the North Country Economic Index?
Daniel Lee: By the data, the index decreased by 0.2 percent from the spring, and a lot of it has to do with the closure of the Balsams. If the Balsams is taken out, I think it would be the same as last year. The summer last year was maybe a little bit better, so I think the Balsams has a lot to do with this.
We have five different indicators in the index. We have industrial electricity sales, employment, wages and salaries, rooms and meals and traffic counts and electricity and sales are down. Geographically it is not open to different areas. Just Coos County, we do have a state index as well just for comparison purposes.
Marc Poyant: I am based in North Conway, but I also cover Berlin and beyond. We have a large proportion of customers in the hospitality area because we are a hospitality region. That's the motels, B&Bs, restaurants, campgrounds — the businesses that service the tourists, which really fuel our economic engine here.
I would say a large percentage of our customers have seen improvement in 2012 over 2011. We saw improvement in 2011 over 2010. I think 2009 was probably the bottom for many as they slipped down in revenues and cash flow. We have seen a steady increase for most. Not all are doing well, but some are doing extraordinary well.
Ben Wilcox: The summer season we're coming off of had excellent weather, and I think a lot of people are coming up to the Mount Washington Valley because of the beauty and recreation activities. June started off fairly well — it was little rainy, but at the same time not bad. July actually dipped and was a slow start for a lot of people, including us at Cranmore, compared to last summer, and then August was fantastic.
Overall, cumulatively, what I've been hearing across the board that business has gone very well. Not for everybody. I got a comment the other day that I thought was interesting — an attraction saying that they are hearing from lodging properties that the stays are shorter. A lot of people make last-minute decisions, and they are seeing volume, but they may have seen a family stay for three or four days last year that's staying for two days this year. And there's a lot more last-minute stays, and that has been the trend for the last maybe four or five weeks.
Scott McKinnon: From the hospital industry perspective, I think we're probably very similar to what's being recognized nationally that over the last several years that, whether you're looking at a new patient perspective or outpatient services, have been either stable or there's less demand. Some of it may be a tribute to a weak economy. Decades before, hospitals were somewhat immune to the economy. If you needed health care, you needed health care. In these more modern times, there's more elective — people are more sensitive to co-pays and deductibles and they will put off things.
Memorial has been stable the past couple years. I'm not seeing significant growth nor decline, some fluctuation between different services as we provide an introduction to a couple of new services. But we're very stable in activity levels, and I'm not seeing any big difference from last summer — but again we're not seeing a decline, which is very positive.
Surveys of businesses taken statewide almost always show that businesses list health care as either their major concern or one of their major concerns. Is that something that you see yourselves?
Melody Nester: I have a lot of new businesses and other business members that come to talk to me to see if we have any health care plan that can help them with health care. We see a lot of entrepreneurs that come in, or someone who is just making a career change or wants to start their own business or maybe they need to because they've been let go, but they will come in and that's one of their major questions — how can I get my health care addressed?
We're not in the business of doing that but, we do try to be informed so that we can give advice and usually just go to the insurance providers to try and get the best quote.
Jay Poulin: I can echo that. I sit on the board of directors for Androscoggin Valley Hospital in Berlin, and there's uncertainty. You're working a current model that is not going to exist in the future. It's very tricky to figure it out. I think Androscoggin Hospital is probably in the same condition as Memorial Hospital.
There is much more collaboration now with health care, and I think that there will be in the future. Androscoggin is probably the biggest employer in Berlin, it certainly is critical to the community. Certainly, it's hard to retain positions, but I think issues are in attracting and retaining physicians.
SM: You mentioned what neighboring hospitals do to support each other. Here is one example — our specialty care service that creates access to specialty care that AVH has not had success in recruiting, and now they have coverage. And we will hopefully have an arrangement with Androscoggin for two more specialists that will create access for patients in town.
In New Hampshire, there are 26, for the most part, independent hospitals. I think it's harder on all hospitals, and we have smaller operating budgets and demographics obviously don't have the strength to support a lot of specialty care.
In the future, I think we will look very different. I can't tell you what that looks like, but there will be a lot more collaboration among the different providers in the region.
That has already started in Coos County with AVH and Upper Connecticut Valley (in Colebrook), and we've already formed a relationship up there to provide an affiliation that will hopefully create a model that will be supportive of the North Country in the future.
When we talk about major employers in the Mount Washington Valley, there's the hospital and the school department, but the economy is still driven by hospitality.
Mary Seavey: Yes, it is basically hospitality. Although we have a lot of real estate here, it's not available for what's needed in a timely manner to move people into it.
MN: Certainly the resorts employ an awful lot of people.
BW: We employ 600 seasonally — in the summer months, about 100 people. When you combine all the hotels and everything, they are the largest employers.
What about retail?
MN: I can tell you who we have in the chamber. We have over 800 members and our geographic area extends down to Ossipee up to Gorham, then over to Bretton Woods, and we actually go into Maine as well. We just did an analysis of what's coming in, and I'm trying to recall the figures, but about 70 percent of the dollars of those members are coming from tourism. Again, not everyone joins the chamber, but 70 percent of our make-up are hotels, restaurants, attractions, retail.
I would say a huge thing we see in the Mount Washington Valley are the moms-and-pops or the entrepreneurs. A lot of people move from Massachusetts or wherever and they come and they say this is their second career — they want to get away from the big city, I vacationed in Mount Washington Valley when I was younger and I want to move here so they do. And then they try to start a business.
MS: Zoning for light industry is a little bit of a hiccup. Our zoning, like over in East Conway — if you do not have the water and sewerage, it does not lend itself readily for light industry. I know there is a lot going on right now with both the chamber and the economic council to evaluate that and look at what types of industries we could broaden.
Improvements to our airport here would certainly help tourism, certainly help business. We have the wherewithal to do it, it's just getting people on board to do it and to buy into what we have to offer in the Valley.
Daniel, from where you sit, what is the employment picture in Coos County?
DL: Based on the occupational classification system, the largest are community and social services, retail, government and health care, which is the largest.
What is rapidly growing within the health care sector are the regional and family services. Day care, nursing homes and things like that, which pay considerably less than hospitals, and I think that's one of the structural issues that Coos county has to deal with.
BW: I worked in Coos County, and I lived here even when I worked up there. It is a radically different environment. It basically could be two different states, similar with health care and there's some commonalities, from a tourism perspective it's radically different. Different people, different services.
This region I would label as much richer in hospitality and tourism. Not to say that Coos doesn't have that, because it absolutely does, but if I looked at the mix from my experience of living up there and working, it's a much smaller mix.
Let's talk about infrastructure.
BW: The southern end of the Conway Bypass, I believe, is still on the state highway plan. The middle and upper end of the bypass are not in the 10-year highway plan at all and are not funded. I'm not sure if the southern part is funded either, but it's still on the list.
My position has changed a little bit over the years since I've been at Cranmore. I'm a believer in the southern bypass, because many of our guests and employees come up here on the weekends, and they bottleneck in Conway coming up Route 16. Once you get through that, you'll be going on South Road, which they added about 10 years ago and that has greatly changed North Conway for the better — it has really allowed people to maneuver around if they need to get through North Conway or if they need to get around it.
I grew up here, and in high school, you just did not drive through North Conway at certain times, and now that issue has really changed a lot. But now if you're coming up on Friday night, you may sit for an hour prior to getting into Conway, and we hear that from our guests.
I would say from my perspective, I bet a lot of hospitality people would share this, when there's an alternative up Route 93 on the other side, that can be a huge advantage for those resorts and a disadvantage for us, but that southern bypass in my opinion greatly improves the experience coming here.
Another aspect of the economy to discuss is the construction and real estate market.
MP: The real estate market has certainly changed. In the residential market, sellers have had to adjust their expectations in order to sell. If they're not realistic with their asking price, they are not going to sell. That is the common theme that I'm hearing from Realtors these days. I think it probably goes across the spectrum of prices today as well — the higher-priced homes, if they're a real bargain, you can probably find a buyer for them.
On the commercial side, the Valley has been more owner-occupied than anything else. There haven't been a large number of properties turning over as a result. People buy them to house their businesses, if the property involves multiple units, then they occupy part of it and have the other portion occupied by tenants.
When I think of Berlin and Gorham, there are a large number of rental properties there and over the years, the prices have dropped considerably — there were a great number of properties that were purchased for a rock-bottom bargain price by outside folks. The prices there are edging upwards, from what I understand, and the market is a little bit more stable than it was.
With the prison opening recently, we've got more people coming to the North Country, and they're looking for housing, and they have good-paying jobs, so I think that's going to help to stabilize that area.
DL: In Coos County, home sales increased by 11.8 percent from a year ago in the summer and increased from the second quarter, and median home price has increased by 17 percent from a year ago. The trend statewide is very similar. I do think the housing market is gaining momentum, but do I think it's going to continue this way? I don't know.
MS: In talking about the housing, there is a need for affordable housing for the people working here.
The first affordable housing project will be ready for occupancy in October, I think, and I know there's another one, an elderly complex planned. That's something that we have never had here.
I think that it is good movement to meet the needs of the employers and the workforce. They have really started moving forward, which is great.
SM: With the demographics of this region, the silver tsunami is how I refer to it, there has not been any continuum housing put in — I'm talking about independent or assisted living. I think as this population ages, it's only a matter of time before someone addresses the continuum care of independent and assisted living complex.
Since I've been here there have been at least two organizations that have done an assessment in this community, both contacting the hospital. The economy and the numbers are just not there yet, but I think that would become a huge means of community also.
MS: That is something that has never been addressed and there is a huge need in this community for that.
SM: The hospital had a very thorough analysis done before my time, probably back six years or so, where they had site plans and everything, and they were going to try and squeeze it on our campus, and I think it would already be here if it weren't for this poor economy.
MS: Even as it stands right now, I know of four longtime families who have moved to the Dover area because of the need. Not that they wanted to leave the Valley, but it wasn't an option for them.
DL: I think that's one of the reasons we have the rapid growth of health care costs.
MN: The Mount Washington Valley Chamber has developed with the economic council a leadership program targeting mostly people 40 and under, trying to engage them in community and educate them about all kinds of issues. They go to the hospital, they go to the State House, they see what's going on in local politics. But a lot of it is aimed at engaging young people and giving them a reason to stay. That's part of it, building a community of young folks and providing them with tools and encouraging them to get involved with boards. Certainly other areas of the state are involved with that as well, but we have a very strong program here and aimed at the 40-somethings, helping them to be productive and encourage them to stay.
DL: I did a presentation last year, where one of the speakers was the former commissioner of employment security, Tara Reardon. She interviewed high school kids, and the first question she asked was, "Are you going to stay after graduation?" I think almost all of the kids said they plan to leave.
The second question was, "Why?" Every single kid said jobs — no job prospects, so I think that's our big issue up here.
Jay, what kind of projects is your company, an engineering firm, working on right now?
JP: We're certainly not doing any residential development — we are doing some commercial, but it is very limited, and if you compared it to 2006-2007, it would be totally opposite. Most of our projects now are infrastructure, municipal/state/government-related. So our workload has shifted from private to public, and what we're seeing now is the public has no money to do anything to infrastructure.
I think everyone here knows that our infrastructure is in need of investment, but we can't find a way to do it. Most municipalities have roads and bridges that need to be fixed, but they just don't have the money to do the project, so we're seeing the need for it but the lack of funding. We've been fortunate to have diverse work for the federal government, rely on municipal work, state work. Limited private work — and that is really a 180 from about four years ago.
In the Lakes Region, we find they have actual capital improvement budgets, but when I drive up north, to Colebrook, where taxes are so high already, their roads and bridges and sewage treatment facilities are in need of repairs. Working our way down, gradually it can get better. Littleton seems to be better off than most others in that area.
One of the other aspects of infrastructure is the availability of broadband. Is that an issue around here?
JP: It certainly is an issue up north – a big issue.
MN: There are pockets where we do need broadband. If someone's working from home in a place like Eaton or Madison, there are issues.
BW: We have several cell carriers on top of Cranmore that have their towers up there, and when we meet with them, their biggest concern is partially locals, but a lot of it is the tourists, because if they're calling down to the Boston area, they won't subscribe to that cell carrier if their signals are not strong in the mountains by their second home. Those things are probably more of a benefit to us as local residents as well.
MN: The cell service is definitely a challenge for a lot of people. Communication is an issue in certain areas in the south.
DL: Another aspect to the topic of broadband is education – it gives easy and convenient access to education.
I used to have MBA students drive two hours from Coos County to Plymouth to take night classes. I think having broadband would be beneficial to potential students to give them easier access to education.
Do you get a sense in talking to members of the chamber that they would like to offer health benefits but find it too difficult?
MN: Absolutely. A lot of the members are restaurants, and there are some that do, but seasonal workers and workers in tourism are not covered by health insurance or they have to work to try and figure out how to get covered.
MS: One of the main things that is missing here is affordable health care. I think also what is happening that the businesses with great health insurance, like the supermarkets that are coming up here, instead of hiring full-time employees and giving them insurance they come in with just enough hours under where they don't have to cover them.
SM: We are a nonprofit community hospital, and part of supporting that status is charitable care. We provide significant millions of dollars of undercompensated care, and that's not all uninsured — you can classify Medicaid as underinsured for what it pays as well as the cost of delivering that care.
That's where we try and work with other providers in the community — Saco River Medical Group, a primary care group, Mineral Springs, a rehab center, White Mountain Community Health Center — these are all entry points for people who need access to health care.
It goes back to the challenge of rural hospitals throughout this state and this country being able to be viable, to be honest with you. Critical Access status is hugely important in terms of how you get an advantage with cost based on Medicare, and that's significant. That is the discussion with the federal budget and the deficit, the debt ceiling and all these things. There is discussion about challenging Critical Access status. These are all the uncertainness that are out there, but we're here and provide care for the whole population.
Is there an access problem here? No. But if you look at the economics of a hospital, a lot of services are varied because we are in a rural area — volume, demographics, it's hard to maintain certain modes of particularly specialty care. OB/GYN is one where we're a small hospital, and delivery numbers are not what you're going to see in a metropolitan area. It's a high Medicaid population, yet we're committed to provide this service.
It's part of our mission, and I can give a whole lecture about cost-shifting, but I won't go there.
DL: One stat that might relate to this discussion is the industry composition of the region, and that is about 30 percent of employment is in retail and food services, and these industries usually offer no benefits. They are part-time and seasonal employment, so we could say a large number of people have a job with no benefits.
Also, something to write into that is the weekly wages. The No. 1 weekly wage is utilities in 2009, and at the bottom is food services, only $359 per week. Then the second one from the bottom is arts and entertainment and recreation, $368. This low average pay is part-time and seasonal that comes with no benefits.
Can you each give an idea of what you think the next year holds for your business and the region?
BW: Right now our employees are optimistic and our ownership is optimistic even though it was pretty historic down year last year. The one interesting thing about skiing is that if you look at the pattern the economy has a lot less of an impact on the skiing industry, believe it or not, because people will possibly shrink their vacations in some way, but they will still take a vacation if it snows.
We had a really good summer — we were up over last summer, so we're pretty optimistic right now, and I think everyone is anxious to get back to winter.
SM: In my industry, within the next couple or few years, there's a lot of turbulence. Like I said before, there's going to be a lot of scrambling on collaboration.
We are realists that health care costs are too high, and hospitals are a part of that. Lean processes is a term that has become very popular in health care, so we're going to continue to focus to become become more efficient in how we deliver health care.
MP: I'm very optimistic for the coming year. In my industry we struggle when our customers struggle and we thrive when our customers thrive. I think we have a good handle on the problems that have come up over the past couple of years. I think they are moving in the right direction, and we have experienced improvement pretty much across the board for the last two years.
MS: I'm very optimistic. I think the economic council has gone into their strategic planning and the chamber is going through theirs, so everybody is acutely aware of change and need and I think I see the town working very well with businesses and being much more proactive. I think it's positive.
MN: Through the chamber, we did a couple of mini-surveys of members, and those surveys are showing growth for a lot of business. Certainly it is dependent upon the weather, so that does make a difference.
Some other surveys of businesses that we did that were not related to tourism showed that a lot of business was doing better, there are some based on the most recent survey that are struggling, but the majority seem like they are doing well.
One other factor that I use is our membership has either stayed steady or grown — I'm not sure if that shows how we're doing or how people realize they can market smarter.
JP: I as well am pretty optimistic about the future. One of the things that came out of this recession is that we learned to do more with less or the same with less. Basically, you become more efficient.
We're optimistic that people in general are committed to the infrastructure. I think the government is trying to find a way. I'm optimistic that we'll find infrastructure improvements to continue forward, I think things are looking up trending in our direction.
DL: For the tourism industry, other than weather I am concerned about what's going on in New York and the exchange rates. The value of the Canadian dollar has been declining for many months now and that could affect the traffic from Canada.
In the forest industry, wood product manufacturing, log industry — I'm going to be optimistic because of the housing market, and construction buys lots of trees. It could be good for the wood product manufacturing industry.