Home for a high-tech greenhouse?
On fifth try, entrepreneur seeks sites in Berlin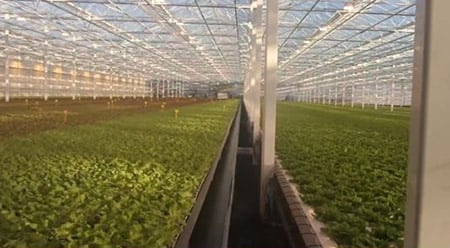 Perhaps Berlin will be Richard Rosen's lucky charm.
Rosen is an entrepreneur who is proposing to build two high-tech greenhouses in the city. But over the last six years, similar projects he proposed in four other locations didn't happen.
The plan is for the greenhouses to provide fresh produce year-round to restaurants and stores in New England. That would require 80 employees.
Rosen said the project will be "extraordinarily environmentally favorable." Pesticides won't be used, and everything would be "grown fresh and delivered the next day after it's picked," he said.
Rosen, who has a master's degree in forest science and a Ph.D. in engineering from Harvard University, is CEO of American Ag Energy, a company that specializes in "integrating greenhouses and power plants."
Rosen's North Country Growers LLC project made its first appearance before the city's planning board on Feb. 21.
"I'm very excited about the prospect of an industry that is completely different from what we are used to seeing here in the Berlin area," said Berlin Mayor Paul Grenier.
The proposal calls for two greenhouses on East Milan Road. Each would be about 10 acres and would grow tomatoes and salad greens, said Samuel Gaeth, the company's manager of environment and safety.
The goal is to begin construction early in April, he said.
Gaeth said the power for lighting and heating the greenhouses would come from GE Jenbacher engines powered by natural gas. They would generate 8.8 megawatts of electricity. Power not needed for the greenhouses would be sold.
Equity investors
Rosen's company has an option to buy about 100 acres of city-owned land on East Milan Road, although the price isn't final, Grenier said. The city bought the land from Georgia-Pacific at the end of 2015 when it became clear that Rosen was serious about locating in Berlin, according to Grenier.
Funding for Rosen's project is coming from a group of equity investors, said Kelly Wieser, a Campton-based lawyer who helped arrange the financing and is also working on issues such as permitting.
She said it was a little early to discuss details, including the total amount. But Rosen said the project has all the necessary funding.
The company has raised the possibility of a guaranteed loan through a U.S. Department of Agriculture Rural Development program, a spokeswoman for the agency told InDepthNH.org. But that discussion is in a preliminary stage.
Rosen has proposed similar greenhouse projects elsewhere, but none has been built.
In 2010, Rosen sought to build a similar project in Hopkinton, but it did not proceed in part because the site for the greenhouses turned out to be a flood plain.
A year later, in Lee, Mass., said Rose, "regrettably, 17 neighbors that lived in expensive vacation houses near our site did not want to lose their green space. Under Massachusetts law, they had all kinds of power to delay our project, and as a result we unhappily abandoned the site.
The same year, Rosen sought to buy the Bridgewater biomass power plant in central New Hampshire. He said that project did not work because "during the purchase negotiation the price of natural gas fell and made electricity production from wood uneconomic by comparison."
And in 2015, officials in Bellingham, Mass., were interested in the project and approved a tax break, said Denis Fraine, the town administrator. But, he said, Rosen just "went away." Rosen said that he still plans to build there but decided to do the project in Berlin first.
Rosen dismissed projects that did not work out as not being meaningful, saying his company scouts many locations and "and most sites are not good, all for different reasons."
But he says he is confident that the Berlin project will succeed. He says the location is excellent and "we have considerable community support."