Hollis family's change to unfold on 'Supernanny'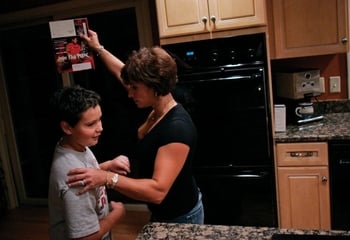 Ten-year-old Corey Quinn spent a few minutes Thursday evening chasing his sister, Carli, 9, around a pool table. A game of tug of war with a pool cue quickly turned into a full-contact footrace punctuated by shouts, shrieks and pounding feet.
Eventually Gina Quinn, a 44-year-old personal trainer and bodybuilder, left the kitchen to intervene and warned Corey to behave. The ruckus continued, though, and a few minutes later Gina sent Corey to his room.
That may sound like a normal situation for many parents, but for the Quinns it's a vast improvement from how life used to be.
"There's no way that transition would have happened before," 16-year-old Cally said. "They'd be standing right here yelling at each other."
By before, Cally means before the family spent two weeks with Jo Frost, the "Supernanny." Frost worked with the family for two weeks in March as film crews recorded everything for the popular reality show. The episode will open the series season tonight at 9 on ABC.
The Quinns lived in Amherst at the time of the taping and moved to Hollis this summer.
The family auditioned for the show in February at an open casting call at T-Bones restaurant in Bedford. Before Frost's intervention, Gina Quinn and her husband, David, admit they had lost control of their family. Discipline was nonexistent and the kids, including 14-year-old Casey, were out of control, fighting, swearing a
nd refusing to do chores unless they were paid.
Meanwhile, Gina Quinn felt that she was always the bad cop, while David Quinn, a 47-year-old chiropractor, tried to diffuse situations with humor.
"We were not doing a good job," David Quinn said. "We were letting them control us. Before, it was kind of a free-for-all. The inmates were running the asylum. I felt I was failing the kids, that I wasn't doing my job."
In the middle of taking the kids in hand and taming Casey's bullying ways, Frost had to pull David aside to talk to him about his lack of seriousness in changing the way he dealt with his kids, according to an ABC press release.
Since then, things are much calmer. Things aren't perfect, but rules and consequences are clearly defined, and the Quinns say they know now, even when the kids don't behave, how to handle it. "We still have to work at it," David Quinn said. "But at least we have a way of addressing it."
>>More Photos
Dinner, for instance, was a particularly stressful time for Gina Quinn. Most days, the kids were coming in and out at different times because of sports and other activities and everyone demanded something different for dinner.
One of Frost's solutions is a chart that's now posted in the kitchen listing the dinner menu for the week. Each child has input, but knows he or she will have to eat whatever is cooked and not expect their favorite every night.
A job board has also been posted listing the chores each of the Quinn children is responsible for. They get an allowance for doing them but also lose money each week for every time they swear.
Another solution is the privilege book, which Gina Quinn pulled out after sending Corey to his room. It lists any punishable offense and what the punishment is. Gina Quinn said one of the reasons discipline was so lax was because she couldn't remember, for instance, who was grounded when.
There are some nerves in advance of tonight's show. David Quinn said he was worried some people will judge him and his family for the way they used to function. But the Quinns said they hope other parents understand how quickly such a situation can develop.
Gina Quinn said the behavior slipped back to old patterns this summer during the chaos of the family's move. It's improved again recently, but she's hoping watching the show Friday will be another reminder of things they have to work on.
"We've had to work . . . to make sure we put those things back in place. We're very much looking forward to the show sort of as a reminder, to bring us back to where we were when Jo was with us," she said.
After some reluctance, the older kids, Cally and Casey, now say the process was worthwhile.
"I think things are a lot better," Casey said. "I think I grew from it. I'm more respectful."
Cally said the family eventually got used to the film crew following them everywhere. She's planning to watch the show with a group of friends Saturday night.
"It wasn't bad. It was kind of stressful," she said. "I think we got a lot accomplished, a lot of rules were set down to just treat each other better."