Furniture store family brings customers, employees into the fold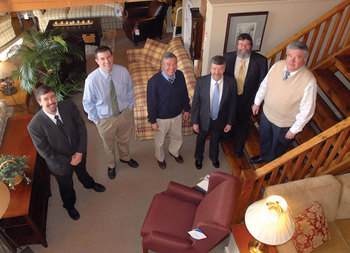 The doors of Harris Family Furniture opened for the first time in 1965. But the family's history in the furniture industry goes back much further, actually beginning shortly after World War I, when Bill Harris's grandfather traveled by rail selling furniture from New Hampshire to Maine, and Chicago to New York.
Today, the grandfather's legacy lives on at the hands of Bill Harris and a growing list of family members scattered among Harris Family Furniture's three locations – the original Tenney Mountain Highway locale in Plymouth, Union Avenue in Laconia and Dover Road in Chichester.
While family-owned furniture businesses across the state continue to fall victim to acquisitions or competition from big-box retail chains, Harris Family Furniture continues to thrive, thanks in part to its commitment to providing generations of customers with quality products and service.
The fact that the same level of commitment is extended to meeting the needs of company employees and the communities they call home has earned the company recognition by Citizens Bank and New Hampshire Business Review as the winner of this month's Not Your Typical Business Award.
"The Harrises are very invested in their business and the quality of what they offer," said Brenda Litchfield, commercial lender for Citizens Bank. "They're very involved in the day-to-day happenings at all their stores."
Once owned and managed by two brothers – Bill Harris' father and uncle – and originally named Harris Brothers Furniture, Harris Family Furniture now includes seven family members.
In addition to Bill Harris, management at the Chichester store includes his son Will, his brother Dick and his wife Joey, who operates the adjoining country furnishings shop, the Jelly Cupboard.
Brothers Jack and Russ oversee operations in Plymouth and brother Bob and his wife Mary Beth operate the Laconia store.
Despite the varied locations, all Harris family members and their 27 employees share a simple but important philosophy – treat customers they way they would like to be treated.
"We're customer-oriented," Will Harris said. "We can all put ourselves in the shoes of our customers."
A visit to any one of the stores will yield offers of assistance from sales staff, a selection of mostly American-made furniture and accessories that meet customers' design needs and budgets and a promise of prompt delivery after selected items are inspected for damage at least three different times – a practice the Harrises believe has earned them the respect and repeat business of customers.
"Service and delivery can be the hardest part of this industry, but it is one place we excel," Will Harris said. "We know that will keep people coming back."
An extended family
Keep coming back they do. According to Bill Harris, 86 percent of Harris Family Furniture customers return for future purchases and customer satisfaction hovers at about 99 percent.
Ron and Sherry Alie are one example of longtime customers. The two first visited Harris Family Furniture in the mid-1980s. Since then, the Deerfield couple has introduced all of their other family members to the company and have themselves purchased furniture for homes as far away as upstate New York.
"They are just down-to-earth people," said Ron Alie. "They are very family-oriented – not just in terms of their own family business, but also in terms of their customers' families. You can't help but trust them."
Members of the Harris family understand their employees are a critical part of the service equation, and they pride themselves in promoting a work environment conducive to teamwork and contentment.
"Everyone here works together," Bill Harris said. "Our sales staff is even involved in selecting the items for our showrooms. They talk with our customers every day, they know what our customers are asking for, and their input is very important."
Roles played by Harris family members are eclectic. Most are equally as comfortable on the sales floor as they are in the warehouse, or even on the delivery truck.
This level of equality among family members and employees is one reason Frank Drzewiecki has worked for the Harrises for 38 years.
"They treat everyone — employees and their customers — fairly and honestly," Drzewiecki said. "They're just a wonderful family to work for."
"We're on big family here," added sales associate Johanna Forst, who has been with the company for four years. "It's a great bunch of people to work for, everyone here is friends. That makes it nice."
Being part of local communities for over four decades has many benefits, including generations of repeat customers. But it also brings with it a sense of responsibility, say the Harrises.
Harris family members and their employees show their community support by sponsoring or leading everything from Little League teams and Boy Scout troops to local church groups. The company's list of donations includes area schools, the American Red Cross, Breast Cancer Walks and area police departments.
Family members and employees alike can be found serving on hospital boards, after-school programs, chambers of commerce and other philanthropic organizations.
"We're real members of the community," Bill Harris said. "These are the places we and our employees have raised our children. These communities are the homes of our customers. It's only right that we do what we can to give back."
The Citizens Bank Not Your Typical Business Award is presented in partnership with New Hampshire Business Review. Businesses are selected each month based on the company's commitment to community, colleagues and customers. Visit www.citizensbank.com for more information.