Flosam & Jetsam: The best quotes of 2013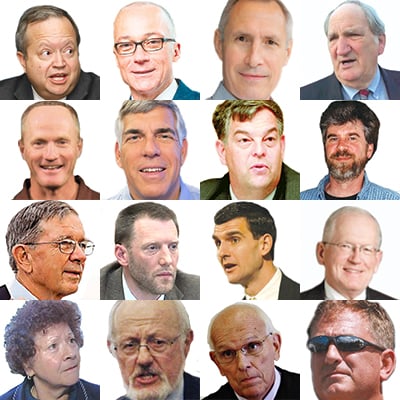 "If things continue the way they are, there may be a day or a time where firearms and ammo are necessary. It happened in the Revolutionary War." – GOP state Rep. JR Hoell of Dunbarton predicting that the day may come when people will need to rise up in armed resistance to their elected government. "I'd like to think we're not there yet, but as things continue to unravel, that may be the next step," he added.
"Some people, when they start, you are already writing the press release for when they leave." – Andrew Glincher, CEO and managing partner of the Nixon Peabody law firm, which – at least for the time being – employs former Massachusetts senator Scott Brown.
"I was raised right by my parents. I knew right from wrong." – David Young, a former state rep in New Hampshire, who recently pleaded guilty to defrauding the U.S. military out of millions of dollars.
"I urged you in the strongest terms not to represent yourself." – Judge Richard McNamara to former state rep Tony Soltani, who was defending himself in a case stemming from his decision to attempt to catch a motorist fleeing at high speed from a traffic stop. Soltani was eventually acquitted of a felony charge but found guilty of two misdemeanor counts of reckless and disorderly conduct.
"This is sort of like a bad meal that keeps coming back." — Rep. Douglas Ley, D-Jaffrey, speaking against yet another version of a right-to-work bill, again sponsored by former House Speaker Bill O'Brien.
"Why not propose raising $30 million by licensing bordellos or by licensing moonshine distilleries?" – State Rep. Dave Hess, R-Hooksett, reacting to Governor Hassan's casino proposal, which he called "ludicrous."
"I don't really remember it, and I don't do that very often, but sometimes the meeting slows down a bit and I succumb to the temptation to look at Facebook." – Nashua Alderman Jim Donchess after a Nashua Telegraph story revealed he and other aldermen occasionally fall prey to the temptations of the smartphone during long meetings.
"I just connect the dots. Apparently, it is very dangerous to seek truth, or ask questions." – Former Auburn GOP state rep – and Boston Marathon bombings denier — Stella Tremblay in an email to members of the Legislature, shortly before she was forced to resign.
"Are you insane, Stella? That's what I really want to know." – WEEI radio show host Gerry Callahan during a contentious interview with former Auburn state rep Stella Tremblay, who had earlier questioned whether the injuries to Jeff Bauman – who lost both legs as a result of the Boston Marathon bombing – were real.
"There's nothing really to say." – Dan Innis, dean of UNH's Peter T. Paul College of Business and Economics, after being asked whether his being a gay and married will play a role in his possible bid for the GOP nomination for the 1st Congressional District.
"If everybody had to recuse themselves with every little thing that came along, there would be nobody left to vote on things." — Former Senate President Peter Bragdon, who heads up the successor organization to the Local Government Center, in an attempt to explain NH's squishy conflict-of-interest rules for legislators.
"Those reactions from the right are exactly what is wrong with the GOP at present." — Brad Cook, the Manchester attorney (and longtime NHBR columnist) on reactions among GOPers to what was his gubernatorial candidacy trial balloon.
"I would, of course, have to change that." – Former U.S. Sen. Bob Smith, publicly mulling a NH U.S. Senate GOP primary run, on his voting status: He's a registered Florida voter.
"Sometimes in politics less is more." – Former N.H. GOP Chair Fergus Cullen on the growing number of N.H. political events attended by former Mass. Sen. Scott Brown.
"It sounds cowardly, but it's not." — Rep. David Borden, a New Castle Dem and chair of the Legislative Oversight Committee on Electric Utility Restructuring, on the proposal to allow the Public Utilities Commission to decide the PSNH divestiture issue, not the Legislature.
"This could be somebody just going through a divorce, for heaven's sake." – David Wheeler, the former executive councilor, who was opposing a plan to create an out-of-state license for pistol owners, but barring from applying people with "mental health problems" or "emotional problems."