Farmer in court over pot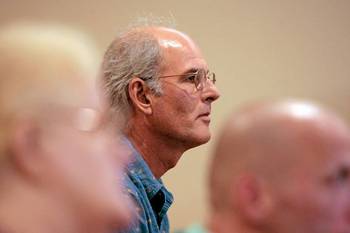 NASHUA – Lull Farm owner David Orde didn't flinch when Hollis Police Officer Angelo Corrado asked him to explain the 16 marijuana plants growing in pots just outside his home, police reported.
"Orde did not look surprised," Detective Sgt. Richard Mello wrote in his application for a warrant to search Orde's home at 2 Blood Road, Hollis.
Mello quoted Orde as saying, "Yes, I'm not going to hang my head in shame; I smoke a little pot."
Orde added, "It's my first year growing on the deck," Mello wrote.
On Wednesday, Orde, 53, waived formal arraignment in Nashua District Court on a felony marijuana manufacturing charge. A probable cause hearing was set for Aug. 28.
Orde's lawyer, Steven Maynard of Nashua, said he expects to challenge the legality of the Hollis Police Department's search of Orde's home on July 29.
"Mr. Orde is an outstanding citizen, and we're going to defend this vigorously," he said.
Orde's son, Andrew Orde, 18, also has been charged with growing marijuana at the home, and is scheduled to be arraigned Aug. 27 in Nashua District Court.Responding to public speculation about the nature of the alleged marijuana crop, Maynard noted that police have not accused Orde or his son of selling or intending to sell any marijuana.
Orde himself told police the marijuana was for his own use, and denied that he ever sold it, Mello reported.
Officer Corrado discovered the potted plants after going to Orde's home to serve a summons for an unlicensed dog at about 5:05 p.m. on July 29, Mello reported. It's not clear why police went to Orde's home, rather than trying to contact him at Lull Farm.
Corrado went to the side door after getting no answer when he knocked at the front door, which was open, police reported. A car was in the driveway, police reported.
Walking up to the side door, Corrado saw 11 marijuana plants growing in pots on a deck, and five more on the ground beside the deck, police reported.
Each of the plants was about three to four feet tall, and police estimated that each would produce roughly two to four ounces of marijuana, which they claim to be worth $1,000 to $2,000.
Corrado reported his find by radio, and Mello came to check it out. Police contacted Orde at Lull Farm, and police met with Orde at his home at about 6:15 p.m., Mello reported.
Searching the house, police found and seized four plastic bags of marijuana, a pipe and other paraphernalia, 'how to' books for growing marijuana, a five-gallon bucket with a black light and "papers, receipts and e-mails," police reported.
David Orde was freed after posting $2,000 bail after his arrest, and his son is free on personal recognizance.
News of the arrests brought mixed reaction in the community, and prompted debate over the nation's drug policies and laws.