Farm fresh organic on the go at Turnip the Beet
Turnip the Beet earns points for style, flavor and healthy living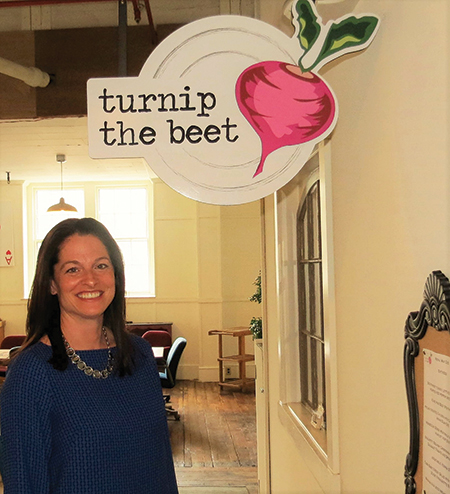 Chef, wife and mother of three, Allison Williams has parlayed a passion for cooking and a dramatic life change into Turnip the Beet, a venture that redefines the meaning of takeout with farm-to-fork meals to go.
In less than a year, Williams has developed a devoted clientele for her "Clean Eating" meals loaded with organic ingredients from local farms in the Seacoast region.
A former retail expert in the fashion industry, she had a life-altering experience when she undertook the Whole30 diet makeover and cleanse – a program that proponents say counteracts the unhealthy drawbacks of grain, sugar and dairy products.
Williams said that for years she had felt a consistent energy drain as she gained weight and suffered from frequent heartburn. Her new diet changed all that.
"It had always been a challenge to change my diet. I did the cleanse for 45 days, and I couldn't believe the results," Williams said. "I lost 15 pounds, I slept much better and felt an incredible energy surge. I had been an almost everyday antacid pill-popper to deal with my heartburn, but that went away completely."
With each passing day and more research, she realized there was potential for greater variety to what she describes as a boring daily diet of "grilled chicken and lettuce." Williams learned how to develop an alternative menu, substituting coconut milk for cream or utilizing zucchini or spaghetti squash for noodles.
As she continued to develop her home Clean Eating home-cooking repertoire, she tapped into a dormant entrepreneurial dream for a culinary business.
By the middle of last year, she started to prepare ready-to-eat meals for friends and family and opened up a kitchen space at the downtown Dover mill complex. From there, the business began to take off. Williams now has four employees, a store space and a diverse menu that ranges from Thai turkey lettuce wraps to roast beef with balsamic portobello sauce and spring vegetables with creamy pesto sauce to grain- and dairy-free chocolate chip cookies.
Williams said she has a "farm to fork" pipeline, featuring partnerships with 10 (and growing) local farms that provide almost all of the largely organic and non-GMO ingredients, including all the beef, pork, chicken, bison, vegetables, maple syrup, honey and more.
"It means a lot to help their businesses and the local economy," Williams said about the connection of sustainable agriculture and a healthy diet. Customer demand has skyrocketed for both prepared meals (some customers order in advance and pick up a whole week of meals at a time) and those who stop by the shop regularly.
Williams said she is in the process of adding cooking classes and wants to share her knowledge to those who might be intimidated by a seemingly dramatic change of ingrained dietary habits.
"There is a major evolution taking place as we connect the medicine of wellness to our diet," she said. "I want to help people not feel overwhelmed about what they can eat."
NH Business Review's Sustainable Entrepreneurship series is run in partnership with the Green Alliance. To learn more about the alliance, visit www.greenalliance.biz.