Democrats get push from Planned Parenthood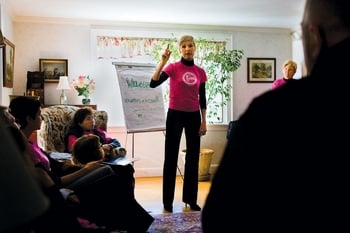 Democratic candidates at the local and national level were getting a boost in Nashua on Saturday thanks to a team of pink-clad volunteers committed to women's health. Cecile Richards, president of the Planned Parenthood Action Fund, visited the city Saturday morning and led a walk through a south Nashua neighborhood to support Nashua Democrat Peggy Gilmore and to highlight presidential candidate Sen. John McCain's voting record on women's health issues.
"Women voters are going to determine the presidential election," Richards said. "This is a critical election. We have a chance to elect a partner to the White House."
About 20 volunteers wearing bright pink Planned Parenthood T-shirts, the majority of whom traveled from Connecticut, gathered in Rep. Cindy Rosenwald's Wellington Street home in the morning to organize and hear from Richards before hitting the streets.
"I like to go to any event where guys are in pink shirts," she joked.
Richards says McCain has voted against women's reproductive rights and privacy 125 times in the 25 years he has served in whom Planned Parenthood volunteers talk don't know that, she said, and when they hear about his record, they "decide he's too out of touch for them," she said.
Gilmore is running against former state Rep. Paul LaFlamme for Sen. David Gottesman's seat. Gottesman isn't running for re-election.
After walking and talking to about 30 registered independent women in Nashua, the roughly 20 volunteers took to the phones and started making calls to support Betsi DeVries, a Manchester Democrat running for a state Senate seat against Manchester Republican Doug Kruse.
West Hartford, Conn., resident Kate Miller drove for two-and-a-half hours Saturday so she could participate.
"This is a really important election, and I'm going to be very upset if it doesn't come out right," she said. "I have a lot of number one issues, but this is an important one."
The volunteers were also gathering signatures for Planned Parenthood's One Million Strong campaign, which aims to get a million abortion-rights voters to the polls in November.
A local anti-abortion group was planning a Nashua demonstration of its own before hearing about Planned Parenthood's efforts Saturday.
Darlene Marie Pawlik, president of the Bedford-based New Hampshire Right to Life, said she'll be on Main Street on Tuesday with a picture of an aborted baby and literature for anyone who wants it.
She called Richards' and Planned Parenthoods' claims that McCain has voted against women's health "verbal gymnastics."
"It's not about health. It's about death," Pawlik said. "As long as they keep abortion hidden, they can keep calling it health."
Pawlik said Planned Parenthood has created a self-fulfilling prophecy by encouraging promiscuity and therefore creating more customers needing contraceptives, abortions and STD remedies.
"It's a trap, and it's set by Planned Parenthood," she said. "The health care that they're providing is birth control drugs and devices that are bad for people."
Planned Parenthood operates 26 health centers in New Hampshire, Maine and Vermont and provides health care to 18,000 women in New Hampshire. About half of those don't pay full price, according to Dawn Touzin, the vice president of public policy and government affairs for Planned Parenthood of Northern New England.