Customers come forward after Jeannotte's Market theft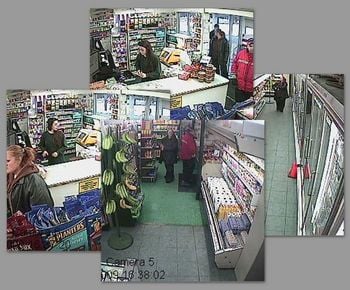 NASHUA – Jeannotte's Market – an old-fashioned corner store where everyone knows your face, if not your name – now hopes it can bank on the familiarity of community to catch two alleged shoplifters.
This week, store owner Glynn Bingham displayed photos of the duo that he says distracted the cashier as they brazenly stole about $50 in merchandise, including a bag of dog food.
Bingham placed the surveillance camera images near the cash register with some biting commentary.
"Do you know this person? She is a thief," Bingham wrote on a photo showing a woman walking into the store Sunday afternoon.
To his surprise, Bingham got some answers. As soon as he laid out the photos, a slew of regular customers at the Manchester Street store identified the man, he said.
Two days after the thefts, a customer put a name to the woman's face, and two days after that, another customer provided the same name, he said.
Bingham gave the names, along with the videotape, to police, and he hopes to see some arrests. He is appreciative customers came forward to help.
"It was a positive reaction," he said. "People were saying, 'I hope you catch them.' "
The photos definitely stand out on a much-used checkout counter.
Bingham scribbled on a picture of the man, "He is a thief!" Other photos with Bingham's writing called attention to the woman allegedly stealing merchandise. One image shows what appears to be the woman stuffing something inside her coat.
The man distracted a store cashier while the female companion stuffed grapes, orange juice, milk and dog food underneath the coat, Bingham said.
The coat held so many stolen goods that she held it in place with her hands when she left the store, as if she was pregnant, Bingham said.
The man also convinced the cashier he was owed a pack of cigarettes from the previous day, Bingham said.
The duo spent about 10 minutes in the store, Bingham said. And "the kicker" was the man paid for a few store-made sub sandwiches before leaving, he said.
Nashua police Lt. Bruce Hansen said officers are still investigating the thefts and have yet to make any arrests. Police have a good idea who the man is, but the name placed on the woman isn't entirely conclusive, he said. Police have an address for the man but haven't found him yet, Hansen said.
Hansen said the duo will ultimately be caught, and the surveillance camera went a long way toward helping the investigation.
It cost Bingham more than $5,000 to install the security system more than a year ago, but he believes it "is now worth every penny."
Placing the images on the register and getting the public's help should also help deter others from stealing from Jeannotte's, Bingham said.
"I have to take it seriously," he said. "Because if I didn't, they'll all be here."