CruCon Cruise Outlet
Jason Druin Custom Homes Spearheads Construction of Expansive New CruCon Headquarters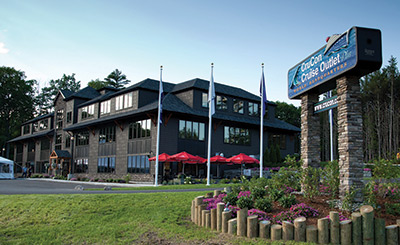 When Sandy Cleary, the owner of the Moultonborough-based CruCon Cruise Outlet, made the decision to construct a new headquarters for her employees and growing business, she looked to Jason Druin – a man known for building strikingly beautiful lakeside custom homes, not commercial property. Such a commitment may seem like a considerable leap of faith, but Cleary had already developed a working relationship with Druin, and had seen the quality of his company's craftsmanship first hand. After all, Druin was the driving force behind extensive renovations that took place at the home of Cleary and her husband, Bruce.
"I met Sandy and Bruce when we renovated their home on Governor's Island some years ago, and we became good friends during that process," Druin explains. "While I've built my business in higher-end custom homes, my excellent relationship with Sandy and Bruce made the CruCon headquarters a perfect fit for entering the commercial side of things and working as their contractor."
The project was an outstanding fit, but it was also a considerable lift for any contractor. CruCon Cruise Outlet is experiencing continued success and growth, and as a result, the company's headquarters needs to comfortably house all its employees and meet all their needs. For starters, that meant a steel-frame building that measured out to 30,000 square feet and a parking lot that accommodates vehicles for each of the 150 employees the company expects to have on board by the end of 2014.
Employees factored into the design of the building in nearly every aspect, and a huge proportion of the final list of features at CruCon's headquarters are devoted either to the professional development or personal well-being of the employees. On the professional side, there are specific training areas and auditoriums complete with a stage and advanced electronic presentation capabilities; when it comes to the personal, Drouin and Cleary made sure to include a recreation room, an exercise room with specific facilities and men's and women's locker rooms and showers, and a relaxing staff lounge.
"I believe there's an area within the building that Sandy calls the zen room," Drouin says. "If that's not relaxing, I don't know what is," he jokes.
The thoughtful consideration that went into designing features for employees is present throughout the CruCon headquarters. Cleary, Drouin explains, went out of her way to make sure that everything he and project architect Dann Norris Batting put together was both environmentally efficient and utilized subcontractors and suppliers based out of the Granite State as much as possible; lumber was sourced by A&B Lumber of Moultonborough; the steel frame with wood hybrid exterior walls between the concrete was provided by Riess Construction of Plymouth; and the pavement work (which is all entirely permeable) was completed by GMI Asphalt.
Considering that laundry list and other items – like cameras encircling the building and a security keypad used to enter, a full sprinkler system, a full generator system, data lines, and a building completely equipped with LED lighting throughout – it's impressive that the project was completed on time, with the final touches applied this past May. Though there were additions and modifications to perfect the building throughout the process, Drouin explains that the experience wasn't one that would drive him away from commercial work for good.
"Anything is doable as a contractor if you've got the right client to work with, and someone you can feel open with and who you've got mutual trust and respect with," Drouin says. "For me, that's Sandy, and that's why this was a great experience."