Cathy Duffy Cullity, 2015 Outstanding Woman in Business
CEO, Girls Inc. of New Hampshire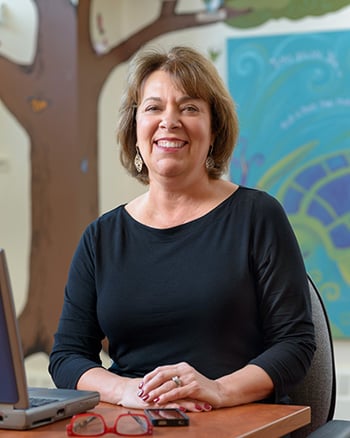 'The greatest challenge is being open to where life takes you and embracing the opportunities that come along'
The impressions you make on children will follow them the rest of their life, and Cathy Duffy Cullity knows how to make an impression.
In her 18 years as CEO of Girls Inc. of New Hampshire, Duffy Cullity has expanded her organization's reach, giving more girls the confidence, support and love they may not be receiving at home. In that time, Girls Inc. has grown from one small center in Nashua serving 40 girls a day to three year-round centers in Nashua, Manchester and Concord serving 1,700 girls a year.
She is not only a role model to young girls, but also a great leader. Four members of Girls Inc.'s full-time staff have worked for Cathy for over 15 years. Her nominator and colleague, Amanda Bombara, noted Cathy provides flexible hours for working mothers, allowing them to leave during the day to go see their child's sporting event or school play, or even place their children in Girls Inc.'s preschool program so they can work. No wonder she was the first recipient of Girls Inc.'s national Outstanding Leadership and Staff Management Award, having been nominated by her staff.
Q. What led you to work at Girls Inc.?
A. My childhood led me to where I am because my mom was a single mom, and I had two sisters. I was the youngest of three, and that was the foundation of what I did.
My mom was a strong woman. She was amazing. She really encouraged us to do things. She taught us anything was possible. Before she died, she pulled me aside and told me "I know you're going to make a huge difference in the lives of girls," and that was before I took this job here. She just had this vision – maybe that's what led me here.
Q. What were some of the biggest challenges to getting where you are today?
A. In the nonprofit arena, you always have to do more for less. The resources are always limited. And you're always needing to find new ways to generate funding, especially with the state cuts in recent years.
I found in my own personal life you don't know what you want to be when you're young, and the greatest challenge is being open to where life takes you and embracing the opportunities that come along, and being able to say no to some things, so you don't burn out.
Q. You created the Women of Achievement Awards, it sounds similar to OWB.
A. It's just a great day for women to share their stories. My staff said to me, 'you're always telling us Duffy girls stories, we should turn it into an event.' My mother always had inspiring things she said. She use to get my sisters and I [in front of the mirror] everyday and we'd hug each other and we'd say 'aren't we cute,' and we'd go to school with that attitude, "A Duffy girl knows she can." And that's what I pass on to my staff and girls here.
Q. How do you balance your personal and professional lives?
A. When I came here, my children were grown up, so I was able to dedicate a lot of hours, and at that time I was not married. I've since remarried, but it's very challenging when you're passionate about your work to also have a personal life. But you need a personal life, to get home at a decent time and not always talk about work.
Q. What advice would you give to young women just starting their careers?
A. For someone starting out, just knowing themselves and being honest and trusting themselves. I've had a lot of staff, and the ones who don't make it are presenting someone that they're not. They'll promise me the moon, and then they feel bad when they don't deliver. Setting realistic goals and sticking to your values – I feel like my values get me by on those days when you're really down. I'm a firm believer good things will come.