Carson goes against grain, wins one for Republicans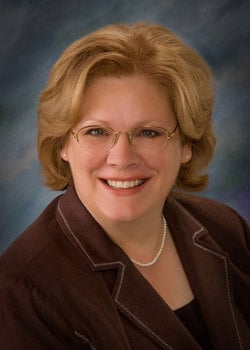 LONDONDERRY – Sharon Carson bucked the trend Tuesday and made sure a state Senate seat vacated by Bob Clegg stayed in Republican hands.
Carson, a 50-year-old Londonderry resident, defeated Hudson Democrat Sandy Amlaw to win the District 14 Senate seat.
"I'm very grateful to the voters of the district," Carson said. "I'm ready to roll up my sleeves and get to work."
On a day that saw huge turnout across the state, Carson defeated Amlaw, a political newcomer, 14,099 to 9,899 – including 5,739 to 4,523 in Hudson.
District 14 includes Hudson, Londonderry and Auburn.
Carson, 50, has served in the state House of Representatives since 2000. She's lived in Londonderry for 19 years and is a retired first sergeant in the Army Reserve. She's now an adjunct history professor at Nashua Community College.
Education funding and balancing the state budget are going to be the keynote issues in the upcoming term, she said.
"We have to find a way to get a balanced budget again, and that means we have to make some very serious decisions," Carson said. "We've got our work cut out for us, but I'm ready to roll up my sleeves and get to work."
Amlaw, 64, is retired after teaching in the Pelham school system for almost 30 years. She said she was disappointed by the results but looks forward to trying again.
"Not quite as I expected," Amlaw said. "I gave it my best shot. I've been pounding the pavement. This was my first time I've run for public office, and it probably won't be my last. I'm very optimistic that things are going to go well the next time I run."
Clegg, a Hudson Republican, held the Senate seat for 14 years before giving it up to run for U.S. House of Representatives. He lost a close primary race to Jennifer Horn of Nashua.
Clegg was a big help to Carson's campaign, she said, and opened doors to her in Hudson, where she is little known, and where Amlaw has lived for more than three decades.
Grassroots campaigning – including knocking on doors and speaking with civic groups – was especially important this year, Carson said, since higher-profile races dominated voters' attention.
"We were so far down on the ballot, and so much attention was really focused on the top," she said, referring to the presidential race and the U.S. Senate race between former governor Jeanne Shaheen and incumbent U.S. Sen. John Sununu. "That was really the focus of everything."
Both candidates spent Tuesday shuttling between the polls in all three towns and were grateful for the good weather.
"It's just been a long, long day," Carson said. "It's always a good day to stand out at the polls. It was just great to see so many people."
Education was a top issue for both women. Carson spent three of her House terms on the House Education Committee and now serves as the senior Republican policy advisor for education.
She said she's worried that this year's Legislature-approved education funding plan will cost about $100 million more than the state has to spend on it.
"I find that troubling," she said. "We want to do the very best we can for our children, but we don't want to go bankrupt doing it."