Biomass deal hits ratepayers
Eversource customers may foot extra $100m bill for Berlin plant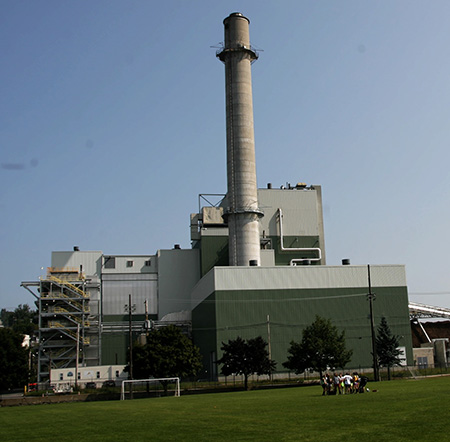 It is "probable" that sometime in 2019 customers who buy their electricity from Eversource will have paid $100 million more than necessary since 2014 because the energy came from the Berlin biomass plant instead of the open market.
That's according to Thomas C. Frantz, director of the Electric Division of the NH Public Utilities Commission.
This year that additional cost affects about 382,000 customers who purchase their energy from Eversource.
Typically, residential customers will pay Eversource about $30 more than necessary over the year, according to InDepthNH.org calculations. That assumes the use of 625 kilowatt-hours each month.
Another 131,000 customers in New Hampshire buy electricity from other suppliers, although they may be billed through Eversource.
That projected $100 million cost is the result of a controversial 20-year contract approved in 2011 between Public Service of NH – now doing business as Eversource – and the Burgess BioPower plant in Berlin.
Because the plant uses biomass, those customers are, in effect, subsidizing the logging industry. Indeed, a major argument by politicians who wanted the PUC to approve the contract was that buying biomass would provide an enormous boost to the struggling North Country.
'Over-market costs'
The plant began full-power operation in 2014 and is owned by Cate Street Capital Holdings Group, according to court records.
In 2011, as the PUC was considering whether to approve the contract, consumer advocates and the PUC staff said it was a bad deal for Eversource customers.
By the end of the 20-year contract "the risk exists that ratepayers could pay hundreds of millions of dollars in over-market costs," then-Consumer Advocate Meredith Hatfield told commissioners.
Indeed, the PUC is now estimating that the over-market costs will hit $100 million in only five or six years.
At the time, officials from PSNH defended the proposed contract and said if energy prices rose, then the Berlin deal could be good.
There were some changes, but the contract was approved by the three PUC commissioners – Thomas Getz, Amy Ignatius and Clifton Below.
Getz is now employed by a law firm that does work for Eversource; Ignatius is a Superior Court judge and Below works in property management. All declined comment.
The contract they approved requires Eversource to buy the Berlin electricity at a fixed price, regardless of how much cheaper it is on the open market, where Eversource also buys some additional electricity. And it allows the added cost to be passed along to customers.
For 2017, Eversource expects to pay about $70 per megawatt-hour for Berlin electricity, or about 40 percent more than the open market. That should add up to about $17.5 million more than necessary, an Eversource official testified before the PUC in December.
Eversource spokesman Martin Murray declined to comment or confirm the projected costs. But he said PSNH agreed to the Berlin project because "there was a call from across our state government" for the utility to help provide jobs in the North Country.
Murray said officials who supported the plant included then-Gov. John Lynch; Executive Council members, including Ray Burton, Daniel St. Hilaire; Sen. Jeb Bradley, Sen. John Gallus and Coos County Commissioners Bing Judd, Tom Brady and Paul Grenier, who is also the mayor of Berlin. Brady and Grenier remain on the commission.
Grenier told InDepthNH.org that the contract has been great for Berlin, and energy prices could still increase enough to make it a good deal for consumers.
Gallus, who has since retired, said it was clear in 2011 that Eversource customers would be paying extra so the plant could operate, but the North Country desperately needed help.
Logging industry subsidy
When the PUC was considering the contract, advocates argued that burning biomass – typically chips of leftover wood from logging – would help meet state mandates aimed at moving away from fossil fuel.
But the major push came from politicians, including some of those cited by Eversource's Murray. They argued that the plant would need so much biomass that it would be a huge economic boost to the forest industry.
There were no hard-and-fast promises about how much of the scrap wood would come from New Hampshire. But officials from Laidlaw Berlin BioPower, the developer, promised an emphasis on the North Country, predicting about $20 million a year in purchases.
Over the last three years, a little more than 50 percent of the biomass came from New Hampshire, according to figures provided by Cate Street Capital. Maine has had the second largest share, about 30 percent.
"We don't say we are only going to buy from New Hampshire because we would be cutting our own throat competitively," said Ned Dwyer, an official at Cate Street. But Dwyer said New Hampshire will continue to provide the most.
"We think it is appropriate from a community standpoint, we think it is appropriate from a logistics standpoint," he said.
Last year, the plant bought about 748,000 tons of biomass from throughout the region.
Some loggers said privately that they are surprised to learn that more biomass doesn't come from New Hampshire.
But Bing Judd, who led the Coos County Board of Commissioners in supporting the biomass project, told InDepthNH.org that 50 percent is "about what we expected."
Since the plant opened in 2014 Burgess has spent more than $40 million for biomass in New Hampshire, said Sarah Boone, a vice president at Cate Street.
"That's $40 million of new market that didn't exist," she said.
It's not surprising that New Hampshire's share of the biomass business is around 50 percent because the Berlin plant is so close to Maine, said Jasen Stock, executive director of the NH Timberland Owners Association.
"Wood flows all over," he said.
Stock said he'd love to see all of the wood coming from New Hampshire, but the reality is that this is a regional market.
"We can't be so provincial to think that only New Hampshire loggers and only New Hampshire tree farms are going to provide wood and that's it," he said.
Plant's future in danger?
The viability of the Burgess BioPower plant in Berlin could be in danger if the over-market payments hit $100 million.
The reason is that the contract between Eversource and the plant puts $100 million as a limit.
Anything over that $100 million is deducted from the payments that the plant receives from Eversource. That has the potential to steadily erode the plant's profitability. And that would raise the possibility of legislative action or reconsideration by the PUC.
Cate Street Capital's Boone said the company is monitoring that balance and "should the need arise we will look at all options available to us. Continuing to keep Burgess BioPower successfully operating is of vital importance to Coos County."
And, what does state Consumer Advocate D. Maurice Kreis think about the projected $100 million over-market cost?
"The Burgess BioPower deal is what it is. I will let others judge the extent to which higher rates paid by Eversource customers as the result of this contract are justified by the other benefits that were promised at the time," Kreis said in an email.
"I am always focused on the next deal in which consumers are being asked to pay more for their energy to advance the greater good, or to guarantee profits to shareholders of utilities and other companies. In the energy realm as in everything else, we know what happens to those who fail to learn the lessons of the past," he said.
A promise of 200 jobs, but where are they?
One of the promises made by developers of the proposed biomass plant in Berlin was the creation of 200 jobs in the trucking and logging business, mostly in the North Country. But finding them is hard.
State employment figures combine forestry jobs with other categories. And an apples-to-apples comparison is further complicated because the economic situation has changed. There's less demand for biomass, with plants in Maine either closing or cutting back.
Consequently, purchases by Burgess BioPower have become "very, very important" to the logging industry in New Hampshire, said Charles Levesque, president of Innovative Natural Resource Solutions, LLC.
One of those who is happy is Christopher Nelson, a logger from Jefferson who urged the PUC to approve the contract.
"It has been a big asset with markets dwindling," he said. "It is nice to have another market in place. I am very grateful for that mill right now."
The prediction of 200 jobs came from Louis Bravakis, an official working for developer Laidlaw Berlin BioPower, when he testified before the Site Evaluation Committee.
At one point, SEC chairman Thomas Burack asked Bravakis if there was some documentation of his 200-job claim.
Bravakis cited an economic study submitted to the Public Utilities Commission by Lisa Shapiro, a consultant for Eversource. But many of Shapiro's calculations were based on statements that Laidlaw officials made in the construction application being considered by the SEC.
So, there was a mirroring aspect: Bravakis was citing a report filed with the PUC that relied on information his company supplied.
There's nothing in the SEC transcript to indicate Burack or the other commissioners understood the circumstances. – CHRIS JENSEN/INDEPTHNH