Auto dealers voice frustration over manufacturers' costly 'image' programs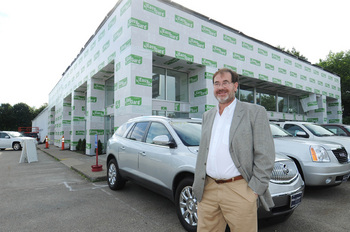 Scott Holloway says his Buick Pontiac GMC Cadillac dealership in Portsmouth is a "friggin' mess," since it's in the middle of two facility upgrades whose cost will probably top $1 million. And he has General Motors to thank for it. Gratitude, however, is not exactly dripping from the car dealer's lips.
First, he said, it is "kind of nuts" that he has been told to put $4,000 chairs in his showroom.
Then there is the "asinine and ridiculous" requirement to rip up his floor to match the exact color and texture that GM says is part of its "image" program.
But what really "ticked me off," he said, was having to take down the energy-efficient lighting he had just installed in order to match GM's new look.
"They don't care if they aren't energy-efficient," said Holloway.
He said the GMC dealership's upgrade will cost $400,000 and the Cadillac dealership refurbishing about twice that. And he has more such projects to look forward to in the future, he said.
"Basically, they are trying to McDonaldize all the outlets. It's bull…."Holloway might be the most vehement auto dealer in New Hampshire, but he certainly isn't the only one frustrated to some degree with various manufacturers' facility programs, which have become the hottest dealer topic in the aftermath of the recession.
So many dealers are upgrading their facilities around the state that it might look to the average consumer as if there is a car-buying boom going on. Few realize that the upgrades are the result of manufacturers cajoling, bribing, pressuring, threatening and, in some cases, forcing dealers to expand, modernize and standardize their facilities, even though they are still strapped for cash, thanks to the recession.
During the recession, "a lot of manufacturers took the gas pedal off the metal when it comes to facilities program," explained Dan Gage, a spokesman for the Alliance of Automobile Manufacturers in Washington. "Now that the auto industry is selling more and more cars, our members are looking at branding issues."
"It is like McDonald's," said Gage. "Every restaurant has a good look, high standards and the same golden arches."
Most auto dealers don't balk at the concept of expanded facilities and some degree of standardization, particularly when it comes to improving the customer experience, but they do question whether requirements are overly strict and whether they could be done any cheaper.
"You dump two million bucks in your facility, it doesn't mean you are going to sell more cars," said Roger Groux, immediate past chairman of the New Hampshire Automobile Dealers Association and president of Honda Barn in Stratham.
"The problem is big, especially among smaller dealers," said Bill Underriner, chairman of the National Automobile Dealers Association and a car dealer in Billngs, Mont. "Every time you turn around, someone is talking to me about facilities and how the manufacturers are dictating what they have to do.
"In rural areas in particular, after a dealer puts up what Underriner called a "garage mahal," "a customer might say, 'Oh my gosh. He must be making all kind of money off me,' and this aggravates the haggling that already goes into buying a car," Underriner said.
It is such a big deal that NADA commissioned a study published last January on the so-called "factory image" programs. The study includes a consumer survey that puts a facility's look at the very bottom of what a customer considers when buying a car.
"The economic value of these programs remains only weakly demonstrated, and our worry is that program cost is excessively high," sums up the study, which breaks the programs into three components: expansion (more square feet, more service bays), modernization (free Wi-Fi, drive-in bays, nicer waiting rooms) and standardization (standardized tiles, entryways).Some 80 percent of the cost comes in the first program, expansion, and dealers have their gripes about some aspects of it.
Some complain that the expansion requirements are overly optimistic about increased car sales or fail to take into account that the dealership has increased its service hours, so it doesn't need as many bays.
But it is standardization – even if it only consists of 20 percent of the cost — that irks them the most. They argue that buyers of cars are not the same as buyers of hamburgers — they don't grab a car at the drive-through window passing through the area, but from a local dealer who contributes to their kids' Little League team. Eliminating that local feel, they argue, might hurt car sales, rather than help them.
NADA also is working on another study looking at what car-buying will be like in the future. Will dealerships go down the same highway as video and book stores?
"If people do most of their shopping online, maybe a 15-car showroom should be a five-car showroom," said Jack Tulley, a NADA director and owner of Tulley Automotive Group, which has BMW, Mazda, GMC, Buick and Volkswagen dealerships in Nashua and Manchester. "Or will you even need a showroom?"
While the car manufacturers say they are listening to dealers and can be flexible, they also maintain that certain standards have to apply if they are going put their money on the table.
"These are not requirements," said Gage of the Alliance of Automobile Manufacturers. "Dealers can leave money on the table if they don't upgrade." Gage compared it to the federal No Child Left Behind act. "If you want to accept the funds, you have to do what the federal government mandates."
General Motors also describes its program as voluntary.
The image upgrade is really part of a four-part program, explained GM spokesman Tom Henderson. Dealers also must participate in a digital marketing program, retention standards and sales training to receive the facility incentive."It's a long-term investment in strong brand and dealers," Henderson said. "Customers expect a certain level of service and experience, and we have to be competitive on all levels."
Some 3,900 of the 4,400 GM dealers have chosen to participate in the program, which started in 2009. Some 1,100 dealerships are now under construction and 450 are complete, he said.
"We do realize the renovation is expensive," so those that participate in the program receive quarterly payments. "It's voluntarily. Those who choose not to participate won't receive the payment," said Henderson.
"That's bull," said Holloway. "They threatened to terminate my Cadillac dealership as part of the bankruptcy if we didn't participate."
As for the incentive, said Holloway, "that's also crap. That incentive is a discount that's so great that if you don't do it, you won't, can't compete. You won't survive."
Holloway also argued that the incentives amount to illegal two-tier pricing — an argument amplified by recent lawsuit by Norman Braman.
Braman, the billionaire former owner of the Philadelphia Eagles, is one of the biggest GM dealers in the country, selling more than 18,000 new cars last year out of Miami and Denver.
He sued GM in March after the manufacturer cut his incentives because he didn't go along with requirement that exterior walls would be covered with limestone, which he said would be too heavy for the building's structure, forcing him to rebuild the whole thing. GM rejected a proposal to switch to a lighter-weight material, according to the lawsuit.
'What is the payback?'
It's not just GM that's stepping up its facility program. Other dealers have similar efforts underway, and the reaction to them is mixed, both nationwide and in New Hampshire.
Toyota, for instance, one of the pioneers in standardization, has asked for some of the most expensive upgrades, but dealers give the manufacturer some higher marks for flexibility.
The Fenton Family Dealerships in Keene went through three overhauls at the behest of manufacturers between 2010 and 2012 – for Toyota, Subaru and Hyundai. The Toyota overhaul alone cost the company $2 million.
"For the most part, what the manufacturer asks for is reasonable," said President Bill Fenton. "Often, when they first come out with an image program, they are too strict, but then they field-test it. So it pays not to be the first one."
For instance, the entryway that's part of Toyota's image program is very expensive, said Fenton, but he was able to negotiate down the size as well as the price, to $150,000. He was also able to convince Subaru to let it use a more porous floor tile, so it won't be so slippery in the winter.
"In many cases, someone in California is brainstorming, and they don't take geography into account," Fenton said.
Toyota rewards dealers by giving them more inventory to sell. It was a real benefit to have those extra Priuses on hand during the tsunami-caused shortage of 2011. But it also came with pressure.
"They continue to remind you that you need the program, to show you the reasons you should do it," Fenton said. "Do you want to reinvest your business and grow your business?"
Grappone Toyota in Bow actually did a little more than Toyota asked for, incorporating a geothermal heating system and car-charging stations powered by the sun, along with other energy-saving measures that are expected to make it the first LEED-certified auto dealership in the state, according to Grappone CEO Larry Haynes. Toyota liked the enhancements, and Haynes liked some of Toyota's requirements.
Customers now drive into the service bays, meaning they don't have to walk through the snow, and when they buy a car, they get the final run-through inside the facility, again to protect the customer from the elements.
"It does enhance the experience," Haynes said.
Still, "you don't like to be told this is the way it has to be. We might have done it a little differently."
For instance, Grappone had to buy the portal entryway from Toyota. Grappone may have been able to contract it out locally for a cheaper price.
Craig Jewett, president of Jewett Construction in Raymond, has worked on some 50 such projects over the past decade, and spends a lot of his time mediating between dealer and the manufacturer.
"We try to soften the blow to the dealers," he said. "We know some nifty tricks to get around the requirements."
Because the Raymond construction company has already worked with the manufacturer in the past, it has proven that it could use less expensive materials while maintaining the same quality.
"What you can do, what you can't do — once you have that figured out, it makes everybody's life easier," he said.
Jewett worked with Chris Irwin, vice president of the Laconia-based Irwin Automotive Group and found that Hyundai was more flexible than most. The main change was the addition of 12,000 square feet, creating a new showroom and refacing the building with some interior renovations.
"It was time" for the renovation, Irwin said. "We did not do it because it was required. It was stuff I wanted to do anyway," said Irwin.
Chrysler, however, seemed more strict to John Lambert, president of Lambert Auto Sales in Claremont. He agreed to participate in a facility upgrade when he brought out another franchise in Newport and brought it under his roof. Chrysler gave him two years to double the size of the store – an expansion that was completed last July.
The manufacturer "cut me some slack" but insisted on this $15,000 kiosk with a touch screen. "It was a little ridiculous. Does that really help sell cars?" There was also the $80,000 entry arch and $30,000 in signage. All told, it added up to $750,000."Does it look good? Yeah. But what is the payback? It's hard to justify the expense of a new showroom when margins have shrunk."
Holloway echoed those sentiments.
"The thing that they don't get is we don't have a bottomless pool. The money spent on these buildings we could have spent marketing product," Holloway said. "Whether the showroom is gray or brown, people don't really care. A building doesn't drive sales. Product does."