Antique wheels galore at '09's Motor Mania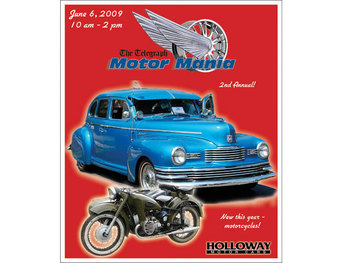 It won't happen this year, but if all goes well, it's quite possible that we'll see Norm Barthold drive his fully-restored 1965 Mustang into the 2010 version of Motor Mania, The Telegraph's annual classic car, truck and motorcycle show. Barthold got his car back this week, some 19 years after it was stolen from his Nashua apartment complex – and needless to say, a long restoration process lies ahead.
But the 2009 Motor Mania is just around the corner.
A week from today, hundreds of vehicular enthusiasts from around the region are expected to descend on the lots and fields around The Telegraph's Hudson office to take part in the second annual event, which runs from 10 a.m.-2 p.m.
Although the grounds are fairly spacious, the field of owners signing up to enter the show is beginning to swell as registration enters the final week.
(See related box for more information). Those who would rather wait to make a decision can register between 8-10 a.m. the day of the show.
Motor Mania evolved from a classic car show that was part of The Telegraph's 175th anniversary celebration at Holman Stadium in 2007.
Motorcycles were added to the show this year.
Telegraph's second annual Motor Mania
Returning as one of the judges is artist Dave Dapkus, owner of Custom Art, who custom designs and paints vehicles of all kinds.
He will be joined by Bill Allen, an auto customizing and restoration specialist who owns Manchester-based Bill Allen's Yesteryear Specialties, and Mike Sirois, who is involved with Cruisin' At Target, classic car shows hosted by the department store chain.
Judges will choose winners in several categories. For cars, awards will be given for best in show, crowd favorite, Publisher's pick, best antique, best street rod, best muscle car, best foreign car, best sports car, best custom car and best truck.
For motorcycles, prizes will be awarded for Best in Show and for best paint job.
Part of the proceeds will benefit the Hudson Police Department's DARE program. There will also be prizes, food and raffles, including a 50/50 raffle.
Motor Mania is sponsored by Holloway Motor Cars, along with associate sponsors Town Fair Tire and Nashua tire dealer Maynard & Lesieur. Bronze sponsors are Best Ford, Peters of Nashua, Tee Shirt Bodega and Toyota of Nashua. The food sponsor is King's Court.
Vendors include Infiniti of Nashua, Out of the Woods, Holloway Motor Cars, Town Fair Tire, Maynard & Lesieur, Best Ford, Peters of Nashua, Tee Shirt Bodega, Toyota of Nashua and King's Court.
Dean Shalhoup can be reached at 673-3100, ext. 31, or dshalhoup@nashuatelegraph.com.