Amherst man who helped invent microwave dies at 82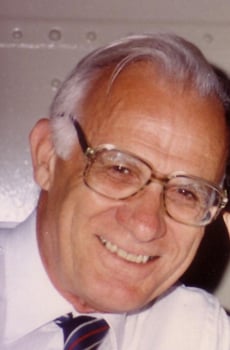 NASHUA – It's not just anyone who creates something, or a couple somethings, during their lives that become ubiquitous in the daily routines of millions of people.
Robert Decareau did just that.
Decareau, 82, lived in Amherst and died Sunday in Nashua after suffering from Alzheimer's for the last 17 years. Before he died, Decareau helped invent and perfect some of the food preparation and storage techniques millions now take for granted.
Decareau was born and raised in Arlington and Burlington, Mass., and served in the U.S. Navy, as an anti-aircraft gunner of the U.S.S. Randolph during World War II and then as an Army lieutenant stationed in Austria during the Korean War. He attended the University of Massachusetts-Amherst and later earned his doctorate in chemistry and went to work for Raytheon in Massachusetts.
There he helped invent the processes necessary to create the microwave oven and became one of the world's first "food scientists," according to his obituary. In the 1960s, he worked for the Litton Industries of Palo Alto, Calif., perfecting the microwave ovens.
"He was a pretty cool guy," said his daughter, Karen Ross, 53, of Auburn, Maine. "He instilled in me that education was the way to go, and he made it fun."
Ross said there was an early prototype microwave, about the size of a refrigerator that was kept in the basement when she was a child in the 1960s."It was massive. You could stick a turkey in it," she said.
Ross remembered her dad spending time there experimenting with ways to cook different foods, including attempts at roasting coffee beans and cooking TV dinners.
Freeze drying dozens of different products was another area Decareau's work came to impact millions of products we use today. After helping to invent the microwave, Decareau worked at the U.S. Army's Natick Laboratories developing freeze-drying techniques that would be used to store meals eaten on the battlefield and, later, in space.
He met his wife of 56 years, Rosa Decareau, during the Korean War. Rosa, a native of Romania, said she fled the country when Communists took power and moved to Austria around the time Decareau was stationed there in the early-1950s.
They met in May 1952, became engaged on July 4, married in December and had moved to the United States the following July, she said.
"His family was surprised," Rosa Decareau said. "He used to tell me, 'You fall in love just once in your lifetime.'"
She said in addition to working and traveling, Decareau loved tennis and classical music and was a big Red Sox fan.
"He was fun-loving," Rosa Decareau said. "He loved people, and he loved traveling."
He also wrote nine books, including "Microwaves in the Food Processing Industry" and "Microwave Processing and Engineering," she said.
He was also a founding member of the International Microwave Power Institute and was a charter member of the PhiTau Signma honor society.
"He had a very interesting life. He had a full life," she said. "He was a very, very devoted husband."