American Red Cross seeks local volunteers to help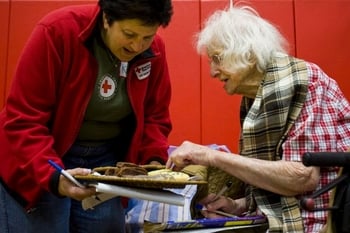 NASHUA – The American Red Cross needs volunteers to help staff shelters, answer phones and deliver supplies, Emergency Services Director Ashley Pushkarewicz said Saturday.
Cash donations for disaster relief also help and can be sent by mail or through the Web site nashua.redcross.org. The Red Cross can take donations of food or various supplies only in bulk, Pushkarewicz said.
Anyone willing and able to help out in the Nashua or Milford areas should call the Nashua office at 889-6664. Volunteers must report and register in person at the office, she said.
Pushkarewicz urged people who are staying home without power to be careful for their own health and safety and urged everyone to check on family, friends and neighbors who may be home without power, especially the elderly.
More than 50 people spent Friday night in Nashua's emergency shelter at Nashua High School South, at the end of Riverside Drive, Pushkarewicz said, and about 20 people spent the night at Heron Pond Elementary School, 80 Heron Pond Road, Milford, she said.
The Red Cross has also opened a shelter in Salem, near the town offices, and is supporting a town-run shelter in Windham, she said.
Red Cross officials expect more people to seek shelter today, with temperatures expected to drop into the single digits tonight, Pushkarewicz said
"We're expecting with the temperatures dropping, a lot of people who hunkered down yesterday may come in tonight," she said.
Volunteers are needed to help run the shelters at all hours of the day and night, Pushkarewicz said. The Red Cross also needs volunteers at its office during the day to help answer phones and to deliver various supplies.