A century ago, Nashua runner was king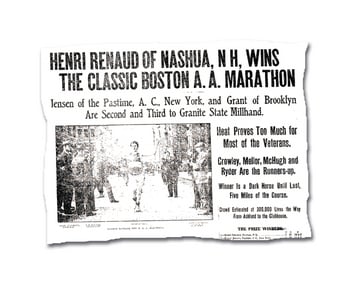 Long, lonely training runs through the biting wind and treacherous footing of late winter have prepared many of the area's runners for the unpredictability of the Boston Marathon.
The 26.2-mile course from Hopkinton, Mass., to Copley Square has long been considered one of the world's most physically demanding marathons. Toss in change-in-a-minute weather conditions – warm, inviting sunshine yielding to a bone-chilling sea breeze on the turn down Boylston Street – and even the hardiest runners can have their confidence shattered.
One hundred years ago, Nashua's Henri Renaud battled some of the harshest conditions imaginable to become the only runner from New Hampshire to ever win the Boston Marathon.
In the months leading up to the 13th Boston Marathon on April 19, 1909, Renaud was frequently seen running through the streets of Nashua after nightfall. After a nearly 12-hour workday at Nashua Manufacturing Co., Renaud would return home, eat a light dinner, and then head out into the winter chill.
He had only begun competitive running in September 1908, and won the first race he entered – a 4-1/2-mile cross- country race in Manchester. Three months later, Renaud ran his first marathon – from Ashland, Mass., to Braves Field in Boston – and finished 13th."I never had anyone to train me except a chum named Fournier, who sometimes used to run with me until he had to drop out on account of the pace I set for him," Renaud said in a Telegraph story.
At the urging of his father, the 19-year-old Renaud decided to enter the Boston Marathon field just two weeks before the annual Patriots Day event. He admitted in a post-race interview in The Telegraph that his sole motivation was to shave 30 minutes off his time in the December marathon. He didn't come close.
Race day was a runner's nightmare. Cool temperatures under overcast skies are ideal conditions, especially for grueling, energy-sapping events like the Boston Marathon. When Renaud and the other 181 registered entrants awoke that Monday morning, they were greeted by unseasonably warm temperatures that reportedly reached 97 degrees at the start of the race. It was a debilitating turn of events for a group of athletes who had tailored months of training in cooler temperatures, only to be beset with conditions that would neutralize even the most elite runners.
"The race of yesterday will take its place in the annals of the B.A.A. races as the most severe strain that well-trained athletes was ever subjected to," was how writer Lawrence J. Sweeney put in a Boston Globe article the day after the race. "The heat was intense, and the sun beat down upon the bedraggled runners as through a magnifying glass."
But Renaud, who was accustomed to extreme heat because of the often stifling work conditions in the mill, didn't appear flustered. Only 164 runners showed up at the starting line in Hopkinton and just 73 would finish.
"When I started I was nearly choked with dust, but when we got going a little, I did not mind it so much," Renaud told The Telegraph. "I ran my own race and refused to be coached by anybody, for I knew just what I could do and how fast I could run the distance. Some fellows wanted me to drop out, as they said I was all in when I reached Wellesley, but I am an American for speed and a Frenchman for gameness, and I guess that will hold them for a while."
At Framingham, six miles into the race, Renaud had 52 runners ahead of him. Four miles later, in Natick, he had moved up to 35th place. Renaud would pass another 19 runners as he reached Commonwealth Avenue in Newton, just over the 17-mile mark. Just beyond Heartbreak Hill, with about five miles remaining, all that stood between Renaud and the finish line were Pat Grant and Harry Jensen.
Renaud made quick work of the "fast-wearying" Grant, passing him in Coolidge Corner and with just over two miles remaining, surged past Jensen, who had won a marathon just eight days earlier. In fact, Boston was his fifth marathon since Feb. 6, when he finished second in an indoor marathon in Claremont.
Grant was competing in his third Boston, having finished seventh in 1898 and dropping out at the 18-mile mark in 1904. But neither runner was much of a match for the neophyte Renaud.
"I got up to Jensen and Grant at Coolidge Corner, but I was sure that I could last longer than they, and I found that I could pass them without any trouble," Renaud told The Telegraph. "I found myself the leader and I ground my teeth together and said to myself, 'Henri, now is your chance, go do it.' I was determined that none should pass me if it cost me my life and I began to plug for all I was worth."
Just short of the finish line, Renaud spied his father in a car ahead of him and then saw the tape. "I was as fresh as when I started and was ready to go 10 miles more, at least I think so," Renaud said.
When Renaud broke the tape, Jensen and Grant were a half-mile and nearly four minutes behind. His time of 2 hours, 53 minutes, 36 seconds, was the third slowest in Boston Marathon history.
Word of Renaud's victory quickly spread through Nashua and a large crowd of well-wishers greeted him upon his return by train. A testimonial dinner was held and Renaud became something of a celebrity. He was hired by the owner of a Lowell, Mass., theater to narrate an account of the race and later made a number of promotional appearances and ran road races around New England.
But Renaud never again came close to duplicating his magnificent feat in Boston. He finished 24th in the 1910 Boston Marathon and his interest in competitive running appeared to wane soon after.
Renaud served in World War I and became a farmer in Hudson after his return to the area. According to reports, he also worked as a carpenter and real estate agent, but, the economic struggles brought on by the Great Depression forced Renaud to sell the trophy he was awarded for the Boston win.
Renaud's life reached a tragic end in November 1957 when he was hit and killed by a drunk driver while crossing Daniel Webster Highway in Nashua. He was 70 years old.
As years passed and memories faded, the story of Henri Renaud slid deeper into the recesses of marathon history. But for one oppressive day in the spring of 1909, he was the best runner in the world.