Zeroing in on no waste
Hypertherm reaps benefits from recycling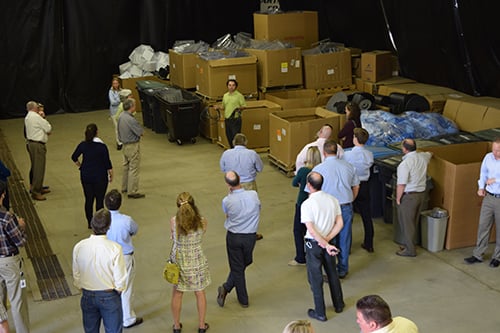 Recycling is perceived as a do-gooder action, but eliminating waste is a smart business move, Hanover-based Hypertherm is learning.
With the goal of producing nearly zero percent waste by 2020, the industrial cutting solutions firm started its endeavor in 2010 with a landfill audit. At the beginning of the decade, Hypertherm determined 42 percent of non-metal waste and 10 percent of metal waste was ending up in the landfill. By 2014, it was reduced to 21 percent and 4 percent.
"We put a lot of emphasis on eliminating anything we didn't need coming into the building," says Jenny Levy, vice president of corporate social responsibility at Hypertherm.
For example, one supplier was sending Hypertherm a component with a small bag of washers, nuts and bolts. "We didn't use the washers and nuts, but we used the bolts," explains Levy. Hypertherm's supply chain managers simply spoke with the supplier, who stopped sending the extra items and even gave the firm a few cents off each part.
Another supplier triple-bagged a component out of fear it would become tarnished. After talking with the supplier, Hypertherm convinced them to reduce it to one bag.
"We were taking an environmental approach, and it ended up on improving our productivity because we didn't have to deal with that baggie, and it improved our cost," says Levy.
Casella collaboration
Cutting down on materials is key to eliminating waste, but what do you do with excess materials that are a natural consequence of production?
Levy learned that in high density, industrial areas, like the Midwest and Raleigh-Durham area, manufacturers are profiting off of excess materials.
"Where there was greater production of waste, there becomes a secondary market," says Levy, who heard about the strong marketplace in the Raleigh-Durham area when she attended a conference in North Carolina.
That's what led Levy to contact Casella Waste Systems.
Traditionally a mixed-waste collector, Rutland, Vt.-based Casella purchased Chicago-based recycling management firm A Greener Solution a couple of years ago. Through Casella Resource Solutions, it now also provides mixed-waste consulting and collection programs for a variety of businesses and institutions across North America, although its operational assets are concentrated in Maine, Massachusetts, New Hampshire, New York, Pennsylvania and Vermont.
"Historically our industry has focused on containers out back and moving mixed materials to different places, and we're pretty darn good at doing that," says Paul Ligon, senior vice president of Casella Resource Solutions. "But the problem is if you're not inside the plant, there's a lot that can happen between the point of production and the materials hitting the containers out back – there's a lot of opportunity, and that's where we're increasingly focused."
Hypertherm started talking to Casella in June 2014 and, after nine months of planning and negotiating, the pilot program launched in January.
"When we step foot in there, day one, we have a pretty good plan mapped out of how it's going to go," says Casella Account Manager Matt Albertazzi, who is in charge of Casella's on-site team at Hypertherm.
One unique aspect of the Hypertherm program is that the mixed-waste is stored in one of Hypertherm's own buildings, versus one of Casella's facilities.
Since Hypertherm had extra space in a building on Etna Road in Lebanon, it suggested Casella use it as a central sorting facility. Casella collects LDPE (low-density polyethylene) films, HDPE (high-density polyethylene) plastics, polycarbonate plastics, polypropylene plastics, polystyrene plastics and cardboard from 11 of Hypertherm's buildings in the Upper Valley.
"It's a robust program … we track everything to the pound. There is no estimate that's done," says Albertazzi. "That also enables us to do some very in-depth waste stats to determine let's say one of their buildings has 200 pounds of trash today, well, we want to understand what makes up those 200 pounds."
'Full-service solutions'
After identifying the waste items, Albertazzi says the next step is to determine whether it needs to be in the manufacturing process in the first place.
With whatever reusable materials that remain, Casella operates like "middlemen, in some sense," says Albertazzi, selling plastic to buyers who grind it down into a pellets and sell it to manufacturers who use them in a molding machine to make a new plastic product.
"We use a pretty broad network of people," he says. "You look for who needs what and what they're going to pay you in that given time."
Casella's back office consists of customer care reps, an account department and a brokerage department that markets the materials.
"There's a lot of people behind-the-scenes making these accounts work," says Albertazzi.
"We are seeing more and more customers come to us looking for full-service solutions. So we look at your hazardous waste, your metals, your recycling, your trash – everything under one roof," says Albertazzi. "We're one point of contact … it's a partnership. It turns into more than just a vendor to vendor relationship."
"Generally speaking, we become an extension of the company's production teams," says Ligon. "We really have to understand what their value chain and production process looks like, and put our resource management lens on it to figure out how we can maximize recovery of streams in a way that's not disruptive to production operations and that ultimately is going to bring net value to companies like Hypertherm."
The concept fits well with the lean manufacturing principle: the less waste – in terms of materials and time – then the more valuable the product.
"We try to figure out ways in which staff might not touch things so many times, because the more time they have employees touching trash and recycling, the less productive they are making plastic cutting torches," says Albertazzi.
Wider interest
Hypertherm is not making a profit from the materials it sells. Albertazzi says Casella's goals are to keep costs neutral or better.
There are fewer buyers in New England, compared to the industrial Midwest, he says.
And, worldwide, materials are currently fetching lower prices. According to Frank Esposito of Plastics News, due to low oil prices, the gap between prime plastics and recycled plastics is narrow, just 10 to 15 cents per pound, which is driving down demand for recycled plastics.
But volume also dictates price, with big contracts securing higher prices.
Since January, Albertazzi says he's moved four truckloads of cardboard locally, but has spent six months collecting plastic, which he'd like to move every two weeks, if not every week.
"I need to be able to make truckloads of it [plastic]. We look to move 40,000 pounds," he says.
He would be able to meet those goals if he were collecting from other nearby businesses that have similar materials but don't have the volume to make it worthwhile on their own.
That's why Hypertherm and Casella held an open house in May that attracted nearly two dozen business leaders from the Upper Valley, who are interested in managing their waste.
"We believe this [collaborative] approach has real application to more mid-size industrial and institutional markets, like we tend to see in New England," says Ligon.
"I was impressed with the level of interest and the breadth of industries and institutions that attended," he says. "There was a lot of diverse interest, not only in the Valley, but beyond the Valley, and that's really encouraging and exciting."
Casella also is currently talking to an institution in Manchester as well as looking at places in northern Vermont.
"With sustainability becoming a buzzword, they're looking for more comprehensive programs," says Albertazzi.
Liisa Rajala can be reached at lrajala@nhbr.com.