Work begins on $32m Plymouth State facility
Harvey Construction, Rist-Frost, Sasaki leading project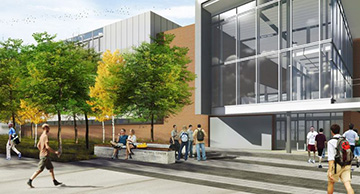 Work has begun on Plymouth State University's new $32 million, almost 108,000-square-foot academic and athletic center that school officials say will have broad impact on the region.
The facility is being designed by Sasaki Associates of Watertown, Mass., and construction and engineering will be handled by Harvey Construction of Bedford and Rist-Frost-Shumway Engineering of Laconia. Completion is expected by the fall of 2015.
"I think this building is going to vault the campus forward in all aspects," said PSU's president, Sara Jayne Steen. "We're very excited for what this building means for the college and the community of Northern New Hampshire."
The college's new Active Living, Learn, and Wellness (or ALLWell, for short) North building will consist of a full-size indoor track and tennis courts and will house the Department of Health and Human Performance. The building will also have enough classrooms to alleviate 25 percent of the campus' space needs to accommodate the growing student body. Officials estimate that roughly 75 percent of the 7,000 enrolled students will take advantage of the new building.
"This allows us to bring Health and Human Performance majors into one building," said Tim Kershner, chief public relations officer for Plymouth. "Right now, they're scattered around campus. Now they're going to have a home of their own that's built for their majors."
According to Kershner, the project is funded through a number of different sources, including $16 million from the University System of New Hampshire's internal fund borrowing, $8 million from the New Hampshire Health and Education Facilities Authority and $1.5 million from private support.
It's estimated the project will bring in $4 million in revenue annually to the region's economy, according to a third-party economic development report.
Steen said more people will be able to attend the college's sporting events and that they will now have "one of the finest tracks in New England" to hold high school track events as well.
The first phase of the project was the 60,000-square-foot Ice Arena and Savage Welcome Center, or ALLWell South, which was completed in 2010 and cost a little more than $14 million.
The decision to build both ALLWell buildings was the next step in a long-range plan "to address classroom and activity space" on campus. It also was motivated by the college's growing Health and Human Performance Department, which has the fastest-growing rate of enrollment, according to Kershner.