Without all information, FirstNet deadline looms
New Hampshire has to choose despite no contract details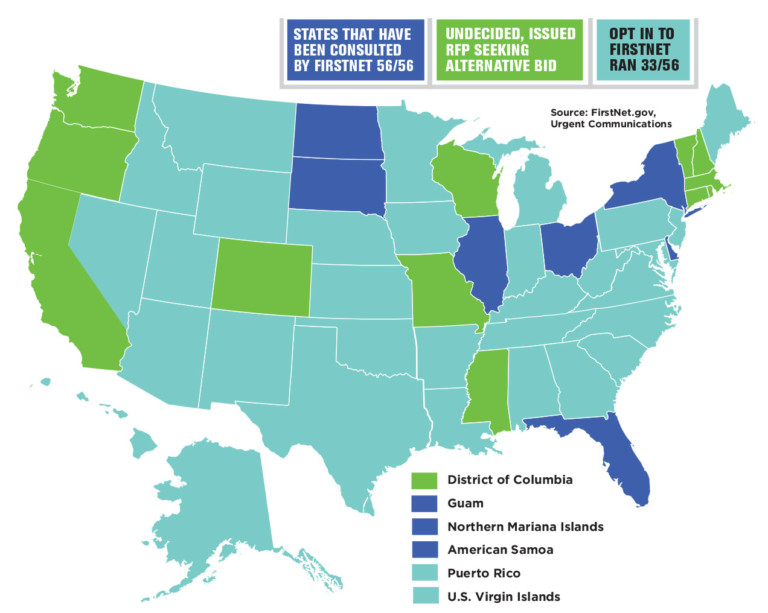 For the remaining 23 states and territories that have not announced a decision regarding whether to opt in to FirstNet, at the heart of their dilemma is their inability to view, and therefore fully evaluate, the contract between FirstNet and AT&T.
All 56 states and territories have been consulted by FirstNet/AT&T, but of the 23 states and territories that remain undecided, 12 states and the District of Columbia have also issued request for proposals for alternative bids. (Since this story ran, Vermont and Ohio have opted in to AT&T. As of Dec. 7, New Hampshire has announced it will opt out and contract with Rivada Networks.)
While choosing to opt in to the federal interoperable public safety network leaves states with no immediate financial risk, it also provides them with no recourse should the network buildout not be completed, and only those who can access the confidential state portal have a sense of the pricing for first responders who would have to become subscribers of AT&T in order to access some FirstNet applications and features.
"AT&T has a contract with FirstNet, but they will not enter into a contract with New Hampshire or any other state," said John Stevens, statewide interoperability coordinator at the NH Department of Safety. "So what is being offered to the states, including New Hampshire, is a 25-year promise."
While Stevens said he would reach out to FirstNet to address any issues, "not having a contract in place with a service provider is a concern."
It's also a unique situation for the New Hampshire Executive Council, whose role is to approve state government contracts.
In September 2016, the Executive Council — which then included Chris Sununu, before he won his gubernatorial bid — approved a contract with Rivada Networks, giving the company exclusive rights to build and maintain a first responder Radio Access Network, should New Hampshire opt out of FirstNet.
One of five contractors that bid in New Hampshire, Rivada had been building a plan for the Granite State since it released a request for proposal in December 2015.
All that happened before March, when the U.S. Department of the Interior awarded AT&T a $6.5 billion contract, enabling AT&T to license the Band 14 spectrum for 25 years for states that opt in.
"Spectrum grab"
When FirstNet was first envisioned, the federal request for proposal called for a dedicated network for first responders, operating on infrastructure built out to provide Band 14 coverage nationwide by a corporate entity that would maintain the network.
But that vision changed, according to Don Brittingham, vice president of public policy at Verizon, which chose not to bid on the FirstNet proposal.
FirstNet "decided a commercial network was a better way to address these [coverage] issues, which I think is correct. The cost of building a network solely for first responders would be expensive, so they chose a commercial solution," said Brittingham.
With the FirstNet contract, AT&T will license Band 14 for the next 25 years for opt in states. (Band 14 is a 20-megahertz section of broadcast spectrum that provides good coverage in both urban and rural areas as well as penetration through buildings.)
AT&T plans to build out Band 14 in areas where it does not have existing service, but where Band 14 does not get deployed, public safety will operate on AT&T's commercial network, said AT&T spokesperson Kate MacKinnon.
The shift from a hardened network that utilized Band 14 exclusively for public safety — as called for in the federal request for proposal — to AT&T's plan to incorporate its existing, non-hardened commercial network, raises questions regarding AT&T's original intent when applying for the bid.
A former U.S. Department of Commerce official described AT&T's FirstNet contract to NH Business Review as a "spectrum grab," and "for a great price too."
While Verizon paid $10 billion for the adjacent upper 700 MHz spectrum, Band 13, AT&T instead will receive $6.5 billion from the federal government to build out Band 14, if all states opt in.
AT&T says it will spend an additional $40 billion over the life of the 25-year contract to build, deploy, operate and maintain FirstNet, but that is a drop in the bucket for a telecom corporation that reported consolidated revenues totaling $39.7 billion in the third quarter, noted the Dept. of Commerce official.
And now AT&T has the opportunity to convince first responders to switch from its competitor, Verizon, to AT&T's paid service.
Priority and preemption
Verizon, says there is no capacity difference between its upper 700 MHz band and FirstNet/AT&T's.
In fact, in response to AT&T's winning FirstNet bid, Verizon plans to deploy a public safety core in the first half of 2018 that will provide first responders with equivalent priority and preemption services as AT&T is offering. (First responders with registered devices will be given first priority to use the network, and when the network is busy, commercial users will be kicked off the network to allow public safety's use.)
AT&T aims to have its public safety core up and running by March 2018.
Devices used by utilities providing public safety services, such as energy providers, will also be eligible for priority and preemption services on both networks.
And regardless of the carrier, all public safety calls will be directed through commercial networks to their respective public safety cores, which will ensure first responder devices are able to communicate across carriers.
What remains unclear is a definite indication of interoperability between the networks.
That depends on future agreements made between the carriers as well as FirstNet.
A FirstNet spokesperson stressed interoperability, but said "the [Middle Class Tax Relief and Job Creation Act of 2012] expressly authorized only FirstNet to build, operate and maintain a core network to serve public safety entities."
Examining the alternative
Rivada's alternative model for an opt-out state FirstNet build relies fundamentally on connecting opt-out states' public safety cores to one or more national core.
Federal legislation allows a state to opt out and build a RAN, requiring interoperability with the national core network. According to the legislation, all governors must submit a formal decision by Dec. 28; if the governor takes no action, that state is automatically opted in.
A state then has 180 days to release a request for proposal, if it hasn't already done so, and submit a plan for a RAN in compliance with technical interoperability requirements to the Federal Communications Commission and the National Telecommunications and Information Administration. If the plan is approved by both agencies, the state then applies to NTIA for a grant to construct the network. (New Hampshire is eligible for a grant ranging from $28 million to 36 million, depending on how many states opt out.) Afterward, the state applies to lease the Band 14 spectrum capacity from FirstNet.
If the FCC or NTIA rejects a state's plan, it is automatically defaulted into AT&T's state plan, which was delivered in September to New Hampshire.
On Nov. 21, Mission Critical Communications reported Gov. Sununu sent a letter to NTIA Administrator David Redl asking NTIA to clarify how it will support states that opt out of FirstNet.
Sununu wrote there is still a lot of information states do not have yet that is critical to their decision-making process.
He also noted the confidential spectrum management lease agreement sent last month by FirstNet to select states that "sent a chill through our process, and I assume other state processes."
As indicated in Stevens' written testimony on Nov. 1 to the U.S. Subcommittee on Communications and Technology, New Hampshire was warned by FirstNet of a "termination penalty" ranging from $10.6 million to $608.5 million.
A draft of Vermont's Spectrum Management Lease Agreement, obtained by VTDigger, warns of penalties of up to $173 million, and notes FirstNet's FOIA exemption.
At the hearing, FirstNet CEO Michael Poth called the figures "unlikely worst case scenarios" and that they were "a draft of some concepts that would not even be discussed until later in the process".
In an attempt to view the contract between AT&T and FirstNet, among other documents and communication, longtime Vermont reporter Dave Gram and telecom watchdog Stephen Whitaker filed Freedom of Information Act requests to the Dept. of Commerce and NTIA. The requests were subsequently sent to FirstNet, which rejected them, saying the Middle Class Tax Relief and Job Creation Act exempts FirstNet from FOIA requirements. This was confirmed to NH Business Review by a FirstNet spokesperson.
"It is critical that New Hampshire has as much information as possible in order to fully evaluate all options before a final decision is made, and that FirstNet is responsive to the state's questions," said Sen. Maggie Hassan's press secretary Ricki Eshman. "Senator Hassan and staff have been in touch with state officials about the project, and as a member of the Senate Commerce Committee, which has oversight jurisdiction of FirstNet, the Senator will work to ensure that the project runs smoothly in order to strengthen the safety of our communities."
Control over the network
The motivation for AT&T and Rivada to win New Hampshire's contract is the monetization of the Band 14 spectrum.
Regardless of whether the carrier is FirstNet/AT&T or Rivada, New Hampshire's will be allocated the same 20 MHz of Band 14 spectrum, a FirstNet spokesperson told NH Business Review.
The carrier is then allowed to use the Band 14 spectrum, when not in use by public safety, for commercial customers to earn a reasonable profit and to maintain the public safety network.
If New Hampshire chooses Rivada, the public-private partnership would receive the funding to maintain the network in accordance with its state contract.
If New Hampshire opts in to FirstNet/AT&T's plan, the network is managed by AT&T, entirely out of the state's control, as is the spectrum lease.
But, despite approving the exclusive contract with Rivada, some members of the Executive Council remain skeptical.
When the Council first considered Rivada's plan, which was proposed with no obligation or charge to the state, "from a council standpoint, it was a service being provided by a company that's never really built a network," said Executive Councilor Joe Kenney, a Republican who represents District 1. "From an entrepreneur side, we said, 'Go for it. See what you come up with.'"
Rivada had previously supplied emergency response systems to the U.S military, the National Guard, police and firefighters in the aftermath of Hurricane Katrina.
The governor's Statewide Interoperability Executive Committee recommended in early October that the state opt out and select Rivada. That would make New Hampshire the first state to officially opt out of FirstNet.
Since then, the governor assembled the FirstNet Opt-Out Review Committee to examine the implications of opting out as well as examine Rivada's financial standing and technical capability.
Kenney said the committee is expected to release a report to the council on Dec. 8.
"The issue is they need to figure out how much information they can get in a short period of time to relay the information to the governor and the Executive Council prior to Dec. 28," said Kenney. The deadline could be sooner, since council's last expected meeting before the deadline is Dec. 20.
Leading the Opt-Out Review Committee is Attorney General Gordon MacDonald.
Assistant Attorney General Dianne Martin told NH Business Review that in its bid response to the state's request for proposal, Rivada went through the normal course of providing financial information to the state. The committee has asked for additional materials, which Rivada has supplied.
The committee is "obviously working diligently in a very restricted time to help make the right recommendation to the governor," said Martin, who said she had never encountered a federal-state dilemma such as that presented by FirstNet.
"This entire scenario is unique, so I'm not sure if you can compare it to anything else," said Martin.
Inside Rivada
As decision time approaches, it's apparent that a lot of money is at stake.
One sign is a 25-page dossier of news clips and other information related to Rivada and its CEO, Declan Ganley that NH Business Review obtained.
In March, Rivada Mercury — a partnership between Rivada and several vendors — sued in the Court of Federal Claims, claiming they were unjustifiably disqualified from the competitive range in the bidding process for the national network, leaving AT&T as the sole bidder to negotiate with FirstNet.
"Rivada's lack of executed teaming and subcontracting agreements presented two different types of risk: first, that Rivada might not have the financial resources to complete the project; and second, that even if Rivada had enough funding, it might lack the technical capacity to build the nationwide network it proposed," reads the court file.
"We lacked the necessary capabilities in-house to take a project of that size and we sought to address that by forming this special purpose entity to demonstrate our seriousness and commitment to the project," explained Brian Carney, senior vice president at Rivada, regarding the national bid for FirstNet. "When they evaluated our bid, they just chose to ignore completely the structure we had setup to bid and evaluated the bid as if Rivada Networks set it up on its own."
Carney said Rivada has "worked with a variety of state, local and federal agencies on emergency and public safety communications solutions since our founding."
He added that the company has "teammates and committed partners, many of the very same companies that will actually do the building for AT&T, or anyone else."
In September, it was announced Rivada would partner with U.S. Cellular to develop the alternative RAN plan in New Hampshire.
And on Nov. 16, a Colorado committee issued a conditional award to a combined bid from Rivada Networks and Macquarie, contingent on the FirstNet Colorado Governing Body's recommendation to the governor and the governor's ultimate decision on whether to opt in or opt out.
Rivada and Macquarie originally submitted separate bids for Colorado's request for proposals. When the state entered competitive negotiations, the two companies approached Colorado about a joint bid.